We all know that sinking feeling you get when you realise you've forgotten something important on a camping trip. If you're pitching your tent at a holiday park, then you can often find what you need at the on-site shop. However, if you're wild camping in the middle of the woods, it's going to be a little more difficult to source those replacements items.
There are lots of camping checklists available that help you organise your packing. But with so much gear to pack, there are always a few camping essentials that people forget time and time again. So, we've compiled a list of six often forgotten but essential items for camping to ensure that you've got everything you need. And if you are unsure of where to get them, check out https://theexpertcamper.co.uk/ to fulfil all your camping needs.
6 camping essentials
1. First aid kit
This is probably the most important item on this list. Hopefully, you won't need it—maybe for a few bumps and scrapes at most—but it's important to be prepared.
One of the scariest things that can happen when you're wild camping is an injury—even a small blister can upend a camping trip. But imagine facing something more serious, like a broken leg, an allergic reaction, or a burn from the campfire. If you're in the middle of the woods with no easy road access, suddenly getting to a hospital isn't as simple as calling 999.
A good off-the-shelf first aid kit will contain all of the essentials, but it's worth checking out our ultimate wilderness first aid guide and taking a basic first aid course before you venture into the wild.
2. Hand sanitiser
When you're out in nature, especially for an extended period, good hygiene practice is essential. Without access to clean, running water, hand sanitiser is a compact and convenient way to ensure that your hands are clean before preparing and eating meals. At a push, you can even use it to disinfect surfaces, so it's a very useful item to have at hand.
It's also an effective way to sanitise your hands before treating any wounds—you did remember that first aid kit, right? However, it's important to note that you should not use hand sanitiser to clean open wounds as skin cells can be damaged when put in contact with alcohol—use the antibiotic ointment included in your first aid kit instead.
Hand sanitiser gel is very inexpensive and comes in travel size bottles so it's easy to pack in the small pockets of your bag.
3. Water purification tablets
Some form of water purification is vital when wild camping as it's likely that you'll be sourcing drinking water from a stream or river. These days there are a number of gadgets on the market designed to purify water, like the LifeStraw, but the simplest method is to use water purification tablets. These generally take about 30 minutes to work and contain iodine or chlorine to kill harmful bacteria.
Some form of filter to remove particulates from the water is also useful. A pair of tights or a thin bandage works well.
Read more: Survival kit list: 6 must-have items
4. Pocket knife or multi-tool
A good pocket knife or multi-tool can be very handy in the wilderness and it's certainly useful around the camp. You'll find uses in a multitude of situations including:
Cutting firewood
Making shelter
Cooking
Digging (only in survival situations, otherwise, use a camping shovel)
Hunting
First aid (cutting bandages etc)
5. Mosquito repellent patches
Whether its midges in the Scottish Highlands or mozzies in the French Alps, you'll be glad that you brought insect repellent to stop those pesky bugs bothering you when you're trying to get some shut-eye under canvas.
Instead of standard spray-on repellant, we recommend mosquito repellent patches. These patches are non-toxic, with natural mosquito-repelling ingredients such as peppermint, lavender, citronella and eucalyptus. They can be stuck onto skin or clothing without the need for sticky sprays and you won't inhale any irritants.
6. Second pair of shoes
Wearing the same pair of shoes or boots for your whole camping trip might seem like a clever packing hack, but you'll soon regret not having a spare pair, especially if those shoes get wet on a hike.
It's a good idea to have a specific pair that you wear around camp. This way they won't spread mud and dirt around your tent area—that's camp craft 101. These extra shoes can be a cheap pair of tennis trainers or, if you're really short on space, a pair of flip-flops is better than nothing.
Pin this post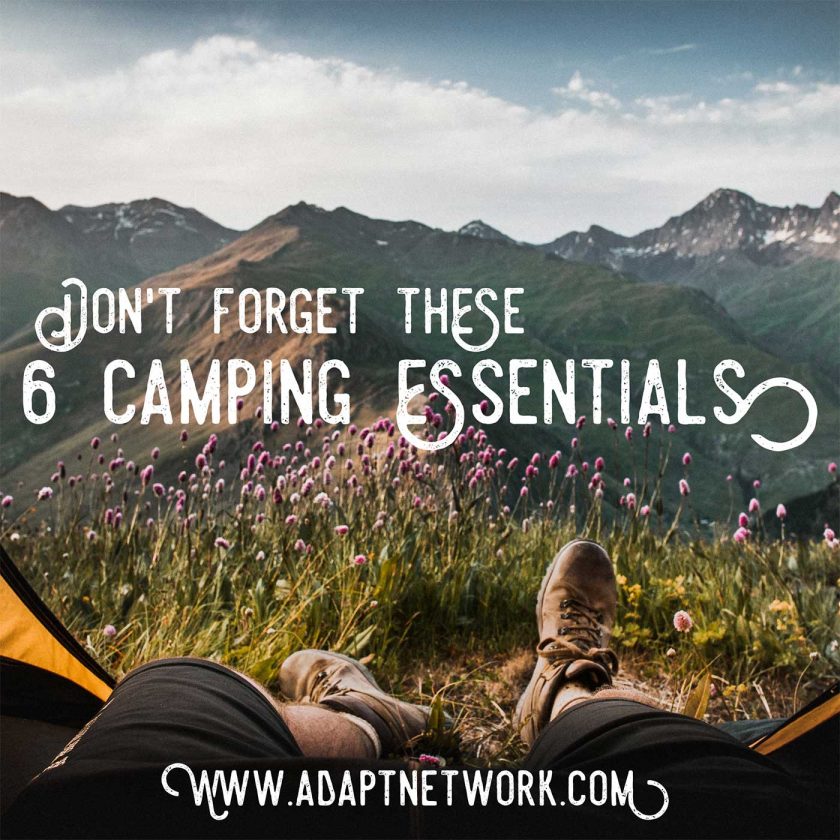 Read more: For a full camping packing list, check out our complete camping checklist.