A week or so ago, we posted up a video of 'AirDog: The World's First Action Sports Drone' and talked about what the tech behind the project might consist of. Well Helico Aerospace Industries US LLC, the company behind the drone, have sent ADAPT a press release and we now know a lot more about it.
First off, AirDog have launched their Kickstarter Campaign today and need $200,000 to move the AirDog into production. By the looks of it though, they are going to absolutely smash that target – they are already almost half way there!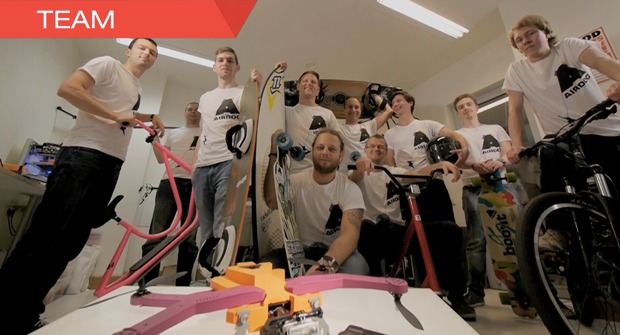 Helico describe the auto-follow drone as "a simple to use personal drone for every surfer, snow-skate-wake-kite-boarder, MX or BMX rider." The engineering team behind the drone are all passionate about action sports and had a clear vision about what they wanted to achieve:
"You're doing the very thing you were born to do — You're surfing a mammoth wave, pulling off a flawless cutback. It's breathtaking. You're on your snowboard, whooshing over fresh powder in the backcountry. It's exhilarating. You're executing a perfect crankflip on the BMX course. It's mind blowing"
"Now imagine that your GoPro is soaring overhead, capturing the entire performance in pro quality video. Every move of your body, every droplet of water, every flake of snow, and every clod of dirt — everything captured in exquisite detail…The camera matches your pace, flying down the slope at 40 mph. The camera dips and hovers to photograph your movement through the curl of the wave. The GoPro gradually rises as your bike ascends a roller."
"You've got video proof of your exploits, accomplishments, and achievements. The camera — super stable, incredibly smooth, precisely framed, and perfectly balanced, — is recording with flawless accuracy. It's your airborne sidekick, flying along wherever you go."
While not so long ago, this would sound like a complete pipe-dream, the AirDog brings this fantasy to life using some pretty neat tech. AirDog was designed to be a small, agile, foldable quadcopter, especially designed for video shooting action sports with the GoPro camera. It is also, necessarily, constructed to be super durable so that it can follow you in any conditions, through "pelting rain, freezing temps, massive waves, or freaking insane places."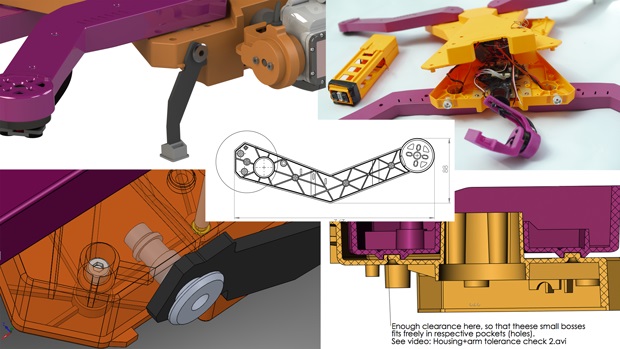 The AirDog's design has the following features:
Foldable arms
Impact-resistant body
Collapsible body
Fold-down props
Weather resistant
Lightweight
Collision-sensitive motor shutdown
Prop guard (will be released later as an accessory)
Easy repair
This all means that you can fold up the drone and stuff it into your backpack for easy transport, before letting it loose in the most tough conditions as it tracks and captures your sport or activity.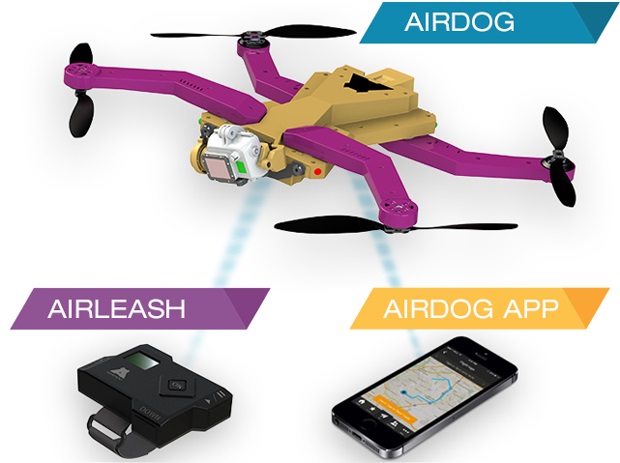 So how does the drone work. Helico say that you just need to strap a wearable tracker, that they call an AirLeash, to your wrist or helmet in order for the drone to track and follow you. AirDog will follow a signal from this programmable tracker. As well as the drone itself, the AirLeash is also designed to be small and durable. It's waterproof and consists of a computerized tracker with intelligent software and sensors built inside. It sends signals to the AirDog, indicating exact movement trajectory. The drone performs in-flight calculations to correct its flying pattern, and points the camera at the user wearing an AirLeash – awesome!
As mentioned in ADAPT's first post about the drone, the AirDog can takeoff and land completely autonomously. This will free you to focus on your performance. Helico say that AirDog will land at the end of your track, or return to the takeoff spot when the battery begins to run low (another important and cool feature). An alarm on the AirLeash tells you when AirDog's battery is too low to continue.
AirDog has three main flight-modes to choose from. These are: an 'Auto-Follow' mode, with many submodes for different sports (probably the most used mode); a manual remote control flight for first person view (FPV) or indoors (useful if you want a mate to control the drone with increased precision) and a handheld 'Steadicam' mode, to be used when the drone is not in the air.
There are six 'Auto-Follow' submodes to choose from. These are:
1. 'Auto-follow' – Will work with almost any sports. In this mode AirDog will follow you repeating exactly your movement trajectory while maintaining its position in preset distance and altitude from you.
2. 'Relative position' – In this mode AirDog will maintain constant offset relative to magnetic north from the rider. For example, you can set it to keep a 10 meter distance at 4 meters high to the east from your position. Even when you change your direction, the AirDog will stay at the same preset angle from you. We suggest this mode for straight line wakeboard cable parks, surfing, and some other sports.
3. 'Follow track' – This is the safest way to operate AirDog. Simply go for one lap with AirLeash and it will record your track. Then adjust AirDogs trajectory to your liking in smartphone app. AirDog will repeatedly fly over the exact set trajectory and the camera will be continually adjusted to aim at the rider.This is the most creative mode where you can become a true director of your movie. Adjust AirDog's trajectory to avoid obstacles like buildings or trees. You can even make it to shoot you from different angle on different spots/kickers in the track. It might sound complicated, but its a simple few tap process in AirDog smartphone app.
4. 'Hover and Aim' – The Hover and Aim setting allows AirDog to stay in one position above the ground, but constantly directing the camera at the AirLeash. This setting is perfect for tight places such as smaller skateparks, narrow forest trails, or for activities such as bungee jumping or base jumping, where clearance from equipment is important.
5. 'Circle' – In this setting, AirDog makes circular rotations on a set radius and altitude, keeping the camera aimed at the AirLeash. This for slow speed or static shots to show impressive view around you.
6. 'Look down' – The most simple mode but can produce very stunning results. Simply "walk" your AirDog above a ramp or kicker where you are about to throw some epic tricks and with push of a button it will freeze its position and aim camera straight down. Now make sure you don't go too high.
Helico also say that they will be adding further modes in the future, so there will be no shortage of settings to select for your chosen sport/activity.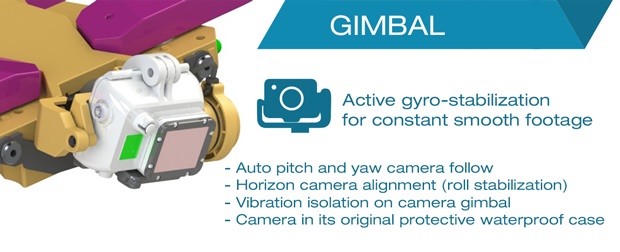 In order to produce professional-grade footage, the camera, GoPro in this case, needs to be kept stable during flight. To achieve this, the AirDog uses a 2 axis gyro-stabilized gimbal with the features listed in the image above, to house the camera.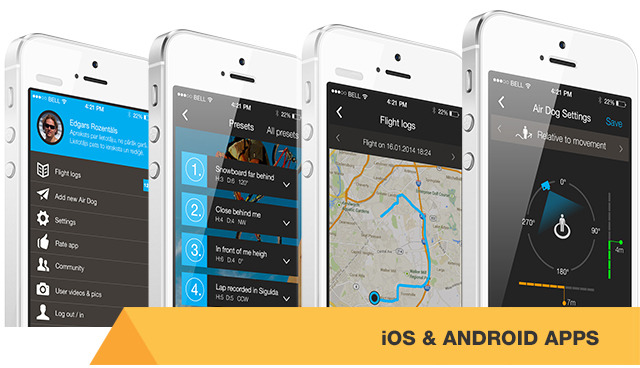 As well as using the tracker to guide the AirDog in Auto-mode, Helico have also developed a smartphone app to provide additional options. With the app, you can control the distance, height, and angle. You can create custom flight paths of your favorite tracks and map out shooting presets, sounds really cool, right?
If you are as excited about the AirDog as well are, check out the Kickstater campaign for more info.