1iOpen is certainly not your usual film production company, and it's safe to say that a day at the office for Executive Producers Viv Smith and Erik Nachtrieb is about as far from your average 9-5 job as it gets. These two adventurers, along with their crew, can usually be found in the far flung corners of the world, capturing the magic of some of the most remote locations, and bringing them to the screens of those who can only dream of living their lifestyle, and you can even watch what the crew gets up to behind-the-scenes with their YouTube Vlog. It's not always as glitz and glam as it sounds, however, with near-death experiences, extreme climates, and military encounters not uncommon. I had a chat with Viv and Erik to find out what it is they've been up to, and what exciting adventures and projects they've got lined up for the New Year.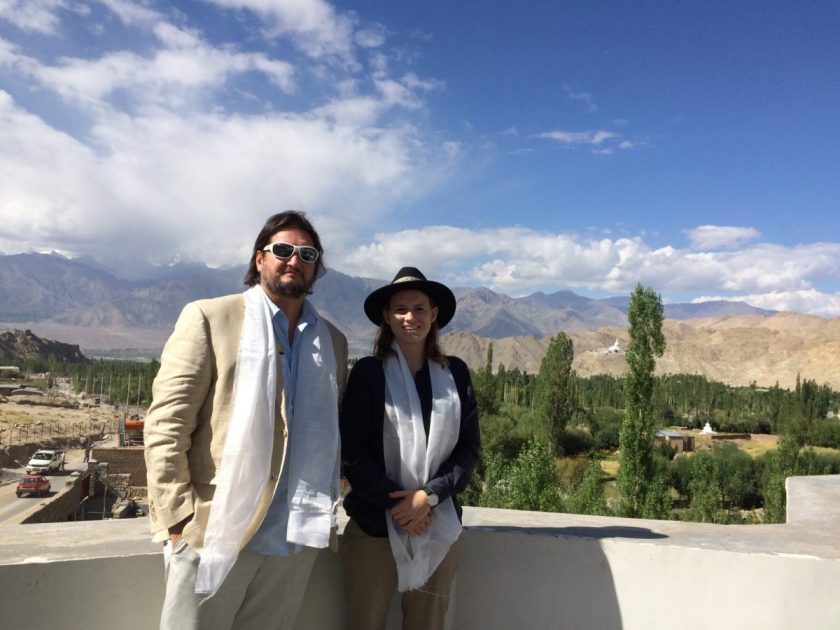 You guys have based your company in Seattle, how long have you been there for?
Viv: I made the move only 6 months ago [from Sydney] but the company and Erik have been here–
Erik: –About 7 years. Viv came over about a year and half ago for an edit marathon on a film we did, then she came over about 6 months ago permanently, but we've been working together on and off for about 4 years now. We ran into each other out in the middle of the New Zealand bush.
What were you doing out there?
V: We were working on a project for another company. I was originally hired as a junior back then and Erik as a cameraman, we were working on a TV show.
E: We were contractors working for another company at that point.
V: Yeah, so we weren't as 1iOpen. The assignment was we were filming an adventure race, The GODZone New Zealand Adventure Race, and I had to go out and find Erik because I had to give him a radio or a map, I can't quite remember, and he's a little hard to find. He's the cameraman that goes out into these remote places, stays out there overnight, tries to survive – often survives, in fact he's still alive, so he does survive. (Laughs). But it's not fun going to find Erik.
E: Yeah, so she came out there towards the evening and it was a long way away from anybody so we were forced to talk to each other for hours. (Laughs)
V: Hours, too many hours!
When did you move from that to start your own company, 1iOpen?
E: I started 1iOpen with my wife. We didn't just wake up one day and say "Hey, let's start 1iOpen." I used to be an adventure racer, I raced the Eco-Challenge put on by Mark Burnett, and this sort of thing, and I raced for years, and we were trying to raise money for our racing team, to get sponsorship to do racing, and no one could understand what it was we were doing with this adventure racing, they didn't understand the concept. So I was trying to figure out a way to tell them, and I thought I'd just get a camera and start filming what we do and it should be self-explanatory, and I believe this was in 2001 or 2002, and I started filming but we didn't actually create the company until 2007.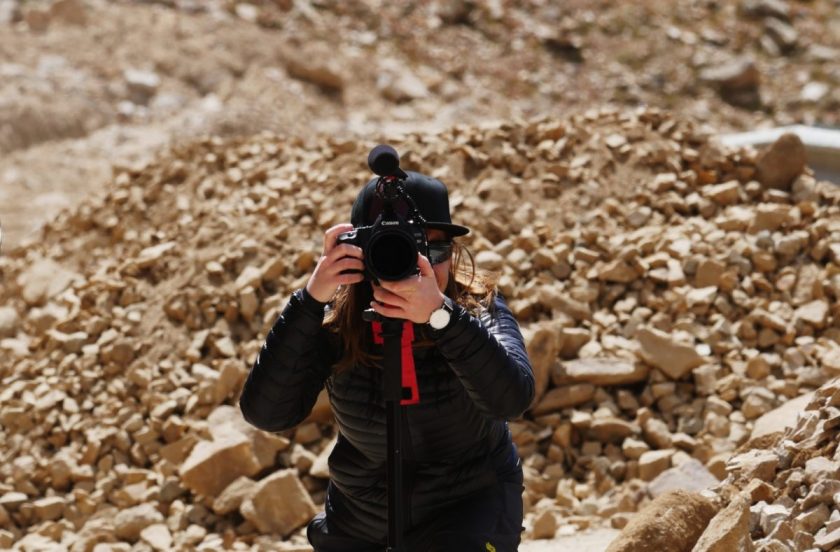 How would you describe what it is 1iOpen does to people who might not know?
V: Our little tagline is "remote environment and expedition filming". We are cameramen, we are editors, that's our background. I've done my time in an advertising agency and done the client route, and filmed fashion stuff, believe it or not. But a lot of us don't just have those experiences, a lot of us are survival experts and trained navigators – Erik used to teach land navigation. A lot of our cameramen who come on board have all sorts of really useful environmental skills, like swift water rescue training, which we used in Alaska this June on a job. I nearly lost my life down a river, but because Erik and our camera and drone operator, Larkin, have those skills, they were able to perform rescues. So we specialise ourselves in being able to not just film in these crazy places, but to be an asset and if we don't get in trouble, we can help others.
E: So I guess when someone asks "What do you do?" I often say that people get hold of us when they want to have world class footage come out of the worst environments imaginable. We don't need a craft services, we don't need a hotel bed at the Four Seasons, we just need a few cliff bars and a patch of dirt and we can tend to ourselves, they don't have to send people out with us. We do all that, as well as all the in-house editing etc.
Are there many people with all the skills needed to work as part of "The Crew"?
V: We definitely work on a collaborative and crew based structure, so when it comes to heading out to these places, we've started to develop quite a big network of people who can do this stuff. Everyone can come on and can add something. There was an ex-adventure racing world champion, Mike Kloser, and we put a camera in his hands and suddenly got great footage, because it's all very well to shoot great shots, but if you're gonna get out there and you can't breathe, you can't keep up, you can't survive, you can't navigate your way out of there, then your footage might as well be useless.
E: Or you become so expensive, because the support structure becomes so expensive to get people out in those regions unless they're already capable.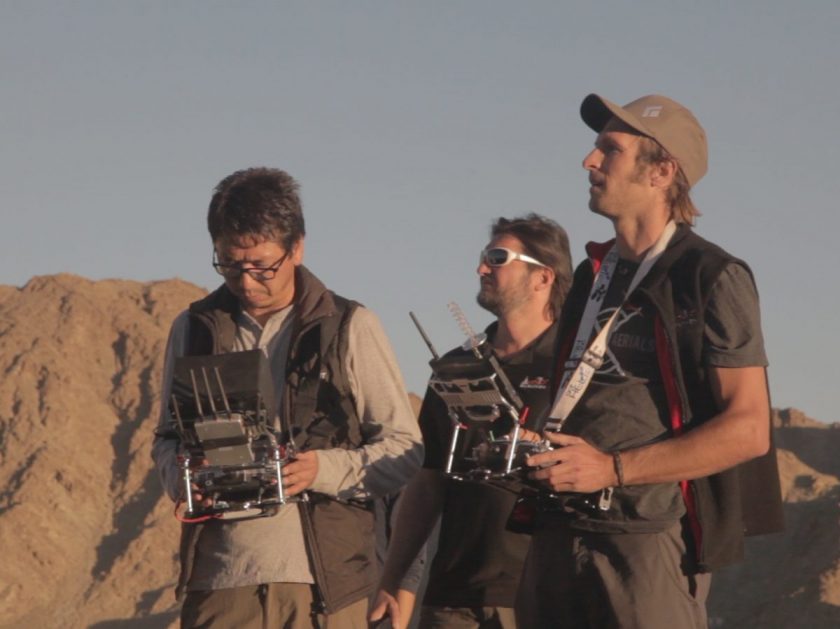 Does that mean that the crew of people you work with is quite small?
V: It grows and shrinks per job. Alaska was a big crew, we were also working with some interns from the University of Cincinnati who are Production Masterclass students, so we had a proper full crew there. Then we can shrink all the way down to 3 people, which we used in India this September. We also employ locals on the ground, which is one of the key ways in which we operate. When we do need to go into these regions, particularly somewhere like Jammu-Kashmir, which is a heavily militarised region and very remote, the local language is necessary at points. So we employed a team of 8 local Indian men.
E: It's beneficial to us because there are a lot of skill sets in these regions, and we also like to contribute back. It allows us to leave a small Western footprint in what we do. When we're out there dealing with the military up near Pakistan and the Siachen Glacier, you don't want a big western footprint because then you don't get access to what you need to.
So were you taking time to teach the locals new skills while you were in India?
V: We certainly did give them a brief as to how we shoot, because every camera crew has a style, so we were downloading them on our style, and the things we wanted, and there was a moment where we thought "maybe we need to teach these guys, do they know what they're doing?", but we might have got a bit cocky there, because these guys absolutely blew us away with the shots they got and some of the places they got to – it was amazing!
When you're out and about in such remote places, how do you go about carrying all of your equipment and keeping it safe and charged?
E: Well, our equipment does get damaged. We lost a few lenses in Alaska. When we travel we don't go out with the big set ups, we break it down.
V: You won't see us roll in there with big carts and pelican cases because we'd just go over the weight of these small planes we have to get on.
E: A good example is that I will take a lens and I'll put it into one of my thick beanies, because I will need that beanie at some point so it doubles as a lens cover, and I'll put that into a little dry bag and put that into a side pocket of my backpack. Then with tending after batteries, it really depends what we're doing. Sometimes Viv and I will have a timing system at which I will come out of the Bush and we will cycle batteries and cards and stuff, or if we're both out there, we'll literally just carry enough to do what we want to do, which gets quite heavy!
V: I mean, we're charging everywhere, we've got chargers in every vehicle we're moving in and we have loads of batteries so we're constantly on a cycle, and we carry chargers with us for if we get to a little café or some place with an outlet.
E: Literally we just carry it all, and make sure we carry enough. We care for the batteries by keeping them in warm areas.
V: We were contracted on a project in the Himalayas and the higher we got up towards base camp, we had to sleep with the batteries in our sleeping bags because overnight the cold would just suck the heat and power right out of them.
E: We will often wrap a couple of those hand warmer heat smackers – I don't know what they're really called – in a beanie and put them around a camera to keep it warm during a night time-lapse.
V: There's a lot of MacGyvering going on. If you look at our gear it's got duct tape all over it, sometimes we cut a plastic bottle in half to make a microphone.
E: We like to joke around a bit, especially with a guy we work with over in Brisbane, James Pitman, that when we see these guys with these really nice covers for their cameras and really nice rain jackets, we look at them and joke, "Well, they must not be pro, all the pros have duct tape and plastic and zip lock bags."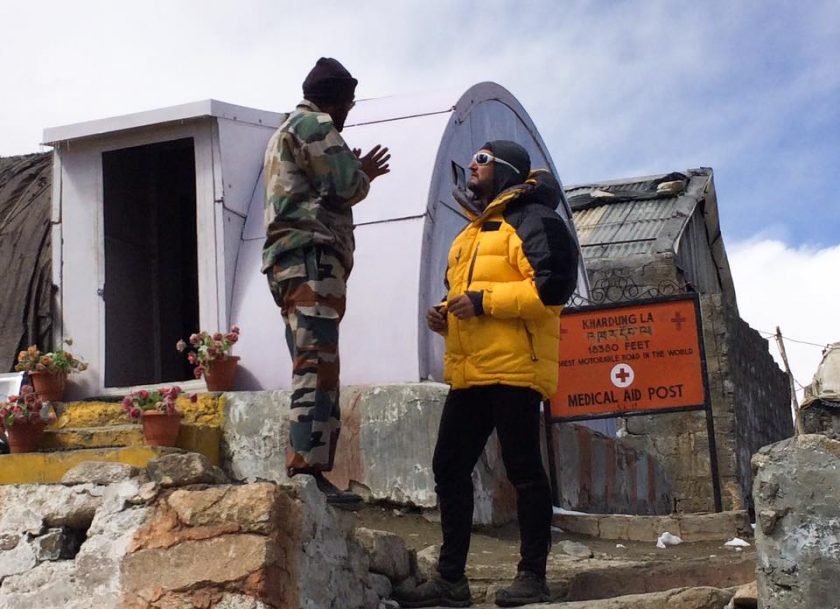 Well it sounds as if you guys have travelled to just about everywhere, do you have a favourite place, or a favourite job you've worked on?
V: My favourite place and favourite job are a little different. I loved Africa, I was there on a half job, and half holiday, because it's a little hard to go to Africa and not take a little time for yourself, so I had the most fantastic time in Africa. In terms of job, I think this most recent one to India was unique for me because there was a combination of culture up in the northern part of India and the Himalayas, and the history, and there's the ancient Silk Road, which I could see from the window of my accommodation. Then on top of that there was this incredible military presence, because it sits in the heart of the Jammu-Kashmir region, which is a disputed region, although it's reasonably peaceful where we were in Leh, but it's still quite evident that this is a military controlled zone, so there were jet practises flying overhead, and military convoys on the Silk Road driving backwards and forward every morning. In fact, we had to shoot with a police escort when we were flying our octocopter to make sure we didn't fly anywhere we shouldn't.
E: We were actually the first production team allowed to legally fly a non-military drone in the region since drones were banned in 2014. But in terms of my favourite places, I also liked Africa. However, my favourite project is always the next one, because it's never what I expect, ever!
What exciting plans have you got for 2016?
V: We're very close to just finalising a job in Belize, which will be in February.
E: After that there are a few things in the works. We're collaborating with a guy in India to do a 1600km trek through the Western Ghats of India, where we'll be following him through there for a month. We're also going to be heading down to Australia. Another of the neat things we've got coming up is we're going to be going in late 2016 to Peru, to document the building of a soccer field for underprivileged kids at 14,000 ft in a small Peruvian village. Through filming it we're going to help the woman organising this to develop a humanitarian operation of building playfields around the world, and this will be the first one. We have a few other things planned too!
Don't miss a second of 1iOpen's adventures, by following them on Facebook, Instagram, Twitter, Vimeo and YouTube