Have itchy feet and are desperate to hit the trail? Whether you need to just get outdoors for a day and take in a bit of nature or are gearing up for a multi-day thru-hike on the PCT or AT, there are some critical items you must bring. It pays to be prepared and bring the right gear, no matter how deep into the wilderness you are headed.
So what kind of gear do you need? Here is a breakdown of the 10 must-have items for your day hike or thru-hike. In fact, many items listed below are considered one of the 10 essentials for hiking and a requirement for staying safe on the trail.
Flashlights and headlamps
Be sure to pack a hiking flashlight, whether it's a headlamp or handheld flashlight. Ideally, you should carry both to have a backup. A flashlight can light the trail when you still have miles to go to reach your car during dusk hours. A flashlight can also help illuminate your campsite at night when cooking or hanging a bear bag up a tree in the dark. Choose a high-quality flashlight that offers features like powerful and long-lasting LED bulbs and carry backup batteries.
Navigation tools
A topographical map and a compass are the most important navigational tools you should have for every trek. It's also important that you know how to use each! What happens when your cell phone dies or you drop it and send it downriver? You'll need a way to get back without your digital GPS apps, that's what. Lightweight and practical, there's no excuse not to have these tools on you at all times, even for a quick one-hour hike. Keep them secured in a watertight carrying case or, at the very least, a plastic bag. If you're on a thru-hike where you might not cross paths with another hiker for days, pick up a Personal Locator Beacon (PLB) to send an emergency signal.
Sun protection
Day hikes or thru-hikes, even if the weather is cloudy and overcast, you need sun protection. So bring along everything you need to fight off sunburn and other unforeseen dangers the sun may cause. Like what, exactly? Pack a bottle of sunscreen, SPF-rated lip balm and a pair of polarized sunglasses (for snow treks, especially). Don't forget to protect your head and scalp with a broad-brimmed hat or bandana. Protective clothing, in general, is a wise thing to wear, so consider long-sleeved garments, too.
Protective clothing
The type of clothing you wear on a day hike should be moisture-wicking at a minimum. It also helps to wear layers, especially when hiking up into higher elevations. However, all that aside, you should also have protective clothing such as rain gear and outerwear to keep you warm and dry. When the temperatures drop at night or even up on a mountain, a hooded jacket with quick-drying materials will prevent hypothermia and more.
First aid kit
A short jaunt into the woods or a month-long thru-hike, it always pays to carry along a first aid kit. But when you head to the backcountry, it's imperative! You can pick up a pre-packaged first aid kit or create your own with the essentials you tend to need most. Just remember to replenish supplies after each trek and ensure medications are not expired. Along with picking up a first aid kit, take a wilderness survival course.
Multi-tool and gear repair kit
A multi-tool like a Swiss Army knife can do many things, from cutting bandages for dressing injuries to sawing a branch (albeit slowly) to create tinder. So always make sure to carry a multi-tool on the trail—it can save your life!
In addition, bring along a gear repair kit, complete with items like duct tape or specific Gear Aid patches, to repair torn tents, backpacks, sleeping bags and more. The last thing you need is a punctured rain fly in a storm. Duct tape can also be used to add extra support to broken tent poles or even the splitting sole of a hiking boot.
Fire starters
One item (or several, just in case) you should have for every trek is a fire starter. If you know how to use a flint tool, good for you! But for most hikers, a handful of fire starters, stormproof matches and a lighter will suffice. You can also make homemade fire starters, if you wish. Practice starting a fire in wind and rain and you'll be prepared for backcountry hiking.
Snacks and provisions
Sustain yourself on the trail with some energy-boosting snacks. This can be anything from protein bars to dried fruits and nuts to jerkies if you so choose. For longer days, pack a solid lunch consisting of items like bagels, hard cheeses (think Parmesan) and meats (like salami). Consider your caloric intake and be sure to pack enough to keep your body going until you reach your destination.
Plenty of hydration and a water purifier
Be sure to pack plenty of water for your journey, too. Suppose you are venturing out for a multi-day trek. In that case, a lightweight water purifier can help you clean and replenish water straight from the source whenever necessary, whether it's a trickling stream or rushing river. Also, make sure you can stay hydrated easily with a hydration bladder and accessible water bottles on the side of your backpack. Staying hydrated is essential for avoiding injuries and keeping cool, so drink at least one litre of water every hour, especially during humid days and in high altitudes.
Shelter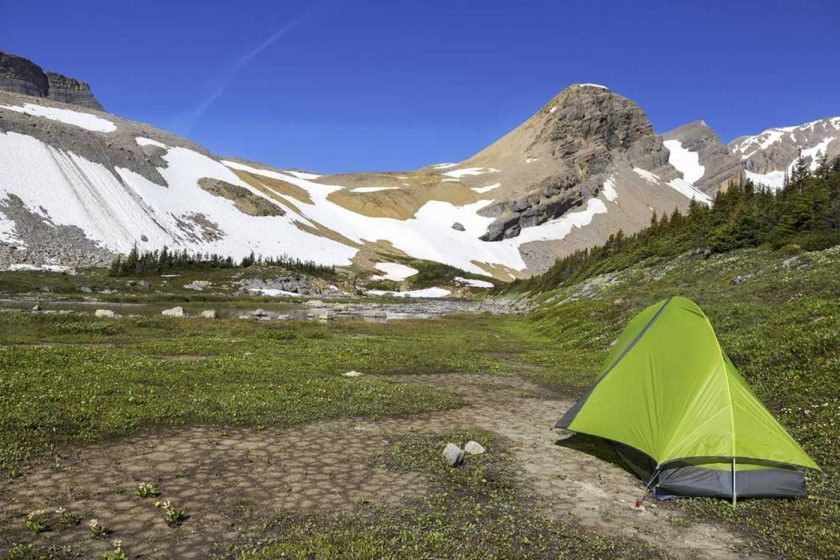 Even if you are out for a day hike, you should carry an emergency shelter. Should you get lost, a small shelter like a bivy can protect you from the elements, whether that's the sun or a torrential downpour. However, when planning a multi-day trek into the wilderness, you might want to consider a more sustainable shelter like a single-person tent or even a hammock.
With these 10 essentials, you're ready to hit the trail safely!
Article by Kyle Shaw. Featured image: sirtravelalot/Shutterstock