Planning to go fly-fishing? That's a great way to spend your rest day or summer vacation. Not only will you enjoy fishing but you'll get to calm yourself by being with nature.
But before you go, you must have your complete list of essentials. Incomplete gear may hinder you from fishing comfortably and effectively. Aside from the fishing permit or license that some places require, you mustn't forget the following essential fly-fishing items:
1. Fly Rods
Before buying fly rods, you must understand how they function. You can use fly rods for casting because you need accuracy and power. Like a spin rod, you can use a fly rod to avoid spooking the fish while properly presenting the fly line and fly.
Also, you can control your line once the fly is floating on the water. Most importantly, you use the fly rod to strike and land the fish. In this case, your fly rod must not snap or break even when under great pressure. You' fight the fish once it gets hooked. So, your fly rod must be strong and flexible enough to bend.
The next thing to consider is the right type of fly rod. If you're fishing for saltwater fish, then a freshwater fly rod isn't a good choice. And if you're after small panfish or huge bass, you mustn't bring a fly rod that you use for trout.
By bringing the right rod, you'll surely have a good catch.
2. Reels
Another vital item you should bring when fly-fishing is the reel. Just like fly rods, you can find reels on flyfisherpro.com. Choosing the right fly reel is important. Fly reels differ in sounds, drag systems, weights, form factors, and materials. As long as the fly reel is functional, durable, and of high-quality, you can land that fish.
To match your fly reel and fly rod, they must have the same weight. This means that if you want to handle a larger tackle, then you must have a reel with a larger weight.
Also, consider whether the reel is right for you. For instance, if you're right-handed, then go for the reel that's facing the left. If you're buying a pre-spooled fly reel, make sure that you consider your direction of casting preference. By doing so, you won't have a hard time when you're on the spot for fly-fishing.
3. Fly Lines
Another item you need to have when fly-fishing is the fly line. The fly line will make casting easier while chasing the fish for miles.
Before buying a fly line, know the type of fish you're after. Then, follow the weight of your fly rod and fly reel so that the three components match. The weight will also depend on the type of fishing you do.
Moreover, you need to understand that traditional lines work way differently from fly-fishing lines. With fly-fishing, the weight of the fly line is the one that lets you cast. On the other hand, traditional fishing lines need weights or sinkers at the end of the line for casting.
Therefore, you must choose a high-quality fly line to achieve your fly-fishing goals, especially if you've located a difficult area to fish.
4. Flies
Of course, fly-fishing essentials aren't complete without the right flies in your box. The flies you use will depend on the type of river and region you're headed to. This is because air temperature, water clarity, cloud cover, temperature, rate of flow, and the like can change the feeding habits of trout.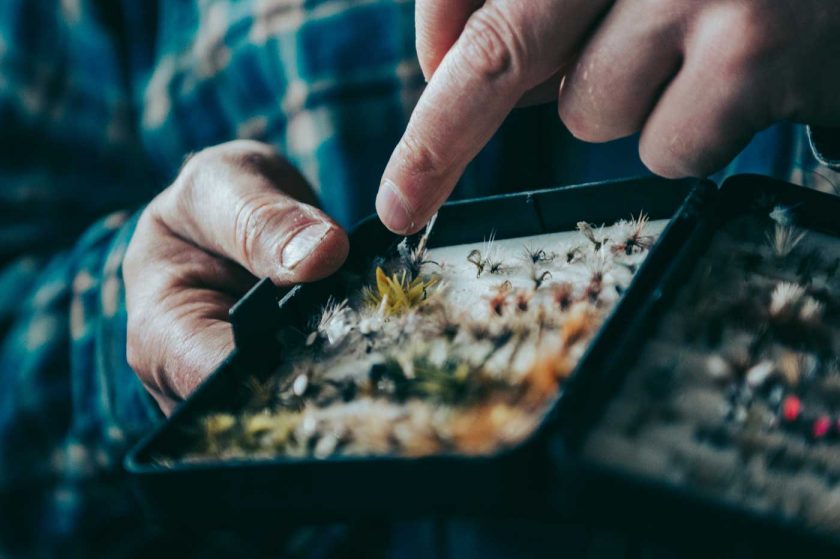 Even though this requires using the right flies, you must properly tie the following universal flies that can appeal to almost any type of trout:
The Worm – Size 8: A synthetic worm material seems real when submerged. When using this kind of fly, trout go crazy over their wriggling movements.
Mayfly Emerger – This type of fly mimics aquatic insects that can sit on the surface of the water. You can use this to attract trout that are rising, especially when you go fly-fishing at night.
Stimulator – With this type of fly, you can mimic foods that are on the surface of the water. This type of fly is also best when fly-fishing in the evening.
Conclusion
There you go. The above items are the most essential things that you should have in your fly-fishing box. There are more items that you may bring but the above-mentioned ones should always be present. You should buy and bring the right fly rod so that you can fish properly. You should have a reel that matches the weight of your rod. Besides, your fly lines should have the same weight as the fly rod and the reel. That way, you can effectively cast and land a struggling fish. Most importantly, you should bring different types of flies to attract trout easily.
Featured image: Adobe Stock