Does anyone think their GoPro HERO3+ is not powerful enough? …Didn't think so. Has anyone worn out their old GoPro yet? …OK, so a few people. Well then, who's ready for another GoPro? …EVERYONE – yeah me too!
Good news, GoPro today unveiled the successor to the HERO3+ and it's rather imaginatively named the HERO4! The HERO4 represents the companies highest performance line of capture devices they've ever made (as expected). The HERO4 is available in two editions, HERO4 Black at MSRP $499 (£369.99) and HERO4 Silver at MSRP $399 (£289.99).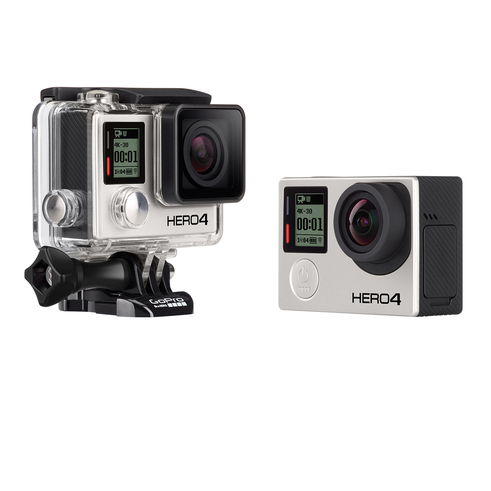 The top-of the-line GoPro HERO4 Black,  which the company claims doubles the performance of its predecessor, shoots 4K video at up to 30fps (compared with the HERO3+ camera's 4K at 15fps), 2.7K video at 50fps, or standard 1080p video at 120fps.  It can also shoot stills at 12MP – up to 30 photos per second in burst mode. Check out GoPro's new video showcasing what the HERO4 black camera can do.
The HERO4 Black also has a processor that GoPro says is two times faster than the previous camera, and a slightly enhanced interface for easier navigation through menu options. Other additions include improved wifi and bluetooth connectivity, to provide for faster connections and better connectivity.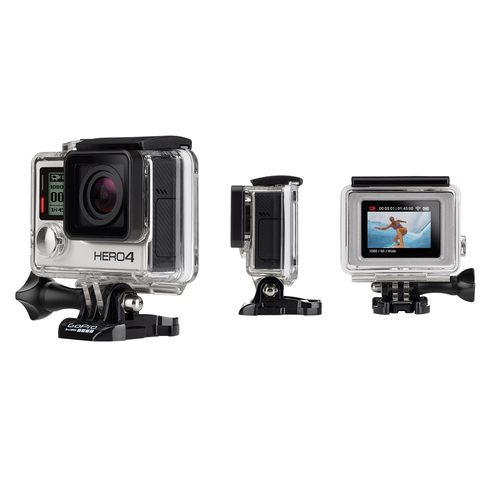 The GoPro HERO4 Silver, punches in as the mid-range camera. It shares many of the same specs of the HERO4 Black, with the exception of the 4K video frame rate (only managing 15 frames per second). However it can shoot a crisp 2.7K at 30fps, which is fast enough for fluid video playback. The HERO4 silver also boast the same wifi/bluetooth improvements as it's big brother and the ability to shoot 30 stills per second at 12MP. Both models are supposed to capture better low-light and nighttime imagery, as well.
However, the HERO4 Silver's standout feature is its touchscreen display, which will hopefully make things easier than fiddling about with physical buttons. Other GoPro models require users to pair the camera with their smartphones if they want to see what they're shooting, or to purchase an $80 LCD "BacPac" accessory. Now the HERO4 Silver has a display built in. This make choosing between the HERO4 black and silver models a bit more difficult than simply weighing power with cost.
To top things off, GoPro showcased the GoPro HERO. This "entry-level" camera shoots 1080p HD video at 30 frames per second and 720p HD video at 60 frames per second. It captures five-megapixel still images at up to five frames per second. It only costs $130 (£99.99), great for casual users.
All three cameras have the same small form factor, are waterproof up to 40 meters and work with microSD cards. Alongside the new HERO4 camera lineup, the company have announced a number of new accessories to add to it's already comprehensive list. These are a new remote, for tagging, new battery pack that will double camera battery life and a new handgrip (these additions cost in the region of $20 to $80 depending on the accessory). You can never have enough GoPro accessories though…right?
It's clear that with the new line, GoPro is targeting a variety of consumers, targeting more casual users as well as their core action-sports-user base. This is a smart move and one that will prove necessary if GoPro is to continue to dominate the market as other companies like Shimano, Garmin and HTC try to compete.
The new cameras begin shipping on October 5th. I know what I'm asking for Christmas.
Via: GoPro.com.