Two walkers are lucky to be alive after getting lost and spending the night in the snowy Cairngorms national park in northern Scotland.
The couple, aged 59 and 56, had undertaken a New Year's Day hike in the Highlands. They were reported missing on Sunday after failing to return from the walk with their dog.
Cairngorm Mountain Rescue Team searched the Cairngorm Plateau overnight in freezing temperatures and deep snow.
In a Facebook post, they explained:
First major search of the new year and the winter over the past two days.

Two persons were reported overdue early last night and the rescue initiated. Team members mobilised and searched in freezing conditions into the early hours, along with the Maritime and Coastguard Agency SAR Helicopter, based in Inverness. The missing persons were not found overnight and a full team search was initiated for first light, which included the SAR helicopter and RAF Mountain Rescue Team.

The search continued in very poor weather conditions which hampered flying, this resulted in most of the areas being covered on foot by MRT teams.

The missing persons were located in near zero visibility and helped back to the Cairngorm Ski Area car park.

A great turn out from our team members over the course of the rescue and thanks go to their family and colleagues to help them attend rescues at such short notice. Also a huge thanks to everyone who donates to the team to help us to continue our work.
The couple was found, with their black Collie, at around 12:00 yesterday (January 2) and they were walked to safety.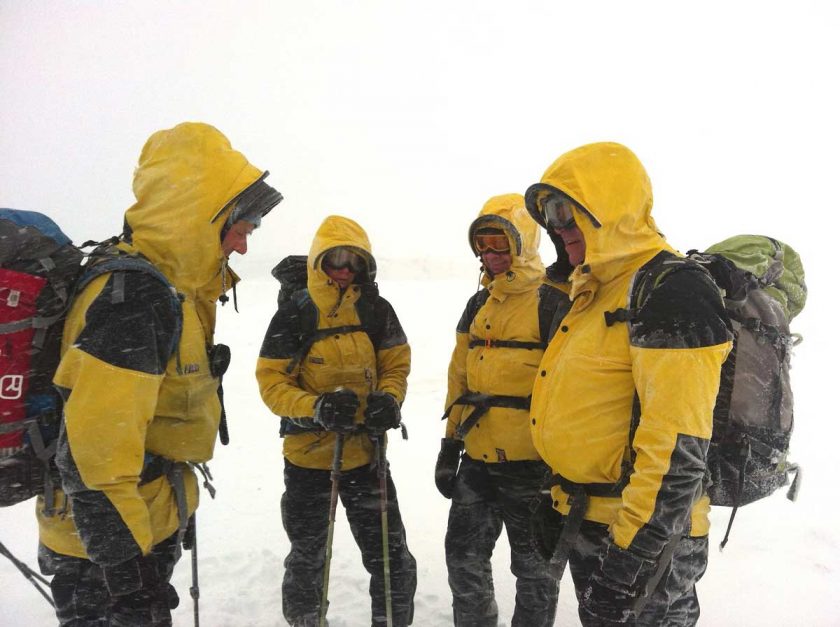 The Cairngorm Mountain Rescue Team's leader Willie Anderson said:
They misjudged how long their walk would take them yesterday and then the cloud closed in and it started snowing. They were a bit disorientated but at least they had a bivvy bag to shelter them. That probably saved their lives.
Anderson explained that rescuers walked with the couple to a vehicle which took them on to the national park's funicular railway. The pair were due to be checked over by medics but they were safe and well.
Featured image: Near a spot height during the search, flat light, heavy snow and very poor visibility. Photo: Cairngorm MRT