Are you a hiker or backpacker looking for an effective way to filter water on the trail? While finding safe drinking water in the wild can be tricky, it's possible with the proper knowledge and gear.
In this article, we'll provide hikers and backpackers with a comprehensive guide on effectively filtering water in the wild—from choosing your equipment to filtering techniques.
Why you should always be prepared to filter or purify water
Emergency preparedness is essential no matter how experienced you are as a hiker or backpacker. Wild water can come from many different places outdoors—lakes, rivers, streams, ponds—but regardless of where it's found, caution must be taken when consuming it.
Always filter or purify wild water sources before drinking them to ensure outdoor safety and protect against potential risks such as parasites, bacteria, and viruses.
Practicalities of bringing your own water
When you're out hiking or backpacking, you might want to bring your water. But, there are some things to think about when doing so.
First, you'll need to decide what type of container to use. Water bottles come in many varieties, including plastic or stainless steel, and can be either fixed or collapsible (eg. Camelbaks).
One thing to keep in mind is that carrying extra water can add weight to your pack, making it difficult on longer trips.
Finding a water source
Another consideration is finding sources to collect water along your route. It's a good idea to map out where you can find water and plan your stops accordingly.
| | |
| --- | --- |
| Sources | Description |
| Rivers & Streams | Can provide fast-moving, clean drinking water if properly filtered; however, there may be high concentrations of Giardia cysts which can cause gastrointestinal illness if ingested. |
| Lakes & Ponds | Often look clear but harbour a variety of organisms that could contaminate your drinking water unless treated correctly; also check for blue-green algae blooms before ingesting. |
| Rainwater | Depending on where it collects, rainwater can contain pollutants like pesticides; always catch it off of non-porous surfaces such as roofs or sidewalks and use filtration systems. |
| Snow | Unsafe to consume without proper treatment since snow absorbs air contaminants and microorganisms from the atmosphere; melt with caution using safe methods outlined here: [link]. |
| Springs | Usually emerge from mountain rocks at steady temperatures year round and often offer cold, fresh potable water; however, they should still be tested for any potential contamination prior to ingestion. |
Knowing what types of sources are available will help you determine whether filtering water or another method is necessary when searching for drinkable water during your hike or backpacking trip.
Portable water filters in the wild
Once you've found a reliable water source, it's important to consider the best ways to make the water safe for consumption. If you're planning on hiking or backpacking, portable water filters are an absolute must-have.
There are a variety of different types of water filters available. These devices come in many forms—from large filtration systems designed for group use, to small lightweight bottles and straws perfect for individual adventurers.
Let's take a closer look at some of the most popular portable water filters on the market.
Water filter bottles
These handy water bottles offer a convenient way to access clean drinking water without having to stop and set up a larger filtration system. You'll often find them marketed as personal water filters.
The best water filters for hiking and survival tend to use ceramic filtration, alongside other filter methods. The Katadyn Vario is a good example of this, using a combination of ceramic and activated carbon filters.
Water filter straws
You've probably heard of LifeStraw before—it's become a generic term for straw water filters. 
Small enough to fit in your pocket, water filter straws are perfect for quick access to safe drinking water while you're out exploring during the day. They're also great for carrying with you in case of an emergency.
While they don't offer the same level of filtration as some other types of filters, they do provide basic protection against sediment and bacteria.
UV purifying bottles
UV light devices can effectively make microorganisms in contaminated water harmless by disrupting their DNA structure, making them unable to reproduce. While ultraviolet light in a water bottle is fast acting, it requires batteries, which can make it less practical for extended periods of hiking or backpacking.
LARQ is one of the most popular UV water filters following a record valuation on the reality TV show Shark Tank. 
Full water filtration systems
If you're planning on a big car camping trip or setting up a base camp, a full water filtration system may be the way to go.
These systems offer greater filtration capabilities than other types of filters, but they do require more time and effort to set up.
Big Berkey's are a common option. They're common in homes and kitchens but also light, portable, and durable enough to be a good option for large groups of people on camping or RV trips.
Purification tablets
For backpackers who prefer a lightweight and fuss-free option, purification tablets are a great choice for purifying water.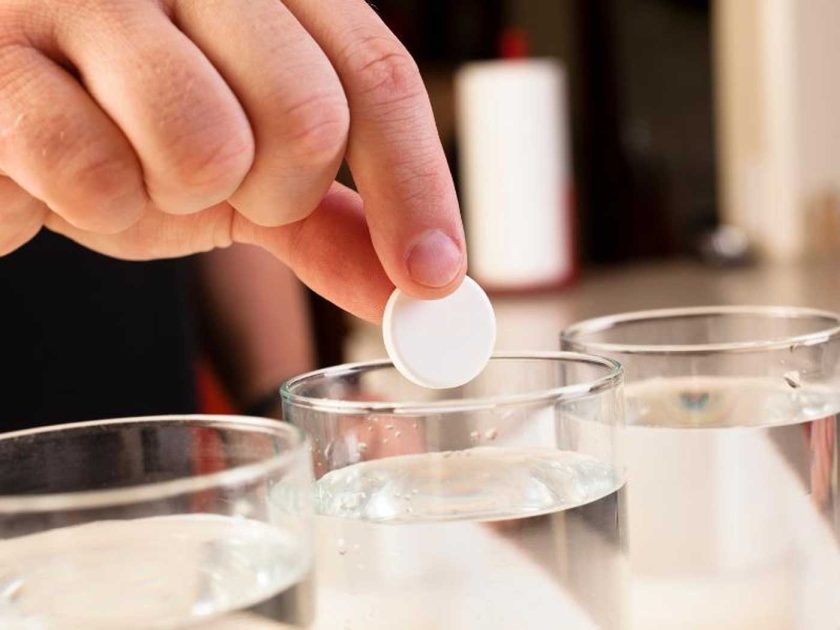 The purification process is simple. Drop the tablet into your collected water and wait for it to work its magic—usually around 30 minutes. For especially cold or cloudy water, they may take considerably longer.
These tablets are a chemical treatment that kill off bacteria and viruses, making your water safe to drink.
One advantage of using water purification tablets is that they don't require any special equipment or skills, so anyone can use them as long as they have access to clean water in the first place. Plus, they're relatively inexpensive compared to other methods and weigh only a few ounces.
How to treat water in an emergency
In an emergency situation, you can use a variety of makeshift filters and purification methods to make sure all wild sources of water are safe for drinking.
Always be aware that even if the water looks clean, there may still be parasites or bacteria present that could lead to illness—so only use these techniques in an emergency.
Boiling: As mentioned, boiling water for at least one minute is one of the most effective ways to make sure any water is safe to drink and to kill bacteria. Boiling won't remove sediment or large floating particles, so if you can consider distillation.
Distillation: If you have enough equipment, you can improve the boiling process by distilling the water. Put a large bowl inside your pot and boil water with the lid placed upside down on the pot. Condensation will gather on the lid and then drip back down into your bowl.
Solar water disinfection: If you've got time, solar water disinfection can get you out of a sticky spot. Just expose a water bottle or other clear, clean container to sunlight for a minimum of 24 hours.
Emergency filtration: If the worst comes to the worst, grab whatever you can find. A coffee filter, socks, or pieces of cloth can all help filter your water. Remember, this is an emergency option and should be used as a last resort.
Always be prepared!
When I'm out hiking and backpacking, I always carry some type of portable water filter or purification tablets with me so that I can easily access clean drinking water when needed.
If I find myself in a sticky situation without my own gear, I know how to improvise by boiling water, distilling it, or making a makeshift filter.
No matter where your travels take you—whether it's deep into the wilderness or just around the corner—being able to safely filter or purify water is an essential skill for any hiker or backpacker.
Save this post on Pinterest