Wilderness survival skills are essential for everyone, but they're especially crucial for curious, adventurous children. Learning wilderness survival skills helps young people feel more equipped in their everyday life, boosts problem-solving capabilities, and increases overall self-awareness and self-confidence.
Here are eight tips to help you start teaching wilderness survival skills to your children.
Be incremental and be repetitive
Kids thrive on step-by-step instruction and repetition. Consider setting aside a weekly or twice-a-month time slot to learn one or two new survival skills and review old survival lessons. Keep this time slot brief enough to maintain your children's interest, but long enough to teach them something new.
Continuous learning, coupled with plenty of practice and repetition, helps cement survival lessons in your children's minds. With enough patience and review, skills like building a fire, setting up a shelter or setting a trap will become ingrained in their muscle memory. This experience helps your kids feel more confident and prepared in the wild.
Teach basic mechanics
Basic mechanics are the foundation of many survival skills, whether you're learning how to build a safe shelter or rappelling off the side of a cliff. For instance, pair an understanding of Newton's Laws of Motion with learning how to safely fell trees to help children reason through problems encountered in nature.
Introduce them to DIY home improvement skills, which help them get used to working with their hands, solving practical problems and using tools safely. Teach them how to use and sharpen a knife and identify the different elements of a multi-tool. Show them how to light a fire in a fireplace as well as in a campfire ring and demonstrate how to put out fires safely.
Although these skills might not seem directly related to survival skills, problem-solving and tool use, they are essential to adapting in an emergency. A capable, confident child will be much better at using what's around them to build an emergency shelter, start a fire and deal with challenges at hand.
Encourage them to get in the dirt and water
Getting your kids in the dirt and the water can help them feel more confident in any wilderness survival scenario. By allowing them to garden, swim, fish and play outside, you're encouraging them to build a relationship with the great outdoors.
Once they have this sense of familiarity, teach them water rescue techniques, emergency boating whistle signals and how to build a survival shelter in the garden. Explain tides, river current patterns, cloud types and discuss weather preparedness. It's also a good idea to familiarise them with a list of edible and poisonous local plants.
Also, instruct them on how to dress for different activities on land and the water. Invest in quality outdoor apparel for kids to help them feel comfortable being active near rivers, lakes and the ocean.
Repeat first aid lessons
First aid skills should become second nature to your children. Older children should learn and renew CPR certification and know how to respond to severe bleeding, deep cuts and identify broken bones.
So long as they are old enough to understand, your children should be well-acquainted with the most common maladies, injuries and illnesses that beset people in the outdoors. They should know how to deal with snake bites, bee stings, spider bites, cuts, scrapes and sun exposure. Teach them the basics for spotting signs of low blood sugar, dehydration, frostbite and hypothermia.
Moreover, teach your children how to prevent these issues by showing them how to be careful in areas where there might be venomous creatures. Also, teach them how to protect themselves from intense heat and intense cold, as well as how to hydrate and obtain adequate calories while on adventures.
Drill their navigational skills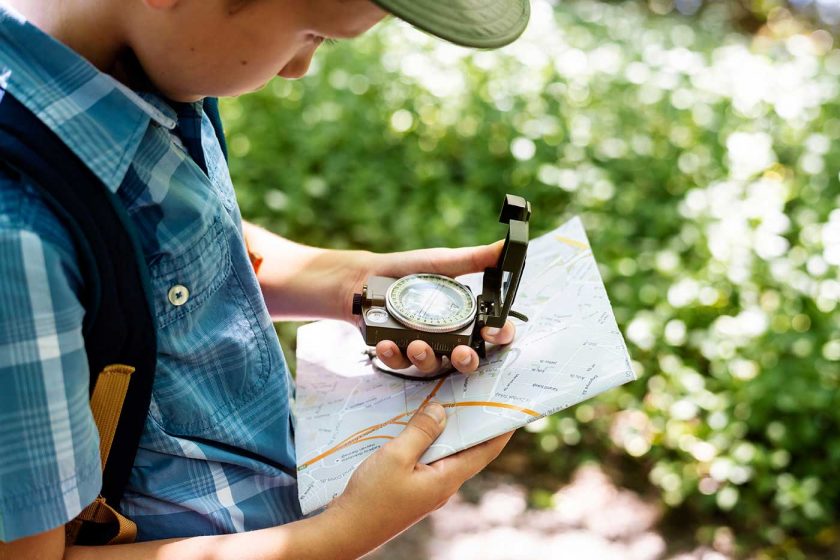 Navigation—real map-and-compass navigation—is an essential wilderness survival skill for anyone who likes to venture into the backcountry. While GPS devices and navigation apps have their place, and it's a great idea to teach your children how to use them, devices also glitch, break and die. On the other hand, topographical lines need no battery, and compasses don't die when temperatures approach freezing.
Introduce your younger children to maps and compasses early. Additionally, have your older children practice triangulation and taking and following bearings. Test your children's ability to pinpoint exactly where they are on the map using the geographical features around them and then test that ability with a GPS.
Consider investing in a satellite emergency beacon and GPS messaging device if you and your children plan on venturing into the wilderness regularly. These can be programmed to send automatic progress updates to family and friends and also feature an emergency signal button. Teach your children how to use these devices respectfully.
Instil a sense of calm
Instil confidence in their ability to cope with challenges to help them remain calm and self-possessed. This is a skill that can transfer across the various areas of their lives, from school to peer groups to future jobs.
Teach them to fish, trap and forage
Deck your kids out in some high-quality youth fishing apparel and get them on the water. Teach them how to fish in different weather and seasons and show them how to use various kinds of baits and lures for different fish species. After they've mastered the fishing basics, instruct them on how to improvise in the wild and make fishing equipment from sticks and paracord.
Fishing naturally leads to an exploration of basic trapping techniques and rudimentary foraging. By showing your children how to spot common edible plants and build traps with materials found in the wild, you're teaching them how not just to survive but thrive when out in the wild.
Make shelter-building a family pastime
There aren't many people who don't love a good fort, and shelter-building is a crucial wilderness survival skill. So why not make shelter-building a family pastime? In big families, you can set up teams and have kids compete for the warmest or most waterproof shelter. If you have a small family, enlist the neighbour kids. Introduce them to a few shelter-building techniques and let them experiment.
Final thoughts
Wilderness survival is about achieving a level of comfort and confidence in nature as well as learning to trust your capabilities. Self-assuredness is one of the biggest gifts you can give your children.
Featured image: Maria Sbytova/Shutterstock