Hitting the trail alone can be somewhat intimidating for anyone, but can be especially so for women. But whether it's because you feel vulnerable walking alone on the trail or are unsure about your wilderness survival skills and techniques, pushing past the fear and anxiety of hiking solo comes with its rewards.
Ready to experience the great outdoors by yourself? Here are 10 solo hiking tips for women, from wearing the right clothes to learning how to be self-sufficient on the trail to stay safe.
Wear proper clothes
Be sure to pack proper clothes to stay warm and dry on the trail. A good rule of thumb is to avoid materials like cotton, which can absorb lots of sweat and moisture, aiming for something like wool instead. Wool offers lots of great features for long solo hikes, such as moisture-wicking that keeps it consistently dry. Wool is also a natural sun blocker and offers an easy-to-wash, odor-resistant material, which means merino wool women's tops can last for days at a time on the trail. Women will also appreciate a supportive wool sport bra, which can self-regulate with your body's temperature to be breathable on hot days and warm on chilly ones. Leak-proof period underwear is also a smart garment to have on hand, eliminating the need for feminine products.
Carry a GPS beacon
One solo hiking tip for women is always to carry a smartphone. However, there's a lot that can go wrong with a phone, from losing cell service to dropping and breaking it. While you might appreciate being accidentally unplugged, it's crucial to have a way to reach out for help in the event of an emergency. So, as a backup, always carry a GPS beacon that allows you to send for help.
Stick to trails
For solo day hikes, make sure to stick to designated trails, as opposed to heading out in the backcountry wilderness. It's also a good idea to learn how to read a topographical map and use a compass, ensuring you can get back if you stray off-course accidentally. As an extra tip, stick to more popular trails, too, where you'll cross paths with fellow hikers so you don't feel too alone.
Don't take on more than you can handle
With any new activity, it's important to take baby steps. When it comes to solo hiking, the best way to take small steps is to go hiking close to home and start out on beginner trails. As a start, go for short hikes at a local state park, building your endurance and strength for something longer. In time, you can turn an all-day hike into an overnight hike, taking along your backpack, tent and gear for a long journey. Keeping close to home also adds a bit of relief, knowing that if you needed to or felt anxious, you could head back to the safety and comfort of home.
Learn skills from other hikers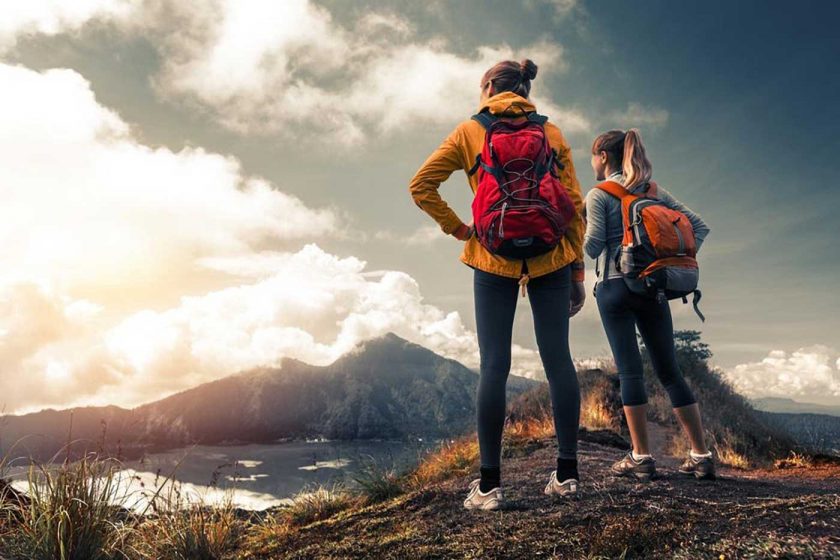 Before you set out for a solo hiking trip, learn the valuable skills you need first so you can be self-sufficient. Heading out on the trail with someone who has more experience can teach you all sorts of techniques and fast. From how to pick the right gear to cooking food to pitching a tent, it can be overwhelming for one person to learn on their own. But with a companion, you can have a more enjoyable first outing that won't turn you off from hiking forever.
Be prepared and self-sufficient
As with any solo hiker, you need to learn how to be self-sufficient. Understanding how much food and water you need for your hiking trip are things you need to know. It's also good to know what to do in emergencies and how to address an injury. Preparedness also comes in the form of packing the proper gear and training for the trail. Ultimately, you'll grow the confidence you need to feel secure, making your hikes increasingly more rewarding.
Don't let strangers know your location
Aside from letting your friends and family know your itinerary, avoid telling strangers that you are hiking solo, and especially where you are hiking. Of course, it may seem rather obvious not to announce in a public setting, but it should go for a digital setting, too. Wait until the trip is over to post anything on social media, or at least avoid mentioning your location.
Get gear designed for women
While it's obvious to look for women's hiking boots, there's lots of additional gear explicitly designed for the solo female hiker. For example, you should always try on a backpack, ensuring it fits across the torso and upper chest comfortably and securely. The last thing you want is to have chafing or compression in sensitive regions. Plus, women require a different weight distribution in their back, making a huge difference in the size and style. Before you set out, try on and test a few to find the perfect fit.
Minimise your pack's weight
While it's okay to bring a book and a few creature comforts, be mindful of how much weight you're adding to your backpack. Most backpackers start out around 35 pounds, but try to aim for 30 to 32 pounds as a general rule. Over time, you can reduce this with the help of more lightweight gear and simply the experience of knowing exactly how much food and water you need. For example, instead of bringing jarred foods on overnight hikes, you will quickly learn that meal packets are a nicer alternative.
Take a trusty companion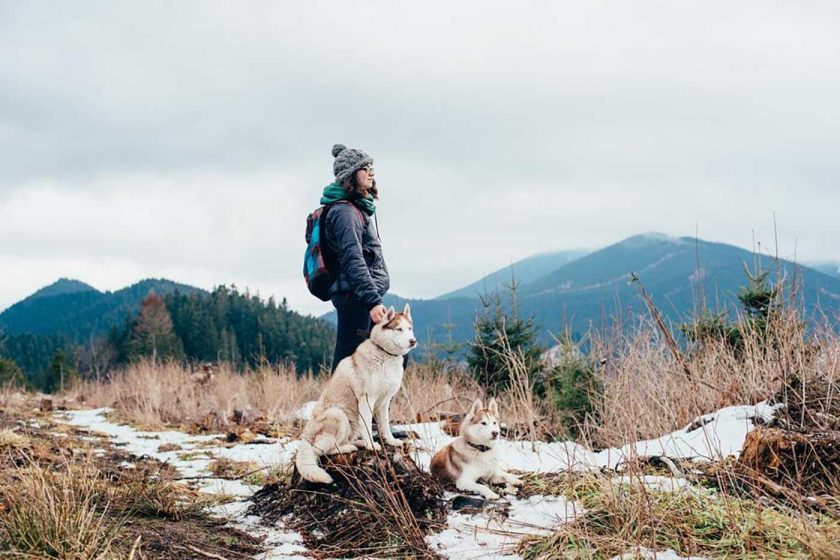 Even if you're not too keen on hiking with others, you can still find companionship with a dog. A dog can also offer a watchful eye, nose and ears for other animals you might encounter. Plus, they add a little extra warmth to the tent. Just remember you'll need to grab proper gear and food for them, too, such as a collapsible water bowl and even a small towel to clean them off.
Featured image: Maridav/Shutterstock