One-third of the UK's bee population has disappeared over the past decade and 24 per cent of Europe's bumblebees are now threatened with extinction—issues raised at 'The People's Walk for Wildlife' last year.
Bumblebees are at particular risk due to their very high metabolism and high work rate. According to Professor Dave Goulson, founder of the Bumblebee Conservation Trust, even with a stomach full of nectar, a bumblebee can be just 40 minutes away from starvation.
So, if you see a bee crawling on the ground during the summer, there's a good chance that little guy is in trouble. One thing that you can do to give an exhausted bee a boost is to feed it with sugar solution. But, that's not exactly an easy thing to carry around with you—until now!
Norwich-based inventor Dan Harris has created a device that you can carry in your wallet and use to revive exhausted bees whenever you come across one.
The 'bee saviour' cards are made from old credit cards and have three refillable 'cells' which contain sugar solution for bees.
Having recently hit the crowd-funding target, Dan hopes to have the £4 cards on sale online and, at first, in stores in Norwich from June this year.
Speaking to the BBC, Dan said: "When we heard about bees getting so exhausted so quickly, the fact that we can revive them with sugar solution just struck us as a really great opportunity to connect with nature—especially in a city."
It's important to note, however, that giving sugar solution to bees should only be considered as a last resort. The insect charity Buglife recommends that people try and put tired bees onto flowers, where they may be able to find nectar which, unlike sugar solution, contains nutrients they need.
Dan agrees with Buglife that bees' natural food is "fundamental". But he also says that flowers will often have been drained of nectar by other bees, and that an extra boost from the sugar solution could help them find what they need by themselves.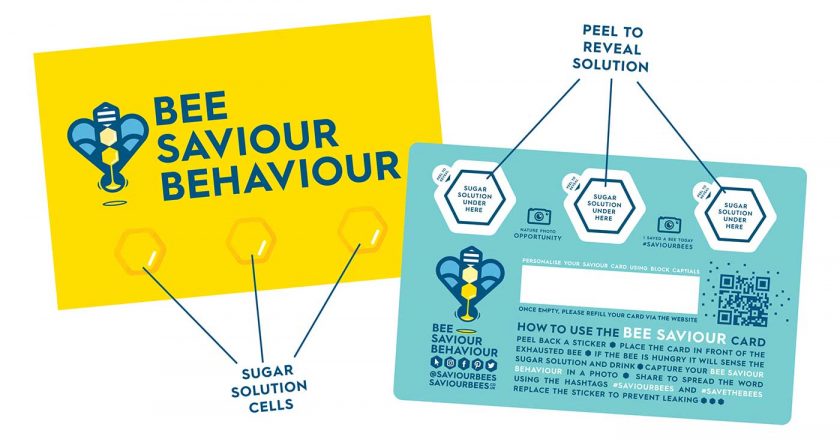 The 'bee saviour' cards are designed to be used in urban areas where green spaces and fewer and farther between. Additionally, many green spaces in urban areas can change often—which can throw bees off track.
"The city council or whatever comes and mows the lawn and all the dandelion heads disappear or someone changes their garden," Dan said.
"If they've got a standard route around your neighbourhood one day, maybe the next day a huge patch of flowers they were feeding on has disappeared."
If used properly, the 'bee saviour' cards are a great tool to help support the bee population. Before deciding to feed a bee with sugar solution, however, try to assess if the bee looks exhausted due to hunger or for another reason.
For example, bees are very sensitive to sudden changes in temperature—they can't fly if it's colder than 12°C.
Also, it might not be worth feeding bees that you find in the late summer; when autumn comes, worker bees force all the drones out of the hive to starve to death, so feeding them could just prolong their suffering.