This article originally appeared on Fix.com and has been republished with permission. Words by Amy Whitley.
Birding is a pastime that can be affordable, healthy, and adventurous. Birders get outside in autumn and winter weather, walk or hike to remain active, and discover new natural landscapes while pursuing their passion. Spotting new-to-you bird species is often the icing on the cake.
Top regions for birding
A birding outing can easily be added to planned travel, whether for work or leisure. Before your next trip, check to see if you'll be in the vicinity of any of these top birding locations in the US.
Southwest US: New Mexico and Arizona are home to some of the best birding locations in the country. Thanks to wide swaths of remote landscape in both states, huge migrations have room to take flight here in the fall months. In Arizona, head to Cave Creek Canyon, Patagonia-Sonoita Creek Preserve, Saguaro National Park, or Madera Canyon, and in New Mexico, start in the Chupadera Mountains and the Magdalenas, both in the Chihuahuan Desert.
Florida: Teeming with bird species year-round thanks to its climate, cypress groves, and swamps, Florida is a birder's dream. Active bird-spotting is plentiful in Everglades National Park, popular tourist destination Sanibel Island, and Corkscrew Swamp (south of Fort Myers), where the country's largest stand of virgin cypress trees makes a home for limpkins, wood storks, and swallowtail kites.
New Jersey coast: There's arguably no better place to catch the migration of hawks than Cape May, New Jersey, and thanks to the coastal climate in this part of the country, birders will also find many waterfowl species. Head directly to the Cape May Bird Observatory Northwood Center for the best bird-spotting in this area.
Lake Erie: Both the U.S. and Canadian sides of Lake Erie are prime birding locations in the fall and winter, thanks to Ohio's Magee Marsh and Canada's Point Pelee National Park, a six-mile stretch and globally important bird area. Freshwater marshes and sandy beaches can be found in both locations, alive with both songbirds and hawks.
California coast: On the opposite side of the country, the central California coast offers prime birding in a scenic setting. Head to Monterey Bay to catch a rare glimpse of an albatross, or travel to Point Reyes National Seashore, where a wide variety of sea birds are in plentiful supply, including – depending on the year – puffins.
Texas: A neighbour to New Mexico and Arizona, sharing the same prime birding area in the Chihuahuan Desert, several parts of Texas provide big birding opportunities. Try Big Bend National Park, in the Chisos Mountains in the south, or head to the lush green sanctuary of the Rio Grande, which attracts a wide variety of bird species. Be on the lookout for buntings, hummingbirds, flycatchers, and even hawks in the Rio Grande Valley.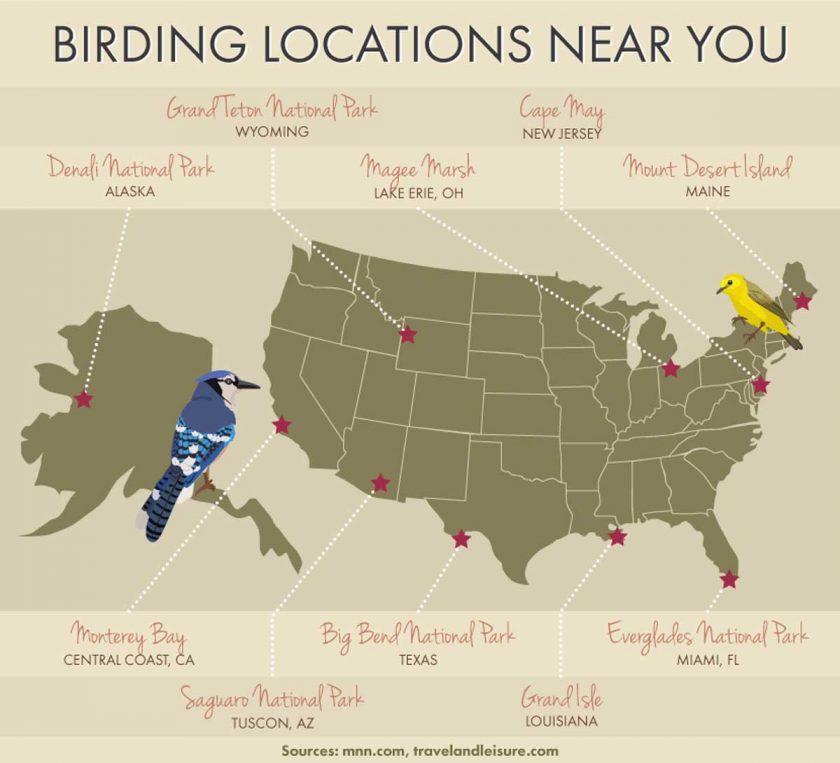 What Species to Look for this Fall or Winter
Now that you know where to go to find the biggest migrations and birds en masse, it's time to learn where to go for specific species. The following precise locations are known primarily for one bird (though many others may congregate as well).
Hawks: Birders interested in birds of prey can head to Central Oregon to the bird sanctuary program at Bend's High Desert Museum, or to the Hawk Mountain Sanctuary in Pennsylvania, where the fall hawk migration is a big attraction. Interestingly, hawks and raptors have been spotted in Cape May, New Jersey, as well.
Bald eagles: Try the Klamath Basin, Southern Oregon, at Upper Klamath Lake and Klamath Basin National Wildlife Refuge Complex. Or you can go north and view many bald eagles at the Alaska Raptor Center in Sitka, Alaska.
Cranes and snow geese: New Mexico is the prime location for sandhill cranes and snow geese. Birders who arise before sunrise will be rewarded with the sight of over 10,000 birds taking flight each morning. The best viewing location is Bosque del Apache, below Albuquerque and not far from the Chihuahuan Desert region recommended above.
Hummingbirds: Various types of hummingbirds are notable in several regions of the American Southwest, including the Aransas National Refuge in Texas, known for ruby-throated hummingbirds, and the entire Southeastern section of Arizona (as noted above), known as the "Hummingbird capital of the U.S." At Aransas, birders will also be rewarded with Whooping Crane sightings.
Orioles and jays: Stay in Texas for the best orioles and jays, which congregate in fall in the Lower Rio Grande region, enjoying the vegetation and water options in this section of the state.
Herons: For heron sightings, as well as spoonbills, birders must head to Florida. Specifically, the top location for herons is Sanibel Island, at the J.N. 'Ding' Darling National Wildlife Refuge. The mudflats and mangrove forests in this area provide the perfect home for 300 bird species, in addition to the heron.
Warblers: Often seen in the spring as well as the fall migration, many types of warblers can be found in varied regions, including Acadia National Park, Maine and Magee Marsh, Ohio (noted above). Look for warblers primarily in the Northeastern section of the U.S. for the most sightings, though they can be spotted elsewhere.

What You Need to Go Birding
Time to talk gear. Here's what needs to go in your luggage or live in the back of your car, so you're ready for birding opportunities.
Binoculars: Bird-watching-quality binoculars can be found for as low as $200 and as high as several thousand dollars. Which model you select depends on your budget; no matter your price point, try a variety in a store first, to ensure comfort (especially if you have eyewear), proper size, and ease of use.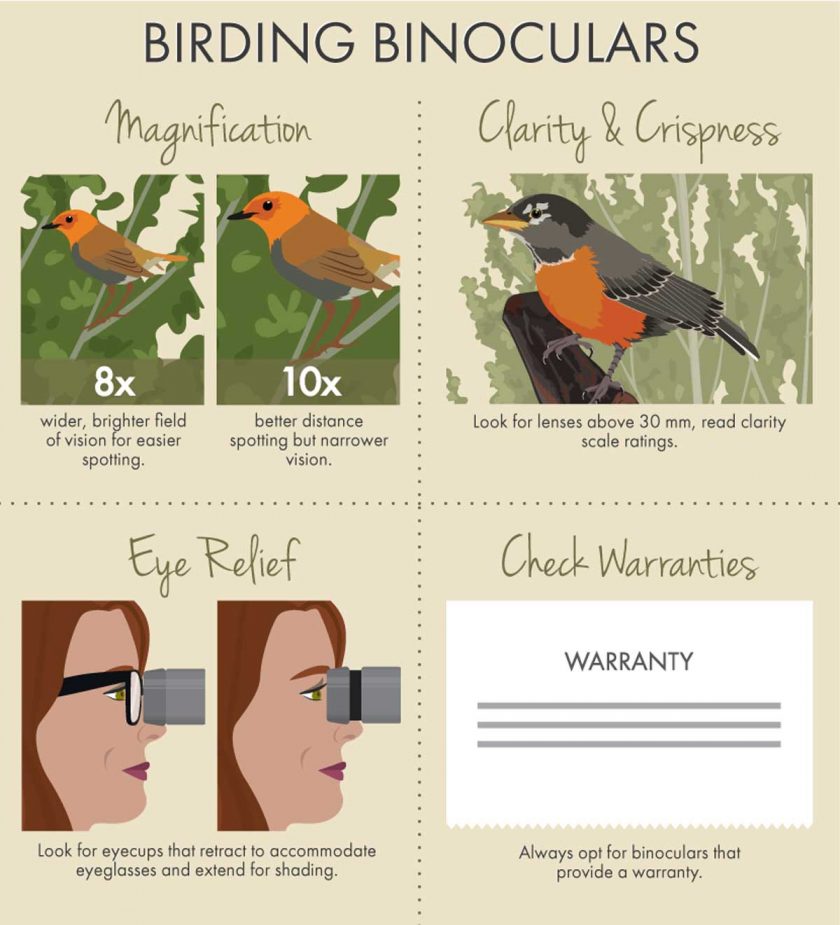 Insect repellent: Find a quality repellent, or better yet, wear a repellent-treated shirt or pants. These clothing options provide insect protection without the need to spray harmful repellent directly onto your skin. Try ExOfficio's Insect-Shield line.
Mud and rain boots: Serious birders will need waterproof boots that fall almost to the knee to provide protection while wading through mud or marshes. Look for Muck Boots or LL Bean rain boots. It doesn't hurt to have wool socks, too.
Guidebook: Which guide to use will depend on which region you're visiting and what bird species you're on the lookout for, but a great starting place is Audubon's collection.
Field notebook: Find a waterproof notebook that uses tear-resistant, waterproof paper (much like many outdoor maps). Try Field Notes Expedition Edition (just don't try to say that three times fast).
This is just the tip of the iceberg when it comes to recommending gear, tips, and most importantly, locations to see birds. Seasoned birders know that when it comes to finding the 'best' locations, it comes down to personal preference. Take this opportunity to get started in birding, and find out what your own preferences are!