FREE THE REEF is a campaign set up by environmental activist, Stu Bowen, which aims to raise awareness about threats to Australia's reefs. The campaign, which is currently touring around Australia, is targeting consumers and businesses alike and asking them to think more carefully about the environment and take action to help preserve this precious ecosystem. With the coral bleaching threat of the Great Barrier Reef now raised to it's highest level, this cause is even more urgent. We spoke with Stu about the campaign and his plans for the year.
1. Tell us about FREE THE REEF. How did you start up the initiative?
FREE THE REEF (FTR) is an innovative not-for-profit campaign combining the power of responsible business, reach of inspired artists and the purpose of grassroots conservation.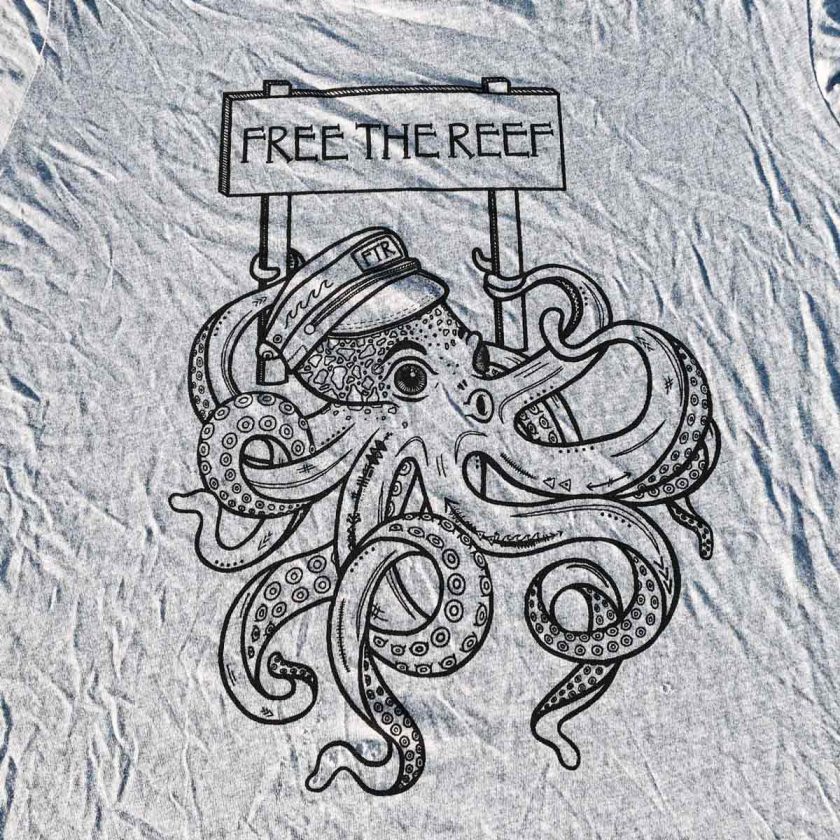 FTR is taking the Reef to the people, via art, because it is simply underwater, out of sight and dangerously out of mind, in this crucial election year. There are two distinct parts to the campaign. The first is community engagement which includes a live screen printing tour of Australia. Participants get involved and show their support for the Reef through the creation of one-off hand printed t-shirts, designed by leading Australian artists.
The second part involves business engagement through the 'Reef Declaration.' This is an opportunity for Global business leaders to showcase their collective support to protect the environment and additionally influence policy makers to implement future proofing legislation to safeguard the Reef for future generations.
2. What is the Reef Declaration and how will it make a difference?
The Reef Declaration is specifically designed to build an alliance of likeminded business leaders whom represent larger wedges of the economy to push for better policy on air quality, water quality & biodiversity. Healthy business requires a healthy environment. As conservationist David Brower clearly states, "there is no business to be done on a dead planet."
3. What challenges have you faced setting up FREE THE REEF?
Transitioning from the business world to the NFP sector has many hurdles, mainly lack of funds and resources. However, I've always seen obstacles as opportunities to explore different pathways and try new things.
When setting up FTR it was essential for me to create a model that was environmentally low-impact, simple, engaging, self-sustaining and mobile. This is an ever-evolving mission but it's empowering to be pushing the boundaries and pioneering new ways of operating with the planet and biosphere as the top priority.
4. Tell us about some of your supporters. How are they helping the initiative?
Our BIGGEST supporters are the inspired artists and those who we co-create t-shirts with along the FTR campaign trail. Art speaks all languages and connects with the issues whilst helping start the necessary conversations between friends, family and workmates about the threats affecting the Reef, our air, our water and biodiversity. Acknowledging that there is a global environmental crisis and raising awareness is the first step towards a solution.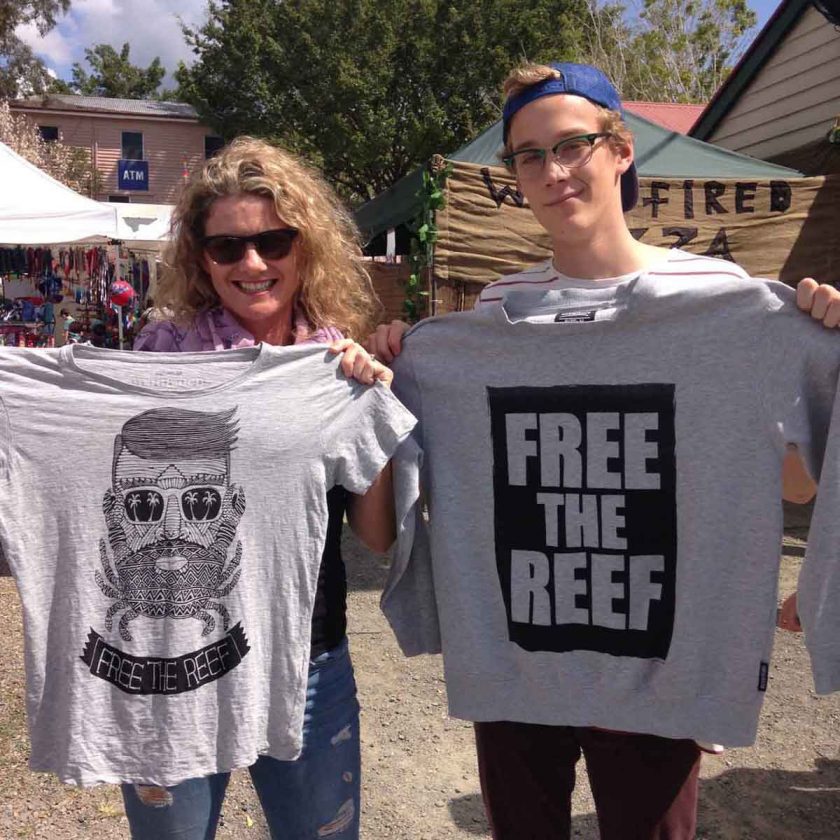 Responsible business is also supportive and provides goods in-kind that allow me to be self-sufficient, go further for longer and showcase emerging mission/purpose driven companies and the very best real world solution-based products.
Permaset Aqua is a major contributor and supplies all the textile ink for our screen printing events. They have an extensive range of premium, environmentally-friendly inks that are water based, solvent free and approved by the Soil Association to be used with certified organic materials and clothing. Their involvement means we can produce a professionally printed design with reduced impacts on the planet.
With global warming/climate change as the number one threat to the Reef, solutions that can help scale up out transition to clean and renewable energy globally are crucial.
5. What can businesses and people do to help aside from supporting FREE THE REEF?
It's really simple! Aside from signing the Reef Declaration, wearing your support for the Reef and starting meaningful conversations about air and water quality and biodiversity, whether you are young child or an experienced CEO we can all minimise our environmental impact and carbon footprint by tending to the everyday climate action things – from more efficient light bulbs to community banking that invest in the community and not fossil fuels and everything in between. If we ALL make the relatively minor changes in our everyday lives it equates to macro change for the planets most fragile ecosystems…
6. What are your plans for 2016?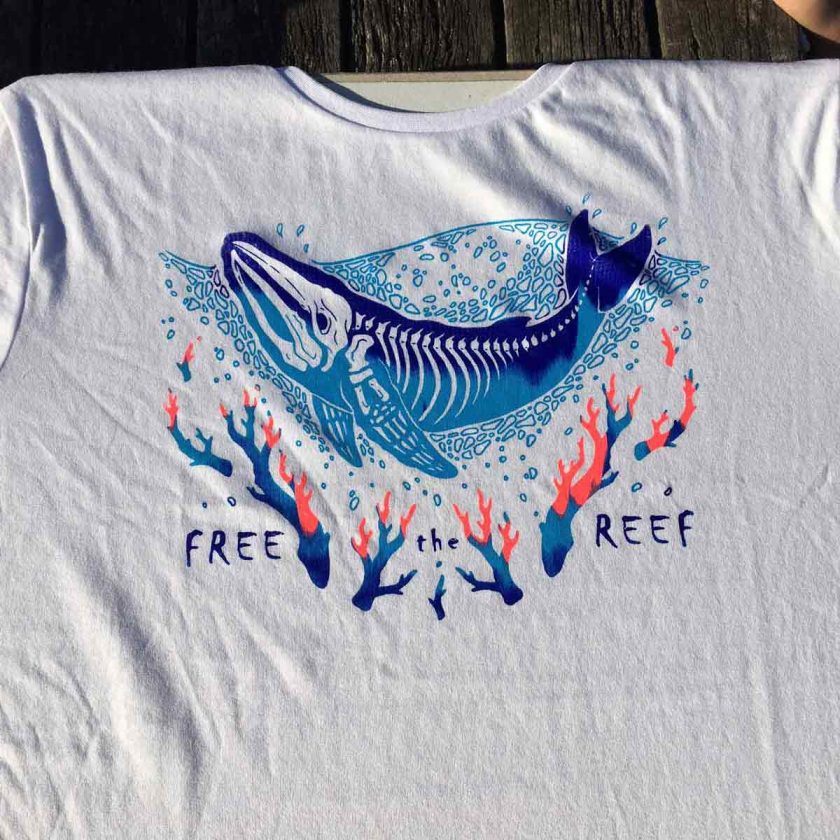 2016 is a big year for the Reef as it's a federal election year & the greatest opportunity to influence government to implement future proofing legislation to protect the Reef for future generations, so once the election is called I aim to take some influential CEO's to Parliament for round table discussions with the Government. In the meantime, I'll continue on the FTR Live Screen Printing campaign trail (next stop South Australia) and continue rallying likeminded business support to sign the Reed Declaration.
Add your voice to the FREE THE REEF initiative today (we're proud to be a supporter). If you're an individual, sign here. If you're representing a business, then sign here.
Additionally, you can support the project by getting yourself one of FTR's rad custom screen-printed t-shirts (like those featured in this interview) at the FTR shop.
Also, check out Search for the Planet – a search engine that donates 90% of profits to environmental charities. The other 10% goes towards maintaining and developing SftP and the ADAPT Projects initiative. So, make SftP your default search engine today and turn every web search into a force for environmental protection.