In an era when big brands announce new eco-friendly initiatives every week, it's hard to discern which brands truly care about their environmental impact and which ones are just doing it for a publicity boost.
However, Major League Baseball (MLB)—the organisation responsible for baseball's highest level—is making its position perfectly clear. It's on somewhat of a winning streak in the battle for a sustainable future, showing great commitment to reduce its impact on the environment in very measurable ways.
MLB is taking a top-down approach to sustainability; green initiatives are filtering from the administration level through each major league ball club and its facilities.
But that's just one side of the equation. MLB teams are also working with city and community partners to create green local communities.
MLB's long-term green vision
An organised commitment to make ballparks more environmentally friendly throughout MLB began a decade ago.
While a few ball clubs had active green programs in place prior to 2009, MLB's emphasis on sustainability has encouraged all 30 teams to implement green practices at home.
These days, clubs embrace a range of green practices, from using only recycled paper products to installing efficient LED stadium lighting. In fact, it's difficult to find any aspect of stadium operations untouched by the league's sustainability movement.
The 'Green Glove' Award
MLB hands out awards for just about every superlative performance, and green programs are no exception. The league's 'Green Glove' Award, delivered annually, recognises the ball club with the highest waste diversion rate.
The San Francisco Giants have won the 'Green Glove' in 10 of the last 11 seasons, including last year when the team diverted 94 percent of waste at AT&T Park from Bay Area landfills.
How MLB and ball clubs develop eco-friendly practices
To maximise green initiatives around baseball, MLB has partnered with outside organisations in the sustainability space. MLB was the first major professional sports league in the US to incorporate all clubs as members of the Green Sports Alliance, an organisation which promotes healthy, sustainable communities in sports.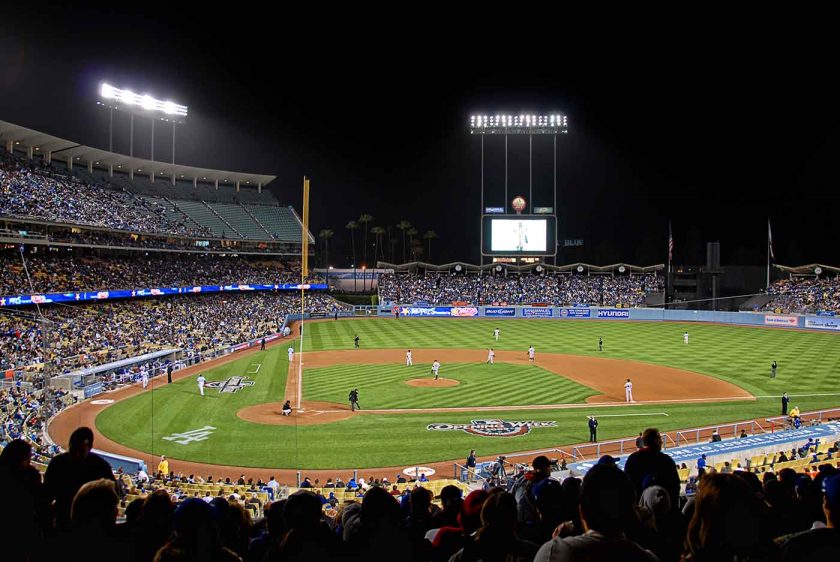 MLB teams now focus on a variety of initiatives in their efforts to go green:
LED sports lighting
Recycling programs
Special Earth Day campaigns
Public space gardens
LEED certification
Water and electricity conservation
Community outreach
Employed sustainability specialists
The combined force of teams has produced some very impressive results across MLB. For example, clubs diverted over 20,000 tons of composted or recycled waste during the 2018 season.
Green ways dressed in Dodger Blue
The Los Angeles Dodgers are the team to beat in the National League West this year. The Boys in Blue are perched on top of the division and currently lead the National League championship.
Behind the scenes, though, there's a lot of green in this blue streak. This year marks the 16th consecutive season the club has hosted an Environmental Night at Dodger Stadium to promote green causes. The recent June 22nd event coincided with World Rainforest Day.
The Los Angeles Dodgers Foundation has also partnered with the County of Los Angeles Department of Public Works in the 'Strike Out Landfill Waste' campaign. This joint effort recycling program has so far raised over $26,000 in California redemption value money for local youth baseball.
In order to combat traffic congestion around Dodger Stadium, before and after ball games, the club is implementing a number of measures.
To encourage fans to take public and rideshare transportation to and from the stadium, a dedicated transportation hub has been erected behind centre field.
To accommodate cyclists, a number of bike racks have been installed around the stadium. Additionally, the organisation is working with the City of Los Angeles to increase the number of bike lanes around the facility, Elysian Park and along Sunset Boulevard.
To promote the reuse of water bottles, refill stations have been positioned throughout the stadium at fan assistance centres. Fans may bring their own water bottles into Dodger Stadium provided the bottles are empty upon entry.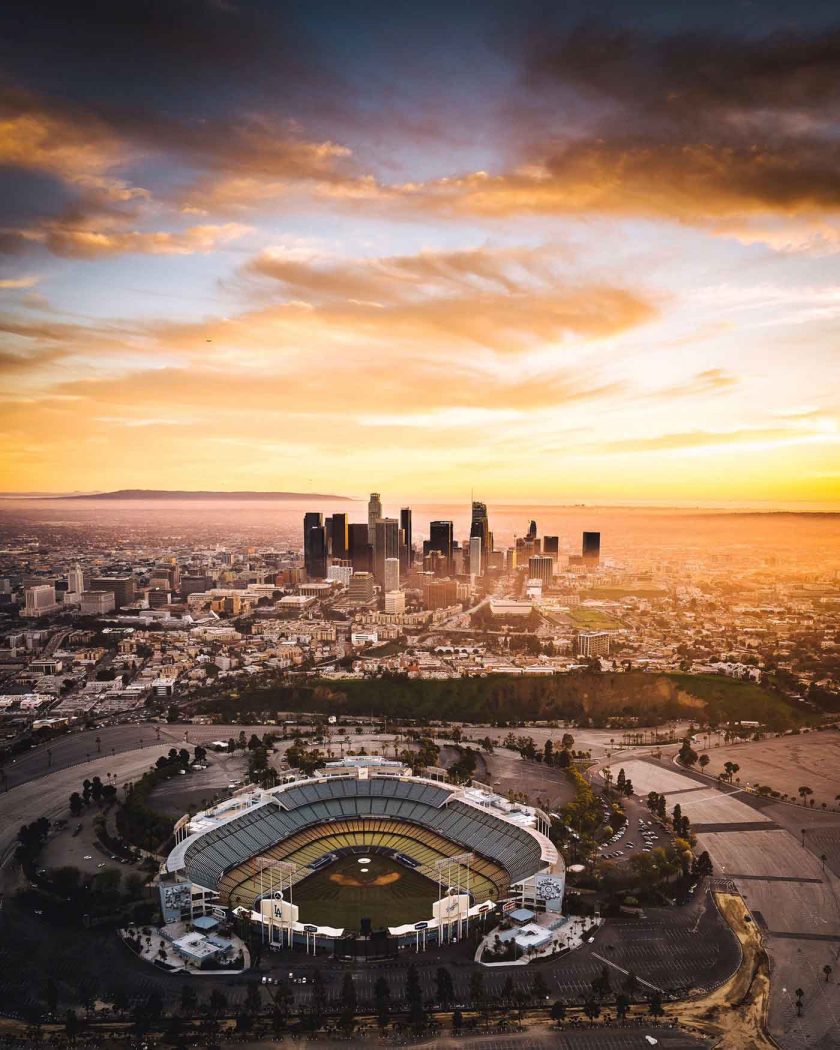 The parking lots around Dodger Stadium have also received an eco-minded redesign in recent years, earning an appropriate moniker—The Green Necklace. Asphalt islands have been removed to make room for trees and landscaping features. Succulent plants, that require minimal water, make up the bulk of the new vegetation, but more than 100 palm, avocado, lemon, and jacaranda trees have also been planted.
Janet Marie Smith, Dodgers vice president of planning and development, summed up the vision: "Dodgers Stadium is unique in all of baseball with its setting in beautiful Elysian Park. So it is appropriate and responsible to remove impermeable asphalt everywhere we can to plant trees."
The Dodger's sustainability programs match the city's mission
The Dodgers organisation is just one strand in a tapestry of sustainability-minded endeavours underway in Los Angeles.
The second most populous city in the US is a densely populated metropolis with a history of air quality issues, massive waste production, and high rates of natural resource consumption among other environmentally taxing trends. In 2015, the city released its first Sustainable City plan, an annual progress report tracking the city's move to a low-carbon, green-energy future.
Dubbed LA's Green New Deal, this plan sets forth a comprehensive strategy for Los Angeles to achieve zero carbon emissions from energy grids, transportation, building infrastructure, waste, and water consumption by 2050. Along the way, aggressive milestones must be met in renewable energy, local water protection, eco-healthy buildings, vehicle emissions, air quality, waste and resource recovery, food supply, urban ecosystems, environmental justice, and green jobs.
Meaningful and lasting sustainability requires cooperation from government and public and private industry. In Los Angeles, the mission is carried out by the Dodgers going above and beyond MLB expectations, while acting in accordance with the city's long term green strategy. MLB, ball club, and city are indeed all winning in this scenario.
Featured image: Los Angeles Dodgers Aerial Photography/Twitter