The financial think tank Carbon Tracker, in a recent report, has found that over 60% of global coal power plants are generating electricity at a higher cost than renewables. It concludes that by 2030, at the latest, it will be cheaper to build new wind or solar capacity than continue operating coal in all markets.
The report, entitled 'How to Waste Half a Trillion Dollars' warns coal developers that they risk wasting more than $600 billion because it is already cheaper to generate electricity from new renewable sources than new coal plants in all major markets.
Right now, the report estimates that about 70% of operating coal capacity in China costs more than renewables. In India and the US, this figure drops to 50%. But, by 2030, that number is set to double (assuming market forces remain constant rather than intensify—which they are likely to do).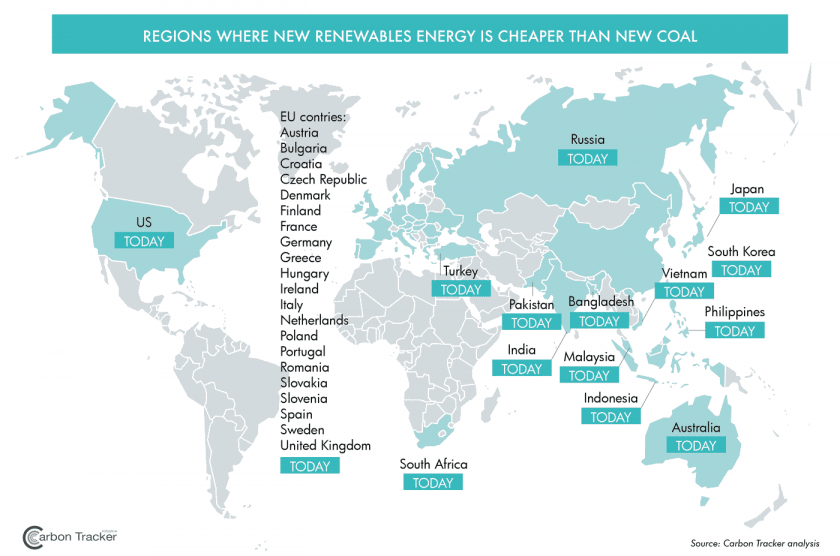 As illustrated in the infographic above, the report found that coal is also more expensive in most south east Asian energy markets. However, many of these countries still have nationally-planned coal power projects either in early investment stages, or already in production.
Free market forces
"Renewables are outcompeting coal around the world and proposed coal investments risk becoming stranded assets which could lock in high-cost coal power for decades," said Matt Gray, Carbon Tracker co-head of power and utilities and co-author of the report.
A 'stranded asset' is an economic term for an asset—like a coal plant—which will cease to generate returns even before the end of its economic life.
"The market is driving the low-carbon energy transition but governments aren't listening. It makes economic sense for governments to cancel new coal projects immediately and progressively phase out existing plants," said Gray.
In other words, the report explains that the free-market is driving the renewable energy revolution more than world government policy.
Essentially, this boils down to the projected return on investment. It costs a lot of money to build electricity-generating resources, and since banks and financial institutions are the largest funders of energy projects, they simply aren't willing to finance coal power projects, choosing instead to invest in solar and wind resources.
Bitcoin mining is another example; it incentivises the use and development of cheap (renewable) sources of electricity in order to make a profit.
Government investment in coal
The report found that market forces will drive coal power out of existence in deregulated markets, where renewable energy developers will take advantage of the growing price gap.
However, it notes that several governments around the world continue to incentivise and underwrite new coal power because market regulations put coal at an unfair economic advantage. In some regulated and semi-regulated markets they also allow the high cost of coal to be passed on to consumers through bills, or they use taxpayers' money to subsidise coal operators so they can sell power for less than it costs to produce.
"Investors should be wary of relying on continued government support for coal when a phase-out will save their voters billions and make their economies more competitive," said Sriya Sundaresan, co-head of power and utilities and co-author.
The next 10 years
Coal is closest to becoming obsolete in Europe; a high price of carbon and significant investment in renewable energy has created a very unfriendly market for coal.
Encouragingly, the report forecasts that the big coal consumers are "not far behind,", thanks to "excellent renewable energy resources in the US, low capital costs in China and least-cost policymaking in India."
However, south east Asian countries are lagging behind because immature energy markets make it hard to attract global finance, and governments in China, Japan and South Korea continue to support investment in coal power.
The report calls on these governments to: deregulate so that renewables can compete with coal on a level playing field; cancel new projects and phase out existing coal fleets; and introduce regulations that would allow renewables to deliver maximum value to their energy systems.
It warns that "failure to take these steps will exacerbate stranded asset risk and could result in overcapacity. This in turn will suppress power prices, create a negative investment signal for renewable energy and ultimately stifle the transition to a low carbon economy."
Featured image: RawFilm/Unsplash (wind turbines) and Guy Gorek/Flickr (coal plant in Gelsenkirchen, Germany)