On 19 January, we reported that more and more dolphins and whales are mysteriously washing up on Cornwall's beaches. 25 dolphins were recorded in the first two weeks of January alone. This isn't an isolate case and is something that is increasingly occurring across the world.
It is one of the many reasons why ocean conservation is so important today.
To find out more about oceans, key issues and next steps, we got in touch with Russell Arnott. He's an educational consultant and presenter for WhaleFest—one of Europe's largest whale and dolphin conservation events that seeks to educate people of all ages about ocean conservation. Here's what he had to say:
1. Tell us about Whale Fest. Why did you get involved?
I encountered WhaleFest as a result of speaking at Sunday Assembly Brighton (a non-religious community that aims to live better, help often and wonder more).
One of the WhaleFest volunteers saw my talk and suggested that I might want to be involved in WhaleFest as I was an oceanographer. At the 2014 event I only took part in the career speed-dating event but was so blown away by the scale of the event and the passion of everyone involved that I wanted to play a bigger part. So the following year, I ended up running the "Experts and Artefacts" kids science zone. At the time, I was working as a secondary science teacher but decided to quit to work with WhaleFest full time.
2. What are some of the key challenges ocean conservationists are facing?
The biggest challenge has got to be climate change—from the introduction of foreign species, to ocean acidification through to coral bleaching and an increase in storm intensity. The impact is going to be big on many, many levels. Then of course there's the whole ocean plastics issue. But, plastic is an amazing substance which is why it's everywhere and so it's important not to demonise the substance but rather the way humans use it.
3. How is education fundamental to tackling these?
Education is the key. It is unbelievable that we have people in the UK that live 10 minutes from the coast but have never seen the sea. It shocks me that it is hardly touched upon in the national curriculum. As a result, we are educating generation after generation of children that have no idea how important the oceans are to our very way of life. My long-term aim in doing marine science outreach is to get the oceans taught in schools across Europe.
4. What are some of the weirdest questions you've had to answer during a talk?
I mainly get the whole "what would win in a fight?" kind of question. I was once asked what was the best sea creature to have a child with. Obviously further clarification was required; it turned out the kid asking the question wanted to know what sea creature would make the best human-animal hybrid. I told him that I thought a shark-boy would be pretty cool.
5. What have you got planned for your talk at The Telegraph Outdoor Show?
I'm doing three to four different talks each day. Each one is 20 minutes long and designed to be fun and informative for all ages. I've got one about 'My Favourite Whale' and another about what I think the 'Best Animal Ever is' (hint: it's not a whale!). I've got another talk about the problem and solutions for ocean plastics. And finally, I've got one about my research into plankton; it talks about how cool they are and how important they are but no one knows!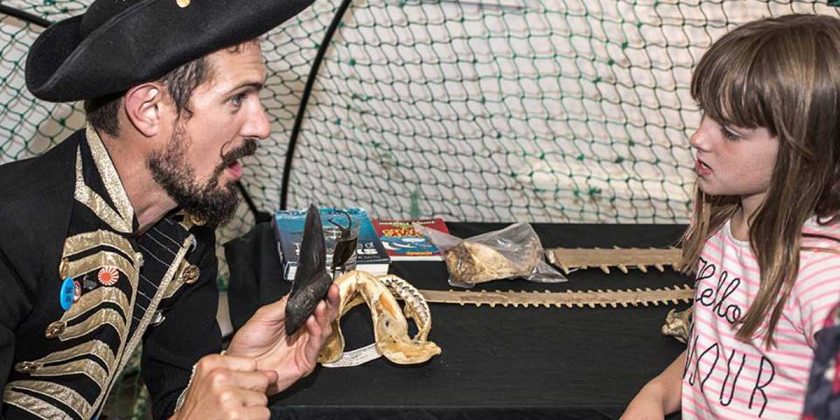 6. What can everyone do to reduce their impact on the oceans?
There's lots of quick and easy things everyone can do. To reduce the impact of climate change, it's simply a case off switching of lights, turning down the heating, driving less and trying to eat less meat. To reduce ocean plastics, it's important that people are aware of the plastic waste they produce and try to recycle where possible. Drinking straws should be banned! More pressure needs to put on companies that manufacture goods in non recyclable plastic, while the government should put more efforts into promoting biodegradable plastics and offering incentives for companies to recycling plastics.
7. What's in the pipeline for 2017?
I've just started a PhD in Plankton Dynamics at Bath University's Water Environment Infrastructure Resilience (WEIR) unit so that's where most of my time is focused. Bath is a really exciting university to be a part of as public engagement and outreach is high on their agenda. I'm also starting to film a series of educational videos at the National Oceanography Centre for WhaleFest's educational outreach arm, Incredible Oceans.
Find out more about WhaleFest.
Find out more about Arnott's talk at the upcoming Telegraph Outdoor Show.