Life for sloths might seem relaxed and laid back—after all, they do give the impression of being the world's most chilled animals. As One Green Planet Planet explain however, in reality—survival can be very stressful for these little guys.
"Many sloth species are listed as threatened or in danger of extinction due to habitat loss and human encroachment. These animals make their homes in the treetops of South American rainforests and as these forests are cut down, for logging, agricultural and cattle grazing interests, or to make way for new developments, they are being stranded with nowhere to go."
As humans move into closer range with nature, taking over wilderness with cityscapes, it's inevitable that various species will face further man-made dangers, that they are not evolutionarily equipped to deal with. As highlighted by this case, one of the major dangers caused by infrastructure-expansion is car and other road-transport traffic. Pairing a fast-moving vehicle with a slow-moving animal doesn't sound like it will end well and things can get dangerous quickly. This was the reality that one sloth had to face when he wandered onto a highway in Ecuador.
Luckily there was a happy ending after the gnarly adventure for the little guy…
The Transit Commission was alerted to the presence of a little sloth who was found clinging to a crash barrier. 
Thankfully, officers arrived in time to divert traffic and keep this little dude safe.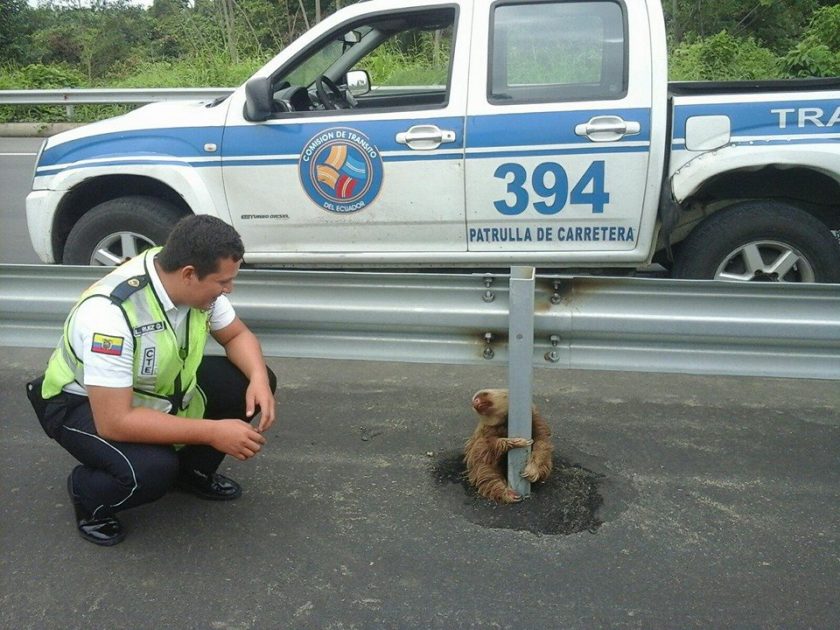 After evaluating his condition, it was decided the sloth would get the ultimate happy ending! The Comisión de Tránsito del Ecuador (Transit Commission of Ecuador) posted on Facebook stating,"The sloth bear rescued by our unit was reviewed by a veterinarian, who determined that it was in optimal condition to be returned to its habitat."
Fingers crossed, this sloth will stick to the trees from now on. At least he has a great story to tell his buddies back home.
Photos: Comisión de Tránsito del Ecuador/Facebook