Historically, canoes were dugout from a single piece of wood or made from bark on a timber frame. Over the years construction materials evolved to canvas, then to aluminium, but most modern examples are made from moulded plastic or composites such as fibreglass—not exactly environmentally friendly.
Don't have time to read this article? You can listen to it instead.
Listen to "This student grew her own canoe out of mushrooms (article written and read by Ben Gray)" on Spreaker.
Now, a student at Central Community College in Columbus, Nebraska, thinks she's found a sustainable alternative. As part of a research project, looking into potential solutions to climate change, Katie Ayers has grown her own canoe out of mushrooms.
While it might sound like something out of a fairytale, the 28-year-old has indeed used this fascinating organism—which is neither plant nor bacteria nor animal—to create a hardened and water-tight vessel. More specifically, the boat, which Ayers has fondly named "Myconoe", is made from mycelium—the dense, fibrous roots of mushrooms that typically live beneath the soil.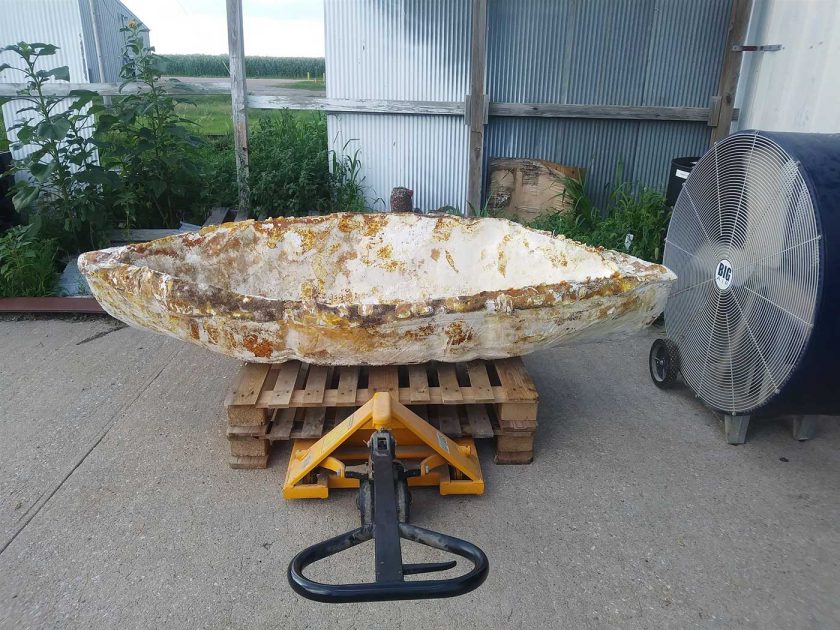 "Mushrooms are here to help us—they're a gift," Ayers told NBC. "There's so much we can do with them beyond just food; it's so limitless. They're our biggest ally for helping the environment."
Ayers was inspired by a 2013 documentary called Super Fungi and, having learned that mycelium is buoyant and waterproof, she decided to try using it to create a boat. With a mini-grant from the college, she reached out to nearby mushroom company Nebraska Mushroom and started work on the fungi-based canoe with the help of owner Ash Gordon.
Since mycelium can bind and form around a given skeleton, the pair managed to grow the canoe simply by letting the mycelium sculpt itself around a wire frame.
They first built a wooden skeleton and a hammock-like structure to suspend it in the air. Next, they sandwiched the boat's skeleton with mushroom spawn and allowed nature to do the rest.
"I always have very big ideas," Ayers said. "So I see something and it's small and I just want to make it bigger and better. Since I'm from Nebraska, I love to fish. I've always wanted a boat. Why not just grow it?"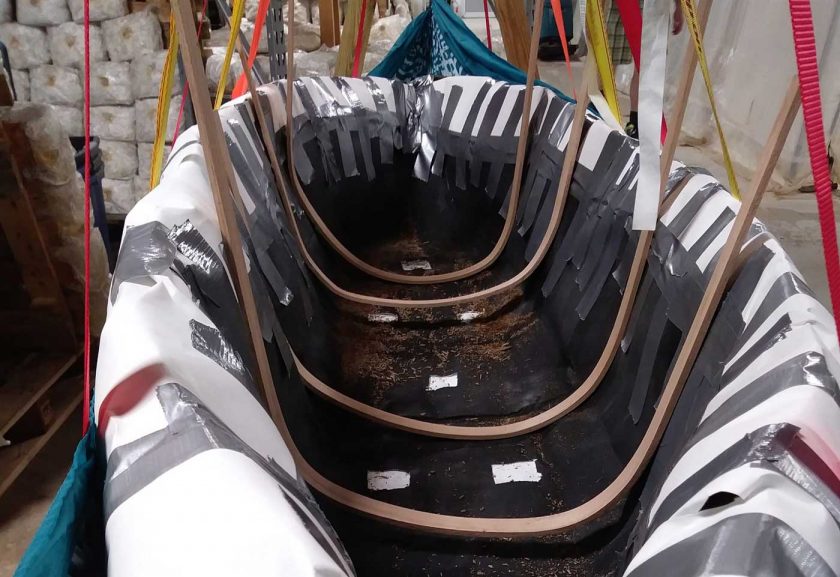 For two weeks, the fledgling canoe hung inside a special growing room, at a temperature of about 30°C (86°F) and a near 100% humidity, before being left to dry in the Nebraska sun.
With a dry weight of just 45 kg (100 lb), Ayers then tested the mushroom canoe at the 2019 Nebraska State Fair and was able to comfortably paddle two people. Interestingly, the mycelium is still alive and fruits after it's taken out on the water, meaning it continually grows mushrooms and releases spores—so it's essentially self repairing.
Related: The complete kayak buyer's guide
However, the real goal of the fungi-tastic project (see what I did there…never mind) is to raise broader awareness about mushrooms and the way in which these fascinating organisms may help solve some of our most pressing environmental challenges.
Already, mushrooms are being used to create compostable car parts for Ford and Ikea has committed to transition much of its plastic packaging to a mushroom-based renewable alternative.
"It really helps bridge that gap between people who didn't have an interest in mushrooms—maybe they don't like to eat mushrooms and really haven't thought about other potential uses for them," Gordon said. "The boat gave them something to look at and think about."
All in—for spawn, tools, and other equipment—Ayers reckons that the mushroom canoe cost $500 to grow—a similar price to an off-the-shelf plastic model. However, the success of the project has spurred Katy and Gordon to experiment with growing furniture and building materials out of mycelium as well.
And Katy is set to become a sweet helper for bees: inspired by research that showed how honeybees which consumed mycelium had lower levels of a harmful virus, she is beginning to work with low-income students to grow bee hotels out of mushrooms. Click here to see a video about the Bee MycHotel project.
Featured image: Katy Ayers