With the crisis here in the Pacific Northwest (PNW), where our salmon populations are at 7% (roughly) of their historic numbers, my thoughts drift to mammals depending on that salmon to sustain their populations.
Salmon are a keystone species, upon which biodiversity is very much dependent. Our critically endangered southern resident killer whales depend on Chinook salmon, but there simply aren't any here anymore. This reflection of five-year-old L118 Jade (below), taken last September, has me wishing that our beloved southern residents are finding enough food to sustain themselves wherever they are along the Pacific coast.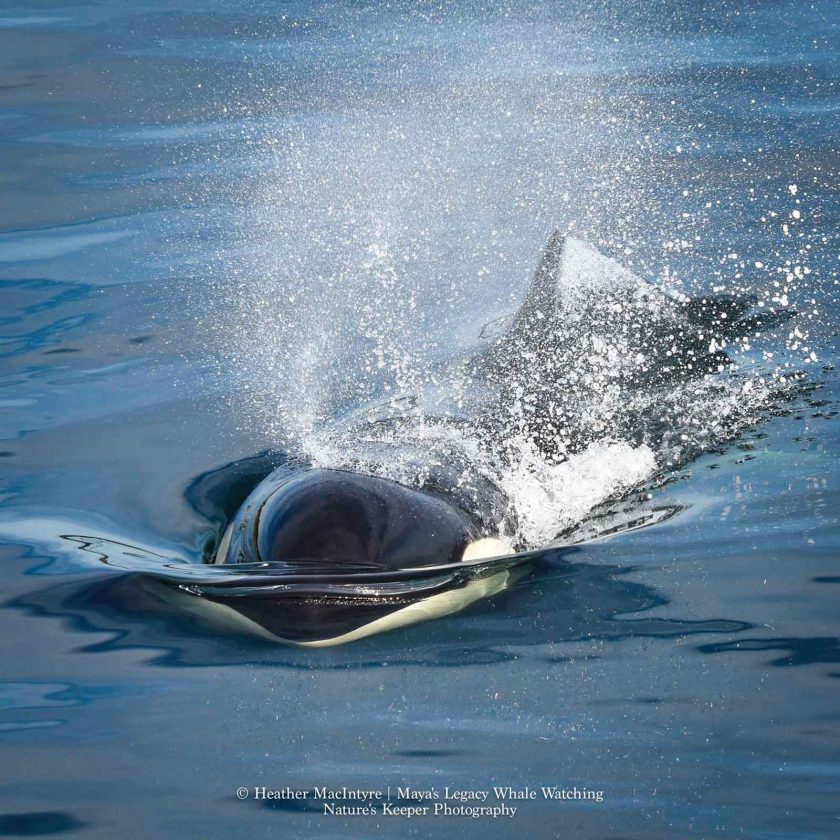 "Where are the residents?" is becoming the only question I hear these days. Indeed, where are the orcas—that would usually be inhabiting the inland waters of the Salish Sea—breeding, socializing, and foraging from early spring to the end of fall? Where are the orcas you could see on any given night, off the west side of San Juan Island, as the sun went down? That unmistakable "kopof, kooof, kooof" of their exhalation would put even the most restless of minds at peace.
As the "season" to see southern resident orcas, with high frequency, goes on, the loss of their presence becomes inherently obvious—like the defining silence of the forests after DDT made its rounds years ago. We're on the verge of losing these salmon and orcas, and from there, we'll lose much more. I'm not sure what it's going to take for people to realize that in order to save these animals—we have to change our consumerism and policy NOW.
Dams need to come down; fish farms need to be shut down indefinitely; the bait fish, on which salmon feed, need to be protected; and we need to stop overfishing these salmon in the Northwest to give our ecosystem a chance to recover. If you must eat salmon, buy wild-caught sockeye from Alaska. Ask where your salmon comes from in restaurants (the east coast almost exclusively sells farmed salmon in restaurants) or in supermarkets.) I think some people are under the impression that nature will just sort itself out, it always does, right? Wrong. Time is very much running out. Biodiversity here can't survive on words, it survives on salmon.
The NOAA is in charge of managing fisheries in the PNW, as well as taking action to recover the dwindling population of southern resident orcas. So far, they've taken little to no action to protect the salmon here. That needs to change. Everyone can make a difference! If you feel compelled, here are some great resources to help:
You can help: Use Search for the Planet – our non-profit search engine which raises funds for environmental charities!
Featured image: Heather MacIntyre photographing orcas off the Washington coast. Photo: VicariouslyOwen/Nature's Keeper Photography