Meet Georgina Stevens. She's a sustainability advisor, writer and campaigner, on a mission to make the world a better place! After working with companies like WWF, The Global Poverty Project and even Warner Bros, she's now got her heart set on cleaning up our oceans. It's certainly no mean feat, but she's come up with an ingenious way to inspire the next generation to help out.
Plastic Waste
Plastic is becoming a huge problem. It not only pollutes our landscape, but now has a hugely negative impact on our oceans, coastlines, and wildlife. Every year we throw away enough plastic to circle the earth four times. Once in the ocean, it's then often ingested by animals. Only last year several sperm whales were found dead on a beach in Germany with stomachs full of plastic.
It is now thought this deadly waste makes up about 40% of the world's ocean surfaces. Sr mailing puts this number at an insane 88%.
But Stevens hopes to change this. She's launched a range of children's books designed to re-educate and inspire children to re-think their global footprint. As well as this, 100% of the profits from her first book, Finn the fortunate Tiger Shark, will be going to Greenpeace and the Social Plastic Foundation, to help fund their campaigns against ocean pollution.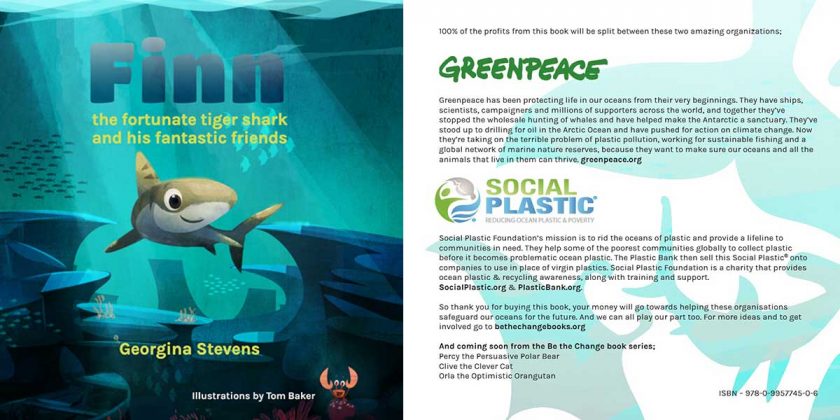 Meet Finn
Be the Change books are set to be a collection of four books, each with an animal protagonist. The first book sees a little tiger shark called Finn lead the way. His tale shows the impact of plastic in the ocean and paints a rather grave picture of the reality for marine wildlife. While the story has a wonderfully positive ending, its message really connects with the reader. The beautiful illustrations are also sure to draw in any young person.
It's really positive to see people like Stevens trying to make a change. Books like these are a fantastic way to engage and interest youngsters, especially if they become part of the school curriculum.
Find out more about Be the Change books and support her initiative by buying the new Finn the fortunate Tiger Shark book from Amazon.
Featured image of Tyndall Air Force members and their families cleaning a beach. Photo: Susan Trahan