Wildlife photographer, Heather MacIntyre, recently spotted the world's oldest known orca playing off the coast of San Juan Island, in the Pacific Northwest. Granny, also known as J2, is believed to be between 90-95 years old! She, as you can see from the pictures of her leaping out the water, proves that age is just a number.
Granny was seen playing with two of her adopted sons, from her family group—called J pod. This pod is one of three groups that make up a wider 'Southern Resident' population, living mainly in the inland marine waters of the Pacific Northwest.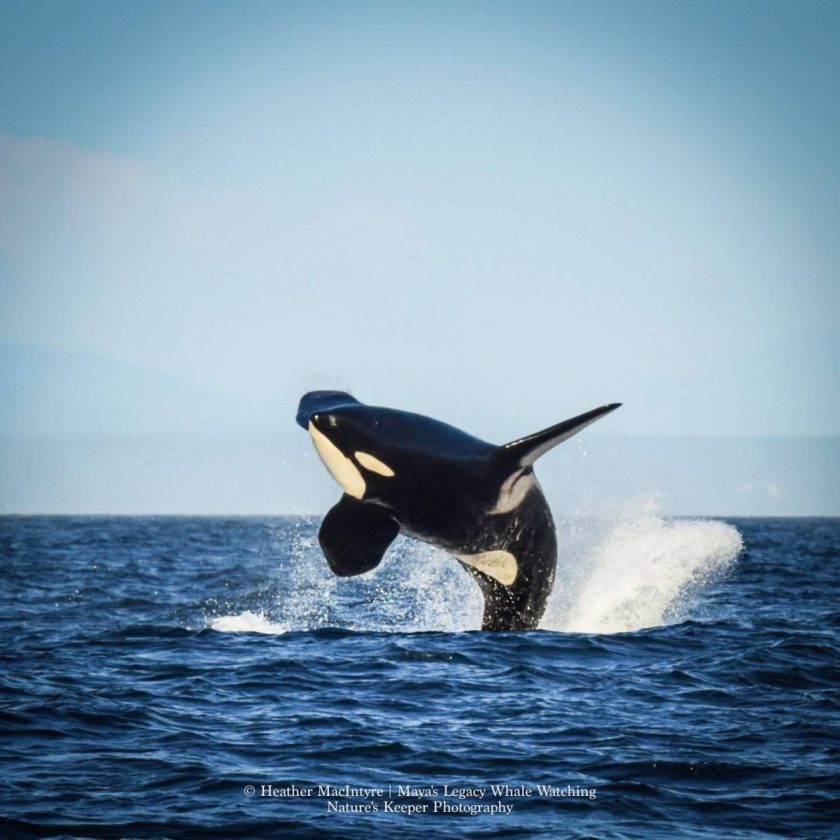 Sadly, these incredible sightings are becoming increasingly rare. In fact, these majestic animals are in crisis and desperately need our help.
"Moments like this are bittersweet," MacIntyre said. "These whales are dying because they don't have enough to eat. People don't realize that if we don't do something to protect their food supply, we're not going to see them anymore. They'll all be dead in 20 years."
In the 1970s, this killer whale population faced a serious threat from marine parks, like SeaWorld, that forced orca calves into captivity. Thankfully that practice has been outlawed, but human activity has damaged the environment and led to the destruction of stable ecosystems; the Southern Resident orcas, therefore, face new threats.
The cause of this threat is a huge shortage of Chinook salmon, which are now classified as endangered. A new study has definitively shown, for the first time, that these salmon comprise 70% of the summer diet of the Southern Resident killer whales. Without the salmon, the orcas have no food to eat.
The situation is so bad, that the salmon population has dropped to just 7% (roughly) of their historical numbers (when Granny was born)!
"Her own granddaughter went missing and is presumed dead earlier this month," explained MacIntyre. "Another orca who has a 7-month-old calf is very emaciated and fighting for her life. It's heartbreaking…these orcas have no food and the American and Canadian government isn't doing anything about it. We're down to just 82 orcas in this population."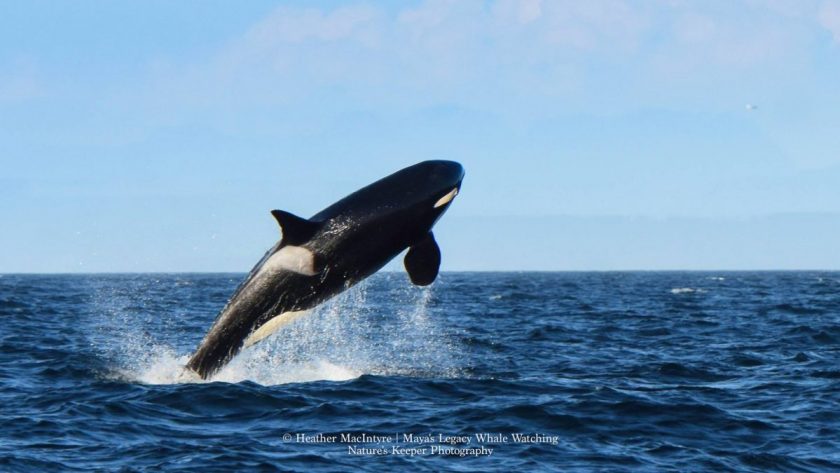 Thanks to her years of experience, Granny can continue to find some food. With her unmatched knowledge, she is credited with helping her pod stay alive through these hard times—but she can only do so much and she needs our help urgently. As MacIntyre explains, in an essay for ADAPT, the root-cause of the problem is human activity—that damages the planet's environment and ecosystems.
"Granny has seen the days of 100-pound salmon. She's seen those days," MacIntyre said. "Now, with the salmon disappearing, she could be the last hope. We don't know how long she's going to live. I hope we can show the same compassion for her family that she does by taking action to protect them."
Read MacIntyre's post here to find out ways in which you can help these incredible animals.
You can help: Use Search for the Planet – our non-profit search engine which raises funds for environmental charities!
Featured image: Granny showing what she can do at 95-years-old. Her unmatched knowledge is key to the survival of this orca population, but she needs our help. Photo: Heather MacIntyre/Nature's Keeper Photography