There is something incredibly compelling about certain animal behaviours; the kind of things that feature in the 'feel-good' parts of the evening news. One of the most heart-warming is the sight of two different species that have formed a bond.
Whether it is the unlikely trio of a lion, a tiger and a bear that seem to be best friends, a young rhino playing with a goat or a cat that tries to nurse ducklings, these stories are captivating.
What all these examples have in common is that they are either domestic animals or wild species that are being kept in a zoo or breeding centre. In the wild, it is rare for animals of different species to form long term bonds like this. This means that when such a relationship is observed in nature, it is all the more fascinating as it seems to contradict the natural world as 'red in tooth and claw'.
Bottlenose dolphin with two calfs
From 2014 to 2017, the coastal waters of French Polynesia played host to the drama of a relationship between two different species, and luckily it was meticulously observed and documented by researchers.
It started off with the scientists noticing that one of the bottlenose dolphin females in the pod they were studying seemed to be caring for two calves. This alone would have been of interest because it is uncommon for this species to have more than one calf at a time.
What really piqued the research team's interest, though, was the unusual appearance of her male calf. He had a short, blunt beak compared to the eponymous 'bottlenose' of his mother and sister and was eventually identified as a melon-headed whale, a species from an entirely different genus.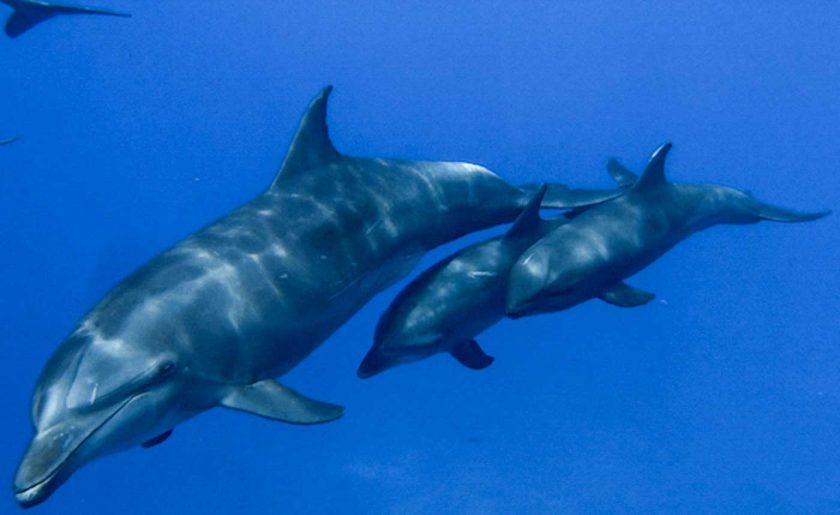 "We were really excited to be able to witness such a rare phenomenon," says study lead author Pamela Carzon, scientific leader of the Groupe d'Étude des Mammifères Marins (GEMM) de Polynésie.
Adoption between related members of the same species has been documented before; usually when the one doing the adopting has a genetic interest in the infant. However, it has only been confirmed once between individuals from different genera.
Adopted melon-headed calf?
The relationship between mother and adopted calf was observed for three years. The young melon-headed calf was seen suckling, socialising with other young dolphins and even surfing with them.
"The melon-headed whale was behaving exactly the same way as bottlenose dolphins," says Carzon.
It wasn't always familial bliss, though. The melon-headed calf was observed several times pushing the female calf away from her swimming position under her abdomen. After a year and a half of the three together—way before normal weaning age—the female calf disappeared.
Carzon and her team couldn't tell for certain what had happened to her, but did the presence of the melon-headed whale calf contribute to her leaving or potentially dying?
Why adopt?
The adult female was doubly disadvantaged by the situation. She expended energy caring for and feeding a calf that was in no way related to her, but there is also a chance that this led to her losing her own calf as well.
Related: Baby red-tailed hawk gets adopted by bald eagles after they find him in their nest
So why would this dolphin take in this stray and permit him to stay with the pod, invest time and energy in nursing and caring for him, and allow him to disturb her own calf? There a few suggestions, that combined could explain this seemingly nonsensical behaviour.
This female is well known in the area for being tolerant of scuba divers, so her personality could have been a contributing factor, as could the personality of the melon-headed whale who was doggedly determined to join the pod and act like them. The most important factor, though, was likely her maternal instincts and the timing of the arrival of the orphan during the time when they were heightened by the birth of her calf.
This situation then probably wasn't the amazing act of altruism that we would like to think it was. But it does show just how powerful a mother's compulsion to care and a calf's instinct to survive can be, and how they can combine to form such an unlikely relationship.
Featured image and video: Courtesy of GEMM