Don Dunbar was out fishing in the waters of Nanoose Bay in British Columbia, Canada. He encountered a young bald eagle, struggling to 'swim' back to land. While it certainly wasn't the catch Dunbar had in mind, after some careful thought and encouraging the eagle towards the boat, he was able to lift the eagle out of the cold water into a fishing net.
The Eagle was clearly exhausted and after a breather went about hopping about the boat, spreading it's wings to dry off. Check out the raw footage of the rescue below, you can see that the distressed eagle took Dunbar by surprise and he wasn't quite sure what to do with it.
After returning to shore, it became clear that the young Eagle was still unable to fly. Dunbar therefore took it to a local wildlife rescue center, O.W.L. Orphaned Wildlife Rehabilitation Society, in Delta, British Columbia.
National Geographic contacted Mindy Dick of O.W.L. to find out what happened and how the bald eagle is faring now.
Mindy explains what may have caused the eagle to land in such a predicament:
"What happens commonly with bald eagles is they sort of misjudge the size of the fish, and they sometimes just cannot carry it away, and instinctually they just will not let go of it either. Sometimes they end up getting dragged under a bit.
But they can swim. They have very strong wings, and if they're close enough to shore they'll just continue hanging on to the fish and drag it onto shore. We don't really know, but we can only surmise that's what was going on here."
She went on to explain that eagles often get into similar situations in the water:
"We have a very large bald eagle population, but normally they're pretty good swimmers and normally they would swim away from a human being and not toward them.
So it did seem like he was completely exhausted and had been in the water for some time as he was completely waterlogged."
Asked what she thought would have happened to the eagle, had Dunbar not come across it while fishing, Mindy responded:
"I believe he probably would have drowned and gone under due to exhaustion. That bird was fighting for his life. He was half the weight he should have been at this age. [He was] very, very emaciated when he came in."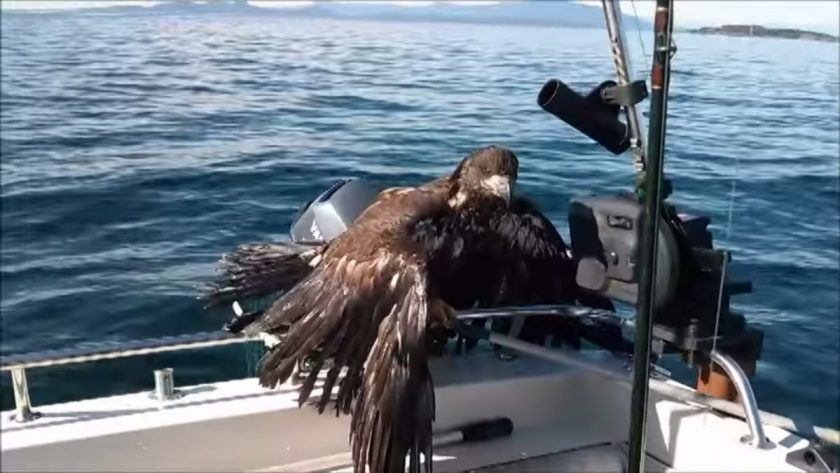 The good news is, after some urgent medical attention it looks like the bald eagle will be reintroduced into the wild in several weeks:
"If all goes well, he will graduate slowly through our facility, and from there he'll go to an outside enclosure. He'll have the opportunity to hunt, [and] we'll likely put him with an adult to show him the ropes.
It's probably going to be a good month and a half to two months [before the eagle is returned to the wild]. We're going to release him where he came from."