Simon Beck is one of the world's first and most famous 'Snow Artists'. Graduating in engineering, he later decided to leave his office job in order to become a cartographer. In December 2004, after a day of skiing, he got the idea of drawing a star on the small frozen lake in front of his accommodation. From then on, his interest in snow art grew and his works are now revered across the world. We spoke to Beck to find out more about his work, how he creates it and plans for 2017.
1. How did you get into snow art and what influences your style?
It started as a bit of fun, but gradually I started taking it more seriously and in 2009 I decided to make it my primary activity during the winter, and build a collection of photos with the long term aim of publishing them.
Early drawings were simple geometric shapes made by joining together the corners of a polygon, but the most successful designs are the fractals, or more correctly, the ones with fractal edges.
A lot of the fractals are rather like variations on a theme, once one has learnt the rule(s) of where to add a bit to the edge and how big to make it, then one simply follows what are now well-learnt procedures to make the drawing. The middle of the drawing may be a geometric design, but increasingly people send in suggestions, and some of these are used.
I also have a backlog of designs I want to repeat because I failed to get good photos at the first attempt, or because I have since bought a better camera. I also copy some of the crop circle designs. Someone has done a lot of the work for me in the sense that a great deal of thought has gone into their design and probably the ones that get flattened in the crops are the best ones. In a way it is cheating and stealing to copy someone else's artwork in that way, then again if it's OK to flatten farmers' fields without consent (it isn't) then it's OK to take the crop circle designs without consent.
It's still annoying when people presume I've been involved in the crop flattening business. I don't condone that although I would like to do some WITH PERMISSION FROM THE OWNER(S)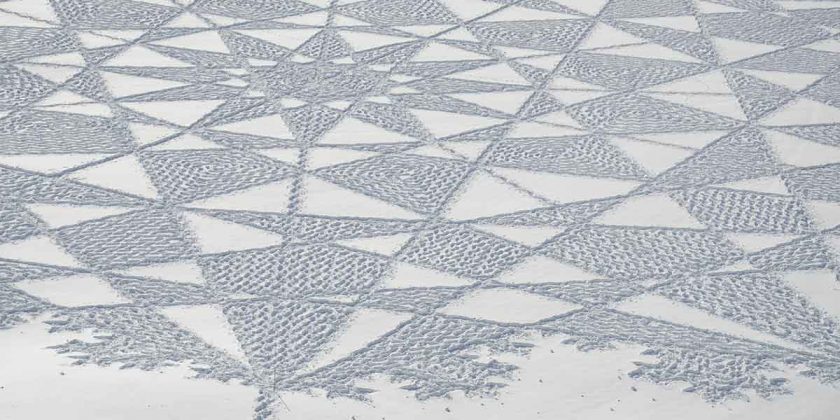 2. How do you create each image? What equipment do you use? How long does it take?
There are three distinct stages.
The first stage is to create the main lines that go through the drawing, working out from the centre. Of course, the very first line has to be made starting at the edge and walking into the centre, so careful judgement is needed to judge the centre of the available space. This is more difficult than one might think, so I try to leave a marker stick at the centre of sites such as the Lac Marlou that are used repeatedly through the season.
Next, points are measured along the main lines and joined together to create the remaining lines that define the drawing. Finally the shaded areas are added.
Equipment includes: prismatic compass for the azimuths, pace counting for determining distance, rope and anchor for accurate circles (most often I do circles using judgement), and snow shoes attached to my boots. The French snowshoes made by TSL are the best as they attach at the heel so one can make tighter turns and walk backwards when necessary.
Generally it takes 3-4 hours for an area the size of a soccer field and I can do the area of 3 soccer fields in one day. When I have the option I use the largest site available and make a drawing that uses the whole site and can be completed in one day. This may require the drawing to be simplified. But, one of the surprises has been the popularity of photos of half-completed drawings. Elements are omitted so that the result of one day will look good then, if the fine weather continues, the drawing can be completed the following day (or night).
The general rule is that one big drawing is better than 2 small ones; small drawings are made when they make sense with respect to the availability of the site, weather window and time / tiredness.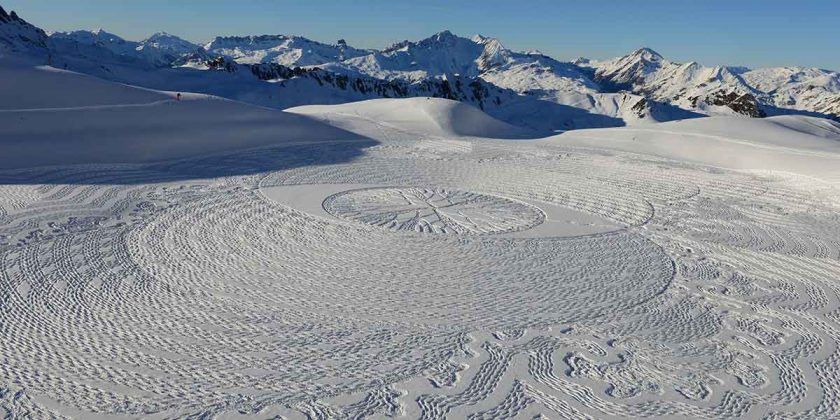 3. What challenges do you face creating each piece?
The key is not to allow the inevitable small errors that result from using rather primitive equipment to add together into something that will be noticed. There would be a case for using more accurate equipment but it would take longer and require more expensive equipment. It's far quicker to use what can be fitted into one backpack! At the end of the day there will be a trade-off between accuracy and time, and while I can get a good result despite cutting corners with equipment I shall continue to do so. Also it's important to get it completed in one day to avoid taking more chances with the weather.
The other issue is the weather. The drawings look good when the sun is shining on them, so one needs to anticipate a good sunny day then make the drawing the day (and night) BEFORE the good day. One becomes obsessed with the weather forecast!
Other challenges are cold / painful feet, boredom, having to do it in conditions that are less than ideal (not enough snow, the previous drawing on the site being visible, hard or crusty snow,) and probably a lot more things.
4. What do you think people like about your style of art?
There are those who think it is graffiti (this is true, and I would not do it were it not for the certainty that nature will remove it – usually sooner rather than later!)
There are those who think it is a waste of a talent that should be spent doing something more useful, what a waste of an Oxford education etc. Then again, as the Dali Lama said, what the world needs is not more successful people, but more lovers and peacemakers. There are those who think it's a bit mad, because it is gone again so quickly (untrue now that we have photography, most people will never see most of the world's artworks except in photos.)
And there are those who love it and would like to see it for real (difficult other than by chance, all the really good works have been done by hanging around and waiting for the conditions to be right.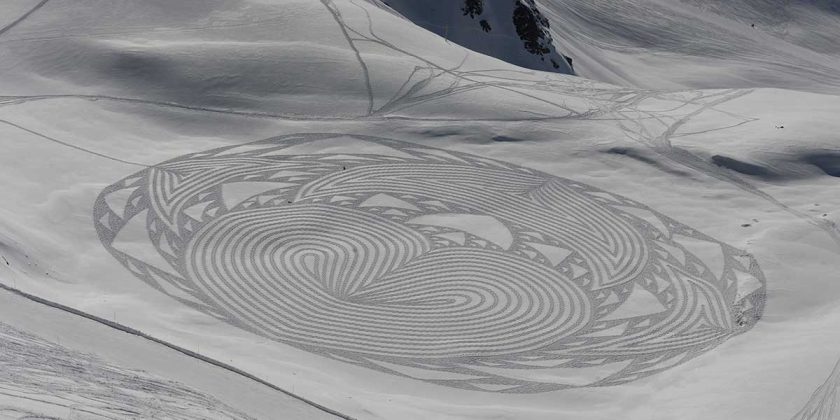 5. Are you working on any particular projects at the moment?
At the moment I am injured (sprained ankle) and probably would find it too painful to draw all day (I could do it for a few hours). I spend a lot of time on the internet planning the upcoming drawing season, it's a frustrating business being so dependent on the weather and snow conditions yet having to interact with people who have diaries and need to book film crews in advance.
6. What have you got planned for 2017?
There are some gigs for the Alps in January although there is a question over the conditions – more snow is needed if a good result is to be obtained (in fact I am tempted to cancel all of them and fly off to the USA where there is far more snow for the foreseeable future!) February is dominated by a visit to Japan, then perhaps some more gigs in the far East.
March on-wards is to be in the USA and perhaps Canada. I want to do as much drawing as possible there and then take a holiday hiking in the mountains!