Ever thought about surfing the skies? Wakeboarding in the air? Well now you apparently can with a new invention launched by US start-up, Wyp Aviation.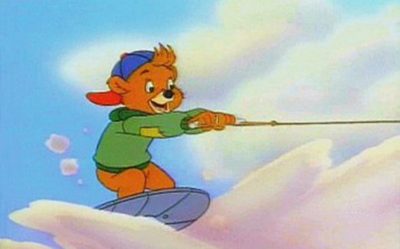 Whether it's wakeboarding, gliding, skydiving, or flying with a wingsuit, adventurers continue to venture into the skies and push aerial-sports to new limits. Pushing the boundaries of flight travel further, Wyp's latest invention, 'The WingBoard' — a wakeboard-like wing that can provide enough lift for a human to surf through the sky, goes beyond what has been previously been considered possible. Inspired by the character Kit Cloudkicker on Disney's Talespin, founder Aaron 'Wyp' Wypyszynski launched his start-up alongside his day job as a flight test engineer in Huntsville, Alabama.
The WingBoard works through a close coupling of the rider, tow rope, and WingBoard itself. Wyp reveals "The best analogy is to look at the WingBoard as a wakeboard in three dimensions." The shape is designed to provide a stable centre of gravity when the rider is on board, while maintaining manoeuvrability. Attached to the board via a binding, similar to a snowboard biding, the rider stands in an upright stance, similar to a wakeboarder, allowing him or her to lean and twist in all directions, while still maintaining a stable stance to brace against the tow forces.
Whilst the Wingboard isn't a fully fledged prototype yet, Wyp did a successful demo flight in December last year, using a plastic 31-inch-tall fully articulated rider. The 3D-printed model, known as James, was towed by a tiny Bill Hempel Decathlon plane. He has his own working parachute and even did several barrel rolls.
According to Wyp, it's all about "designing the impossible" and "making the impossible fly." We're certainly going to keep our eye on this innovation and see how Wyp and his team develop the WingBoard. Who knows, maybe 2017 will be the year we all take to the skies and surf the clouds — that would be awesome!
Find out more about the project at wypaviation.com