Have you ever been caught out on a ride with a flat tyre? Sucks, right. Well, flat tyres could be a thing of the past thanks to a small US company based in Utah.
Nexo Tires is the next leap in flat free tyre innovation — no air, no liners, just genius design and custom materials. This means, the tyre is designed to never go flat. While there are other airless tyre options on the market, such as Tannus' solid bike tyres, Nexo's tyres have been developed to overcome the stiffness and shock absorbency problems of its predecessors.
Nexo's tyres are lightweight and weigh a little less than a regular tyre/tube and liner. Despite this, they are extremely hard wearing. In test runs, the tyres lasted for 5,000km at an average speed of 30km/h.
Furthermore, unlike the manufacturing process of traditional rubber (which requires eight to nine steps), Nexo's tyres require one process which takes only 30 minutes. The process is much more eco-friendly and the tyres can also be recycled at the end — meaning billions of tyres could be saved from landfills.
The tyres are made from an innovative material called NEXELL®. It was developed by 'Cross Linking' three or more macro-molecular materials into a primary material. This results in a material which is light- weight, water-proof and durable.
Of the new tyres' material, Nexo Tire's co-founder Dave Ballard said:
We started a bike shop in 2009 and have seen thousands of flats. We knew with all the technology out there that there must be a better way… After years of research and hard work NEXELL was created. This compounded macro-molecular material is injection molded into what we now have. NEXO, the FLAT FREE solution is there to alleviate headache, unnecessary costs and improve our environmental impact. That way you can spend more time doing what you love.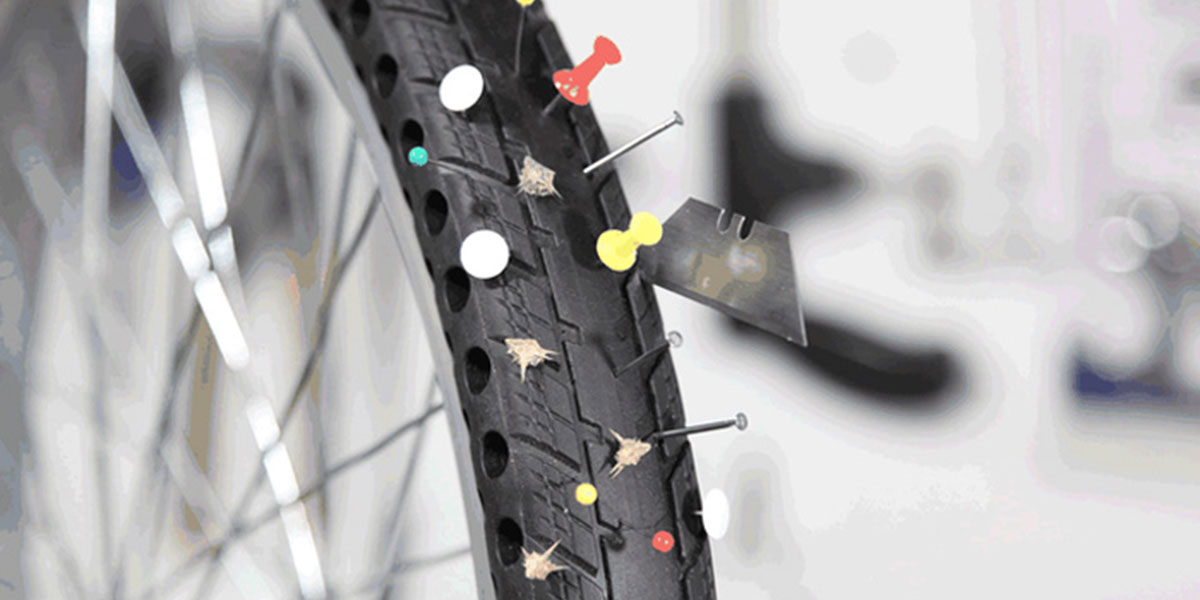 The brand are currently crowdfunding to bring the new tyre to market. At time of publication, the brand have already more than doubled their initial target of $24,597 / £19,705. The team are crowdfunding for two different versions of the tyre — one to be mounted on existing wheels and one that replaces the entire wheel set.
Watch Nexo's crowdfunding video:
Despite already exceeding target, the team still has until 2 December before their crowdfunding campaign ends. With their funds, they plan to continue manufacturing the tyres and start shipping their new product to consumers in early 2017.
We're excited to see this new innovation on the market and make flat tyres a thing of the past. After all, fewer flats = more adventure.