A fusion of art and functionality, the new bike range from Belgium-based company ECCE Cycles is bound to turn heads. Designed by Pierre Lallemand out of a curiosity for how far he could push the form and design of bicycles, the new OPUS range has just been launched onto the market and is already creating quite the buzz! We spoke to Thomas Leclere from ECCE Cycles to find out more.
1. Tell us about ECCE Cycles. When did the company start-up? Where are you based?
ECCE Cycles is a Belgian company based in Brussels and created in 2012 by Michel Leempoel and Pierre Lallemand. We design and produce elegant bikes from the designer Mr. Pierre Lallemand.
After four years prototyping and testing the bikes and the resistance of the design, we started to commercialise our creations in June 2016.
2. Your bikes are really visually striking! What inspired the design for the Opus range?
It is a combination of art, ideas and engineering. Pierre Lallemand is an architect by formation but also designer and artist. Combining genuine curiosity about perception with concern for the future of society, he approaches and resolves the technical, economic and ecological complexities inherent to design in many different areas: boat, light, cars, bicycles and furniture from the perspective of a visual artist through a wide range of media (drawing, painting, sculpture, etc.)
Pierre Lallemand created the OPUS model intuitively by trial and error: drawing them and then sculpting them into balsa wood. After a long series of experiments, he was convinced that the form was as favourable as possible to the weight / resistance. The futuristic and poetic result defies the imagination, rekindling the enthusiasm and desire for this mode of transport.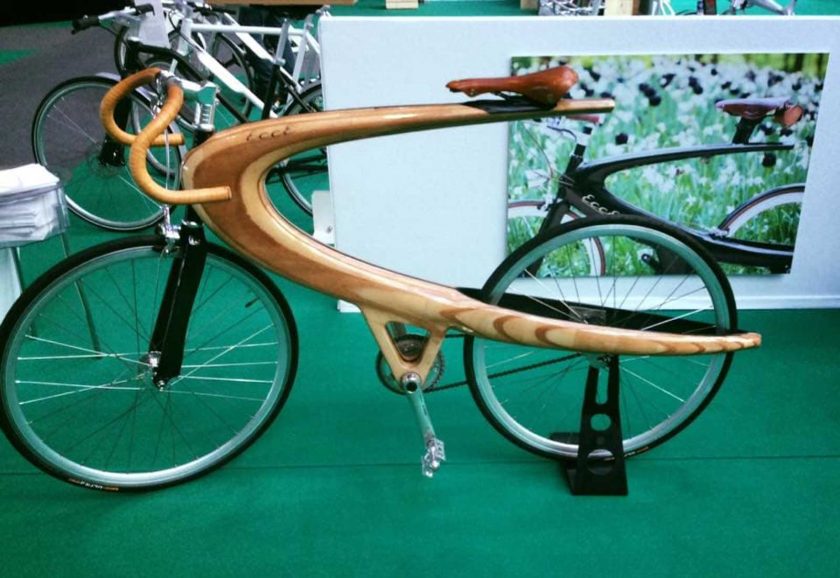 3. What challenges did you face creating the design?
The main challenges and complexities are in the design itself: resistance to weight and flexibility.
Liberating ourselves from formalism, ECCE Cycles breaks the set codes of the urban bicycles in their current form, and their double triangle format that has characterised the bicycle for 150 years.
4. Tell us about your range of bikes? How are they made?
We have, for the moment, two ranges of creations / products.
1. Carbon range with OPUS Sport and Cruise models.
The Sport model has a completely black aerodynamic look, with gloss paint finish on the carbon frame and matt accessories. The Cruise model combines leather and carbon with a very particular elegance.
2. Wood range named OPUS "W" composed of 100% wood (made of ash, maple and walnut).
This bike is made on special order only due to the complexity of the design and the sourcing of the wood. They are handmade in France and Spain. We like to say that this model is a real piece of art.
Due to the fact the bikes became commercialised in June, the carbon range bikes are in high demand; we already have a 3 months waiting list! At present, the wood range is not available, but will be available to purchase next year.
All our bikes are assembled in Belgium with great care and with the best equipment available on the market, and then they are shipped from Brussels.
5. What types of terrain are these bikes designed for?
ECCE cycles are designed for urban environments. The bikes are a mix between a piece of art and a comfortable bike that can be ridden in bustling, city environments.
Both Cruise and Sport models are comfortable, equipped with 11 speeds.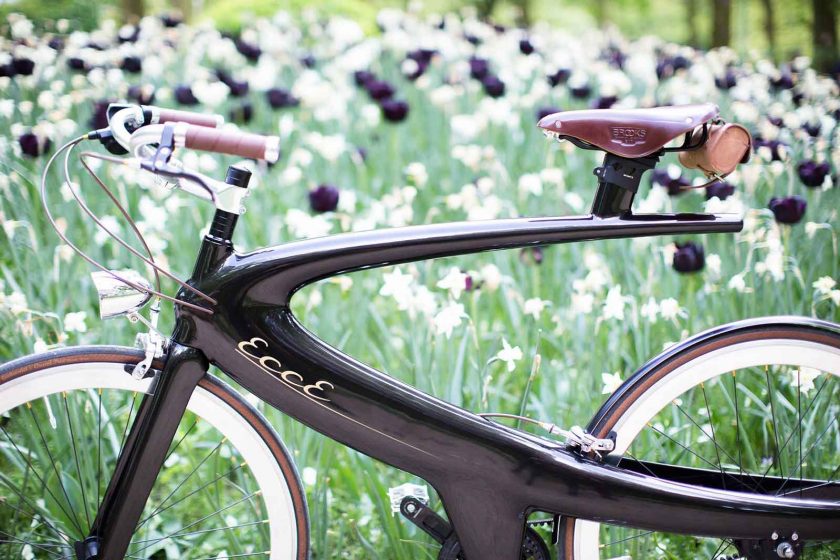 6. Who is your target market?
Our target customer is the modern woman and man of today, living in the city, looking for an alternative transport to polluting modes. More than a bike, ECCE OPUS Cruise and Sport are original by their design, technical and comfortable. They are real fashion accessories you can wear every day.
Today we are targeting capitals of the world such as London, Paris, NYC, Singapore, Tokyo, Middle East Countries and others.
7. Where are you currently selling the range and how have consumers responded?
The company launched the commercialization of the Carbon Range in June 2016 and we are selling through our website for the moment. In a few weeks, some collaboration will start with some point of sales and websites to distribute our creations.
People are enthusiastic and surprised by our creations. They are responding very positively to this "retro-futuristic design" (as they like to describe it).
8. What are your plans for the future? Any new and original designs?
We are finishing our work on the OPUS Wood model to have it totally ready for the beginning of 2017.
An electric version of the Sport and Cruise models are on their way, and some other designs have been selected for future developments as well as elegant accessories that will be needed.
Featured image: ECCE Cycles' Opus Cruise – a blast from the future? Photo: courtesy ECCE Cycles