Every cyclist I know has a tale to tell about a time a driver didn't see them. I went to university in England and recall students getting knocked from their bikes on the way to lectures.
Accidents were partly down to the poor cycling infrastructure in place, but also down to the poor safety precautions taken by riders. Cyclists are the most vulnerable of all road users. They're up to 30 times more likely to get injured on the road than drivers are, and up to 18 times more likely to get hit and killed.
RELATED: The world's first smart bicycle helmet wins Design of the Year category award
It's up to cyclists to make themselves as safe as possible while riding on the road. But how can they do it?
What's the main reason for collisions?
Research suggests that the majority of crashes involving cyclists and vehicles are a case of "looking but failed to see". Spend enough time in the cycling world you'll start to hear the phrase SMIDSY thrown around. SMIDSY is an acronym for the phrase "Sorry mate. I didn't see you".
There are several factors making cyclists hard to spot including: visual clutter at the side of the road, visibility of the rider, and the time of day the cyclists is riding.
As you might expect riding at night is more dangerous than riding during the day. Worryingly 35% of all fatal crashes happen at night.
A study, written for the Journal of the Australasian College of Road Safety, investigated cyclists' visibility at night and found that only 2% of cyclists in black clothing were correctly recognised compared to the 90% in reflective clothing.
Road safety is paramount and companies are working hard to create some truly innovative products to increase cyclists' visibility.
Gear to look out for
To increase visibility, there have been additions to the bike itself such as glow in the dark frames and wheel lights, as well as increases in reflective accessories such as LED waterproof backpacks!
There has even been the invention of a glow in the dark cycle path by Dutch designer Daan Roosegaarde:
Likewise, the idea of increasing visibility has now overlapped into products such as helmets. Helmets are a hot topic within the cycling community with many suggesting they don't work.
Whatever your stance on the helmet debate there's no question that new technology available helps with the necessary visibility aspect of cycling safety. For example, the Lumos takes the humble helmet and combines bright lights, hand signals, and brain protector into a complete unit. It has lights on both the front and rear, but what's exciting is the addition of turn signals.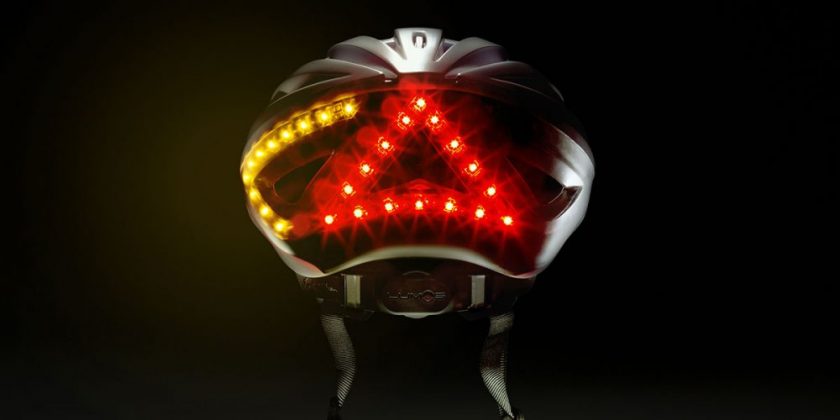 No rider wants to be unsafe on the road, and it would seem that the constant improvements in cycling equipment will help reduce collisions in the future.
It would be awesome to see the statistics come down to a much lower level than what we're experiencing at the moment and it's continued innovation that can help achieve this.
Guest post written by Mike McLeish. McLeish runs bicycle blog Pinch Flat. He's currently taking full advantage of the warm weather in South East Asia. Follow him on Twitter at @Pinch_Flat.