Last weekend not only saw a frantic Monaco F1 GP but also the second round of the Enduro World Series. If you missed the action from the Round 1 of the EWS, check out highlights here.
The Chain Reaction Cycles Emerald Enduro in Ireland will go down in history as one of the most exciting races the sport has ever seen – and with good reason.
Thousands upon thousands of fans took to Carrick Mountain with one desire – to see their fellow countryman Greg Callaghan lift the trophy. And he didn't disappoint.
The Cube Action Team rider's day read like something of a fairytale – his first ever win on home soil in front of a huge home crowd. And what a crowd it was – this race was dubbed the 'social enduro' and with fans lining absolutely every section of the course it was easy to see why.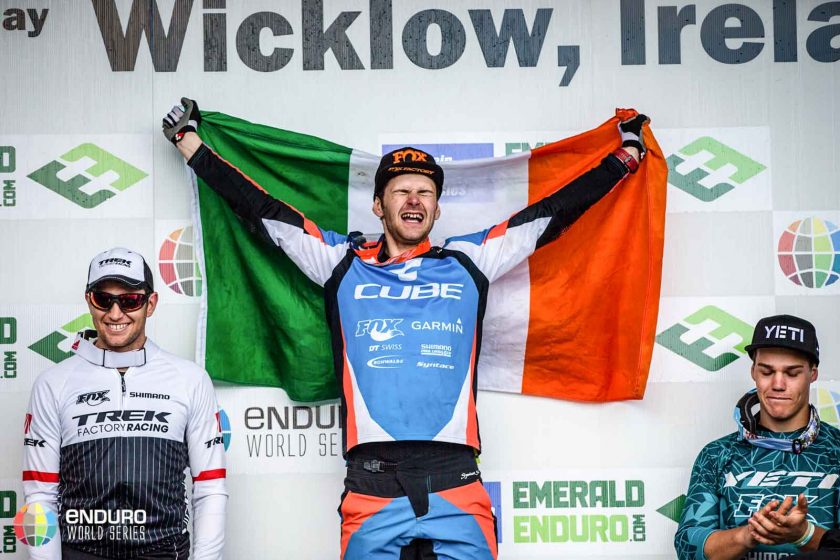 And speaking after the race, Greg said it was the crowds that spurred him on to do so well.
"You couldn't predict this – when this race was revealed last year I thought imagine winning that. But I never thought it would actually happen – and now that it has it's like a dream come true. I had the perfect day – during the race it was like I didn't feel any fatigue or pain and I could just push on really hard.
"The crowd were amazing. Even when I was just in the start gate the crowd were going crazy – it was insane. They were so incredible and it just made me push harder."
Justin Leov (Trek Factory Racing Enduro Team) came in just behind Greg to finish second, whilst Richie Rude (Yeti/Fox Shox Factory Team) put in some blisteringly fast times to take third.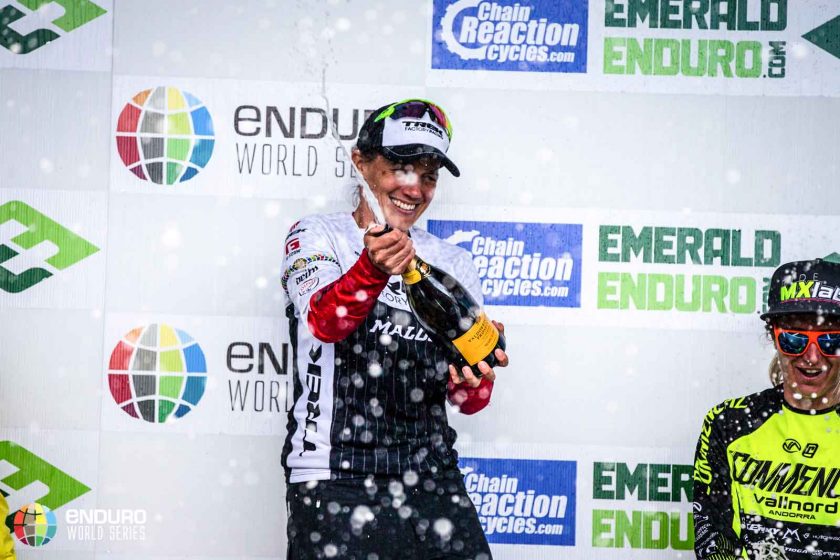 In the women's race Tracy nearly made it a clean sweep, winning six of the day's seven stages. Anne Caroline Chausson (Ibis) in turn had to settle for second on all but one stage, leaving her in second place at the end of the day. Cecile Ravanel's (Commencal Vallnord Enduro Team) consistency throughout the day paid off and she came third in the overall.
Tracy said; "Anne got the better of me in a few races at the end of last year so it's nice to kind of finally have toppled her again and to do it here in Ireland – what an amazing event. It was awesome – it reminded me of a downhill world cup to be racing in front of such a wicked, amazingly enthusiastic crowd. The event organisation was second to none and Niall and his crew have done an amazing job and made great use of a little hill. That's one of the most fun days I've ever had racing enduro."
In the Under 21 Men's competition it was French rider Adrien Dailly (Lapierre Gravity Republic) who came out on top, followed by Elliot Trabac (Scott SR Suntour Enduro Team) and Killian Callaghan (Team Biking.ie) in third.
For the Under 21 Women it was Ireland's Leah Maunsell (MBW Kona Ireland Racing) who won, followed by Axelle Muringneux (Chamrousse Enduro Team) in second.
Chris Ball, Managing Director of the Enduro World Series, added: "That was one of the best races yet – seeing Greg win his first race in his home country is something I'll never forget. The passion and enthusiasm from the Irish crowd was electric – I've never seen anything like it.
"Niall Davis and the entire Emerald Enduro team are phenomenal – the level of organisation and detail that went into this event has been exceptional and that was reflected in the incredible racing that took place here."
Heading into round three in Scotland next week Jerome Clementz (Cannondale Over Mountain) still leads the men's competition, Tracy is out ahead in the women's and Trek Factory Racing Enduro Team lead the team competition.