The fourth round of the Downhill series in the UCI Mountain Bike World Cup presented by Shimano in Lenzerheide, Switzerland, saw South Africa's Greg Minnaar win the 18th World Cup of his career on Saturday, a men's record, while Rachel Atherton (GT Factory) took her third straight win in the women's series. Atherton extended her lead in the overall standings, while Aaron Gwin (Specialized) continues to lead the men.
Lenzerheide has been dry and hot all week leading into the World Cup, and it has made the steep course dusty and very loose, particularly in the corners. It was so hot, in fact, that live coverage went offline temporarily when the cameras overheated.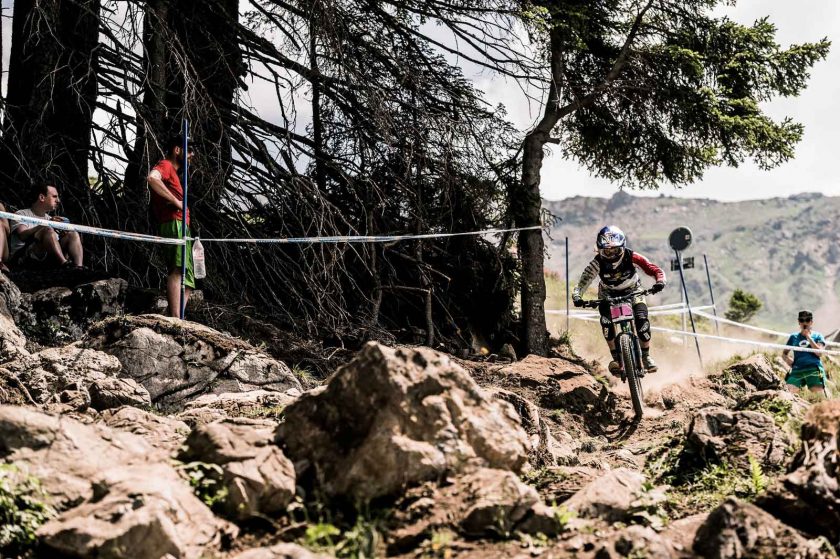 Rachel Atherton took her third straight win after top qualifier and Round 1 winner Emmeline Ragot (MS Mondraker) crashed in the dry and dusty conditions.
Canada's Casey Brown (Bergamont Hayes) was the first to record a sub-3:40 time, which would be good enough for sixth place. Former world champion Morgane Charre (Solid-Reverse Factory) then knocked a second off the leading time to hold the Hot Seat until Tracey Hannah (Polygon UR), the fourth fastest qualifier, took a full two and a half seconds off the best time.
However, the top three riders were about to start, with world champion and defending World Cup champion Manon Carpenter (Madison Saracen) the next to go. Carpenter has struggled this season, but clearly had no problems on this track, knocking 2.2 seconds off the leading time. Her time in the Hot Seat was short, with Atherton coming down right behind her with the first sub-3:30 time at 3:28.126.
This was still 1.3 seconds slower then Ragot's qualifier, so Atherton couldn't count on victory. Ragot came through the first intermediate timing split half a second faster, but then got into trouble; hitting a corner too fast and almost going off course, and then crashing in a wooded section. She recovered to finish fifth, but the day was Atherton's, as the British rider recorded her 23rd World Cup win.
"I don't think I would have taken the win today if Emmeline hadn't crashed," admitted Atherton. "It's a pretty wild track and so dry… us British girls aren't used to riding in these dry conditions. I knew I was going to have to dig super deep; I was struggling all week. I know that pits were working really hard all week to set up the bikes. She [Ragot] was riding really well, so I'm a bit gutted for her. I'm just glad I didn't come off and I just persevered to the end."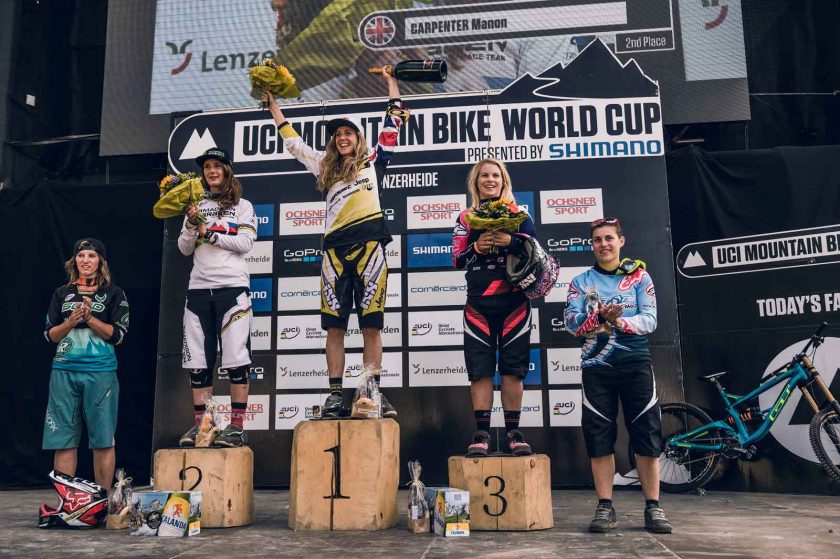 Atherton now leads the standings, with three races remaining, with 910 points, 165 points ahead of Ragot. Hannah moves from fourth to third in the standings with 550 points, while Carpenter also moves up one spot to fourth and Tahnee Seagrave (FMD Racing) drops from third to fifth after crashing and finishing ninth on the day.
The Spanish rider Angelo Suarez was the first man to hold the Hot Seat for an extended period, with a time of 3:06.235 that proved good enough for 16th place.
With 35 riders remaining Loris Vergier (Lapierre Gravity Republic) took the lead, only to be quickly replaced by Ed Masters (Bergamont Hayes) and then Dean Lucas (Devinci Global Racing). Lucas, at 19 riders to go, became the first rider to break the qualifying time of Loic Bruni (Lapierre Gravity Republic), and his time held through 13 riders until Minnaar, with six starters remaining, knocked 1.8 seconds off.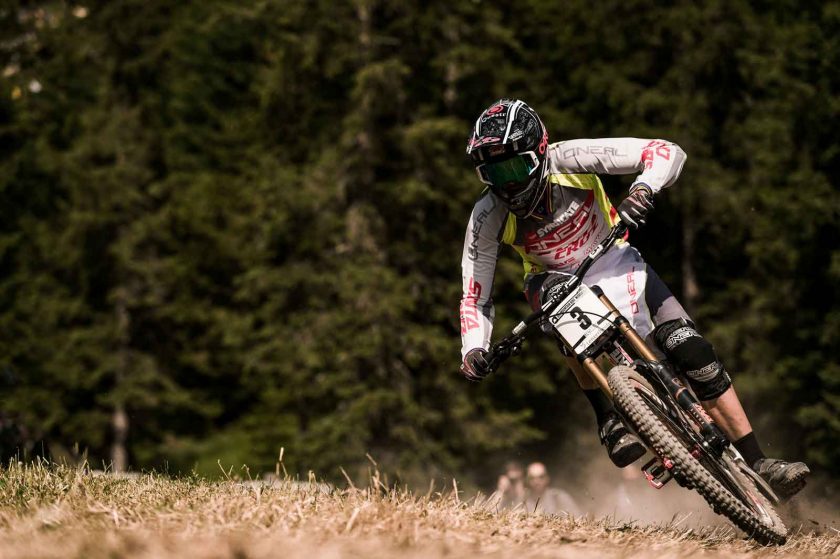 While others were sliding in the corners and struggling with rocky sections, Minnaar was deceptively smooth, not losing time or fighting the bike. Defending World Cup champion Josh Bryceland, after crashing and injuring his hand in training, could only manage 12th. Connor Fearon (Kona Factory), with three riders to go, was on a very strong ride until he slid out and crashed. Gwin, despite being a favourite of many to take his second straight win, struggled on his run and could only manage eighth.
This left Bruni, the fastest qualifier at three World Cups this year, the only rider left who could challenge Minnaar. The French champion was only fourth at the first time check but improved to second by the next one, eighth-tenths of a second back. However, would prove to be as close as he would get, finishing 0.960 seconds behind Minnaar, who, with his 18th World Cup victory, now holds the men's record, surpassing his team mate Steve Peat.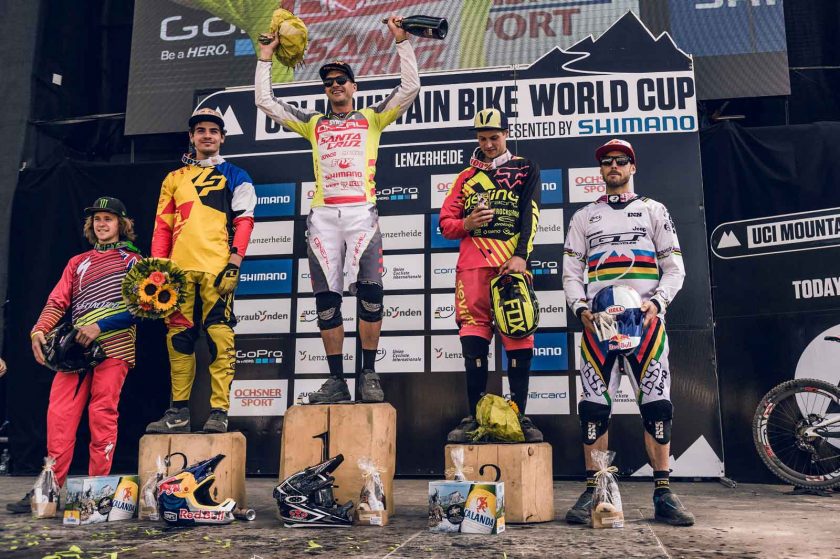 "I've never been so nervous on the Hot Seat," commented Minnaar. "I'm trying to soak it up [18th win]. It was nerve-wracking watching Bruni coming down. It's incredible because I didn't feel I had it in me this week to win and I just wanted to put in a solid run."
"I think the conditions played a huge part, being so rough and tricky. I'm stoked to win my 18th World Cup, just a bit overwhelmed, really. I just tried to be safe everywhere and carry speed where I could. I knew it was going to be super close and I didn't think I had it in me, but the team put in a big effort with bike testing all week and it paid off."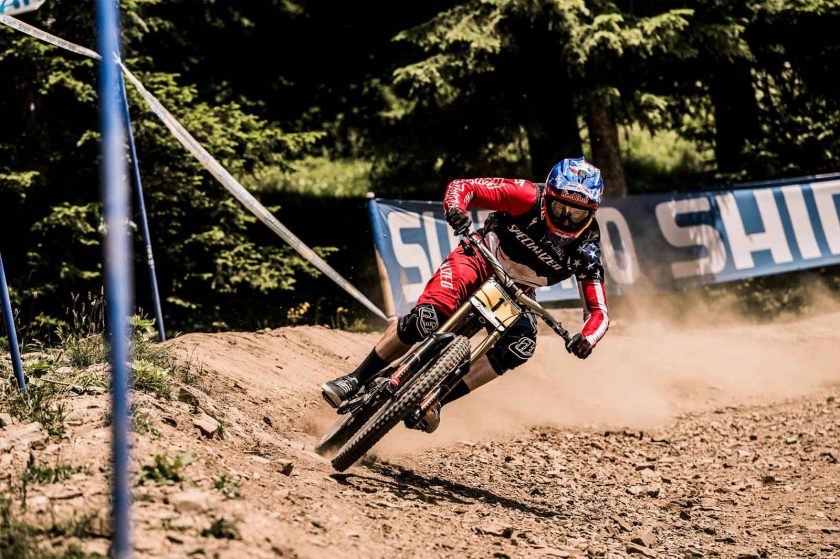 Gwin still holds a comfortable lead in the overall standings with 749 points, however, both Bruni with 645 points and Minnaar (633 points) have crept closer.
In the Junior men's category, Laurie Greenland (Trek World Racing) took his first win of the season, followed by World Cup leader Andrew Crimmins (Kona Factory). Crimmins now leads Greenland by a slim two point margin.
Via UCI