Italian bicycle saddle and accessory specialists, Selle Royal, have just launched an innovative new creation: the World's fist modular bike saddle for urban cyclists.
The saddle, known as the TA+TOO, has been developed with an attachment system, which enables the saddle to be removed with ease. This decreases the chance of bike theft and vandalism, and reduces bad weather damage, ideal for cyclists with busy lives in built up areas.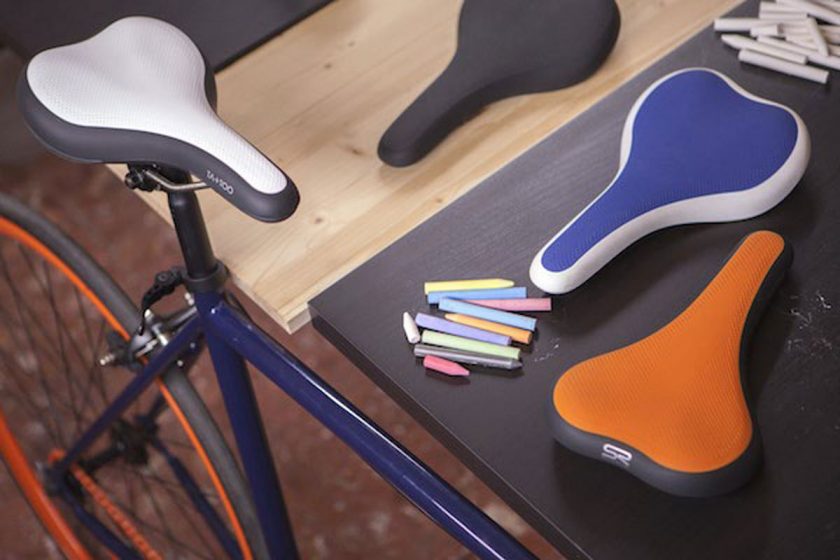 Designed to improve comfort for riders, the TA+TOO is designed in a smooth shape and padded with 3D skingel which, is 'able to absorb shocks 40% better than other padding materials,' so the brand claims.
Monica Savio of Selle Royal reveals "TA+TOO boasts a highly advanced structure that really stands out from the crowd. It was speci­fically developed for those with limited bike storage, where cycling plays a daily role in their lives and riders wish to showcase their individuality."
This week the brand also announced the release of a limited edition design collection for the TA+TOO saddle.

The new collection, called the Travel Collection, is the ­first of four themed limited edition ranges showcasing illustrations from the contemporary art scene.
For the Travel Collection, the brand collaborated with three different groups of artists, Spanish illustrators, Brosmind, who spent their childhood drawing comics, Italian twin brothers, Van Orton, who are inspired by the Pop Art luminary Roy Lichtenstein, and new Italian designer Hikimi.
Each saddle in the limited collection (only 100 of each) features a unique new design. The following editions will be based on Wilderness, Love and Landscapes and will be released later in the year.
Selle Royal Brand Manager – Roberto Bucci said: "We know how important bikes are to people so we have made every effort to ensure they can have a saddle that is a continuation of their personality, just like tattoos."
TA+TOO is available now on the Selle Royal website.
All Photos: Courtesy Selle Royal