Paintball is a fun game that almost anyone can play. In fact, it's considered a universal game, with millions of global players during its peak popularity some years ago.
While relatively safe, there are precautionary measures that players need to adhere to. Blind firing avoidance and maximum velocity limits are part of the core safety regulations that aim to prevent serious injuries. The use of safety gear is another way to do that. Apart from strapping on protective gear, enthusiasts must also make sure they're wearing appropriate clothes and shoes.
Ahead, you'll find some important tips that'll help you buy your next paintball protective wear.
Is paintball dangerous?
While considered one of the safest forms of extreme sport, injuries are still possible. Between 1997 and 2001, almost 12,000 paintball players were treated for minor paintball injuries. These were mainly pellet wounds to the eye and lower extremity injuries from overexertion. Bruises from falls or the impact of paintball are also common occurrences among players, especially those wearing the wrong or not enough paintball safety equipment.
Tips for buying paintball protective gear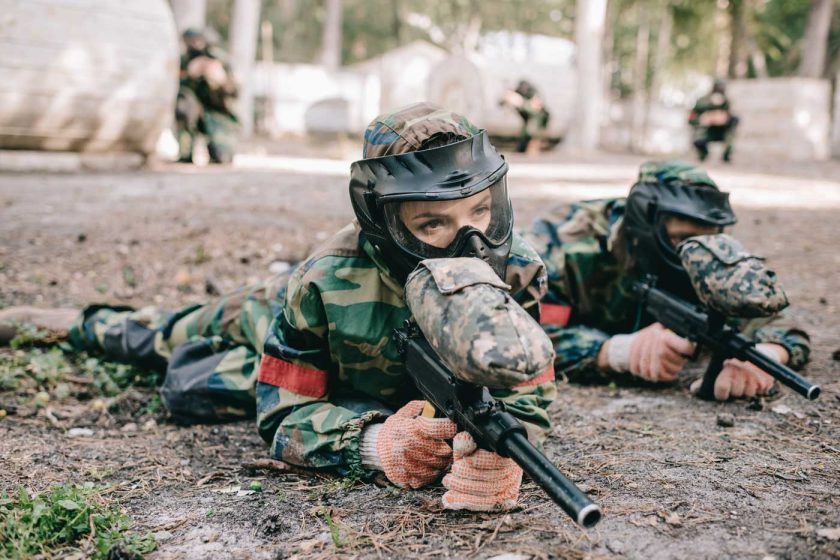 To protect against any serious injury and avoid suffering from minor abrasions, bruises, and similar, a player should have a complete set of protective gear.
Goggles, masks, and lenses
The most serious risk that paintball players face is eye injury, as mentioned earlier. Hence, goggles, masks, and lenses are a necessity. Enthusiasts can play without other pieces of paintball safety equipment but can't step on the playing field without a reliable eye and face cover.
Buying tips:
Invest in a pair of goggles that provides the best protection from all sides.
Before paying for one, try it on and check for comfort levels. When you play, you'll be asked to wear this at all times. Scenario players need to wear goggles for hours, so comfort and safety should be your top priorities.
Consider a full paintball mask that covers your entire head, not only your eyes. Some goggles do come with an extra face shield for the head, ears, and jaw.
Most importantly, opt for a mask that doesn't distort your hearing or obstruct your view. If your mask or goggle fogs up, you won't see properly. This may set you up for failure or loss, and you won't enjoy the rest of the game.
Purchase an extra set of light and dark lenses to prepare for any lighting and weather conditions. Read this article for additional tips for new paintball goggles.
Paintball vest
This piece of paintball safety equipment aims to protect the chest and internal organs of the body, such as the heart and lungs. Vests are highly recommended, as they're effective at absorbing impact from both long and short-range shots, shielding you from hits that might cause bruises or injuries.
Buying tips:
Look for a high-quality and durable vest.
Choose one with ample padding yet lightweight to avoid restricting your movements.
It's a plus if the vest has enough pockets to place extra paintballs, a two-way radio, maps, water bottles, keys, and other necessary items.
Body pads
Often, you would need to crawl on the ground and duck to remain invisible while playing. In a fast-paced game, you may crash onto hard surfaces. An impact-absorbing pad is mandatory to protect the joints and sensitive parts of the body, including the chest, neck, elbows, knees, and shin.
Buying tips:
Look for pads with enough foam padding within their outer material for better shock-absorbing capacity and improved force distribution.
Memory foam pads provide a better fit and enhance comfort and flexibility, allowing you to move with better agility.
Highly recommended pads ideally should use breathable fabrics and perforated foam layers to reduce discomfort.
Gloves
Some may think a pair of gloves is unnecessary, but it does help protect your hands from getting bruised or injured. As you'll be handling paintball markers, your fingers and knuckles need proper protection. Gloves can cover your hands from getting scrapes, cuts, and sprains that can negatively impact your gameplay.
Buying tips:
Refrain from choosing gloves that are too thick, as they can impede trigger-pulling action.
There are pairs specifically made for paintball players, and they're often fingerless to allow better finger movements.
Consider buying gloves used by golf players and weightlifters.
What to wear when playing paintball
Wearing the right type of clothes and shoes is a good start to preventing further injuries. Prioritise coverage, even if you think you're tough enough to withstand the impact of the paintball hitting your skin.
It's best to wear long-sleeved shirts and long pants, or a sweatshirt and sweatpants. Some wear military-type clothes and camouflage. No matter the style, your clothes should be loose enough to offer great mobility.
Additionally, wear combat boots or hiking shoes to promote stability and increased surface grip. Running shoes may be another option, but boots provide the best performance.
Final thoughts
Paintball is a fun and tactical game that can get players all muddied, bruised, stung, and ultimately tired. But at the end of the day, it can be a highly exciting game, as long as each player follows the basic safety rules and wear the right paintball safety equipment.
Placing a barrel sleeve or covers, avoiding accidental shots and blind firing, setting maximum velocity, and not touching other players while the game is ongoing aim to keep everyone safe. Besides upholding these regulations, players should also dress and play smart. And dressing smart involves buying the right kind of protective gear.
Pin this post