On a hot summer's day, there's no funner way to cool off than with a good ol' fashioned water fight. Back in the day, any off-the-shelf water pistol seemed to do the trick. In fact, even an empty squeeze bottle would make a formidable water weapon in the battle to soak your family and friends.
Now that you're an adult though, or rather a 'big kid', these things don't pack the same punch that they once did. And, most pump-action water guns these days seem to only deliver thin streams of water that get vaporised by a light breeze.
SpyraThree electric water gun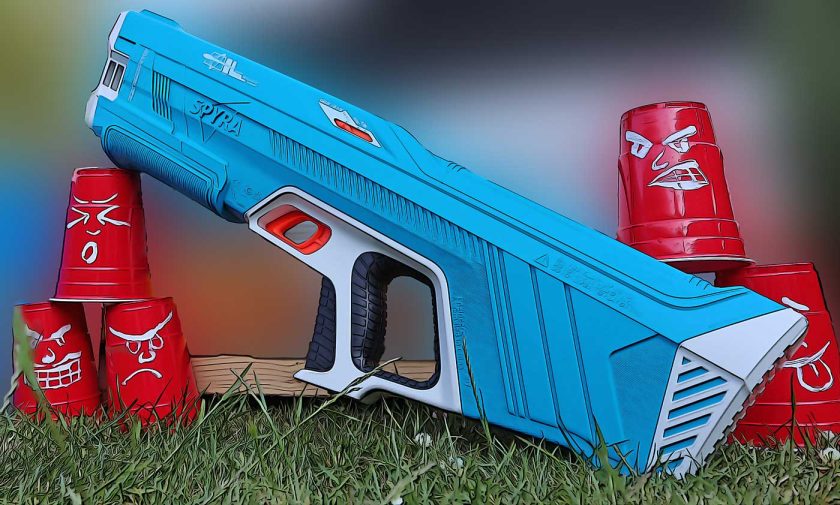 That's why, in 2018, Spyra launched its innovative electric water blaster on Kickstarter. With an ability to fire 'bullets' of water, auto-refill function, and tactical display, the SpyraOne was a huge success—appealing to a generation that grew up playing FPS video games. In fact, the recently released third generation model, the SpyraThree, looks like it was pulled straight out of the Halo universe.
Design and build
Building on the design of the SpyraTwo, which is still available, the SpyraThree comes in two colours—blue or red. You can choose to fly solo with a single blaster, retailing for £149 (UK) / $179 (US). Alternatively, for an additional $110, you can jump straight into team battles with the duel pack, which comes with both a blue and a red blaster. To sweeten the deal, you can also use our discount code 'ADAPTNETWORK' to get 5% off.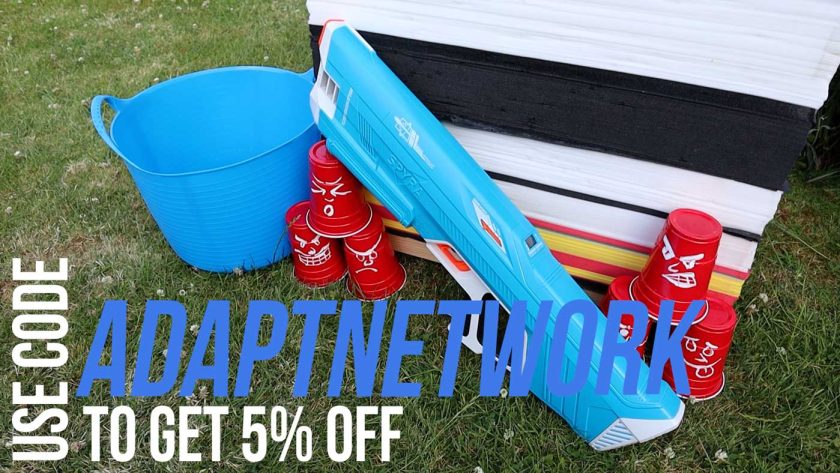 Either way, you get a very well built water gun that genuinely feels like a premium product. The thick plastic shell is really robust, so there are no annoying creaking noises from flex. The white muzzle, recoil pad and pistol grip adds contrast; as does the orange trigger, mode selector and nozzle cap. While, the odd decal highlights key information and accentuates the overall futuristic look of the blaster.
In the hand, the SpyraThree is noticeably comfortable to use thanks to the ergonomic design and rubberised grip. After a full day of water fighting fun, I didn't feel any fatigue in my hands or shoulders. The underside of the water gun has a moulded grip for your non-firing hand and the stock sits securely against your shoulder to stabilise each shot.
Weighing over 2kg empty and closer to 3kg with a full tank, the SpyraThree is a pretty beefy blaster. It's powerful too—firing slugs of water at nearly 35PSI—and built with dimensions to fit an adult frame. In fact, Spyra states that the water gun shouldn't be used by under 14s and recommends that you wear eye protection—so don't forget to throw on a pair of shades.
SpyraThree battery life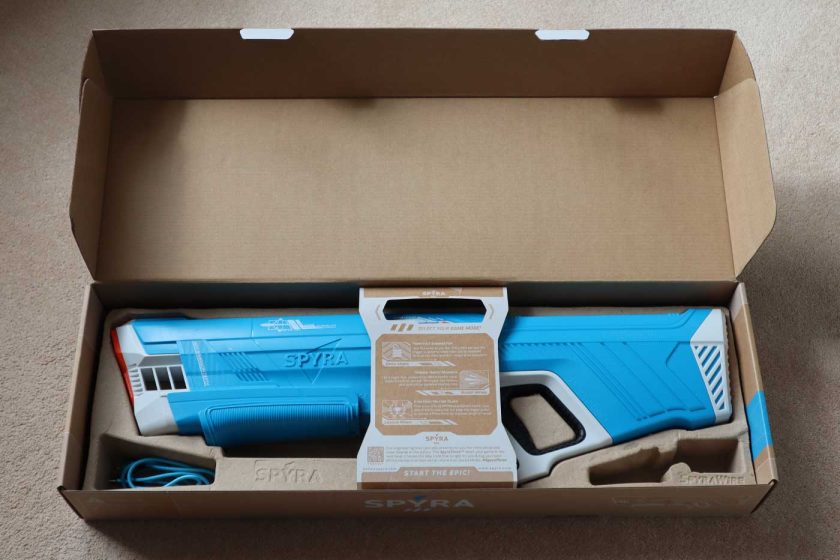 Speaking of protection, the SpyraThree ships well-packaged in a plastic-free box and arrives partially charged. To maximise the longevity of the integrated lithium-ion battery though, you'll want to fully charge it before using it for the first time. And for that, you also get a braided USB-A to USB-C cable that's colour matched to your blaster.
In my testing, I found that the SpyraThree accepted a somewhat fast-charge input of 10W at 5V. It doesn't take very long to reach near-max charge and you can keep an eye on the current charge level via the display. However, it'll take approximately four hours to reach 100%, so you'll need to be patient during the initial charge.
Spyra says that a full battery will power 2200 blasts before needing to be topped up. And while I certainly haven't counted every shot fired from my SpyraThree, I still had a bit of battery life left after a long day of testing. So, it's safe to say that a single charge will see you through multiple water fights.
Refilling the SpyraThree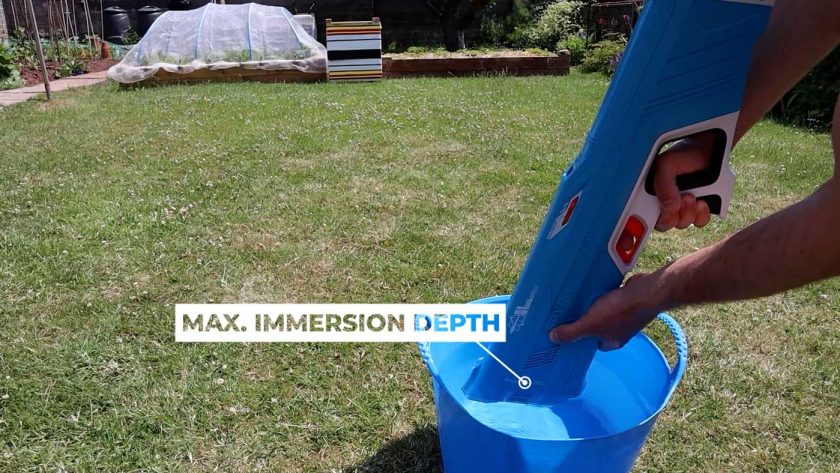 One of the coolest features of the SpyraThree is its auto refill function. After turning on the water blaster—by pressing the power button on the underside of the handle—the LED tactical display lights up to indicate the battery charge level alongside the water supply.
To refill the 750ml tank, simply dip the nozzle of the SpyraThree into a source of water and push the trigger forward. This will engage the electric pump and compressor to refill and automatically pressurise the blaster in under 10 seconds. So, there's no need to run into your house or frantically pump the water gun before getting back in action. And, if you find yourself under fire from a sneak attack, you can pull the SpyraThree at any point during the refilling process to get revenge.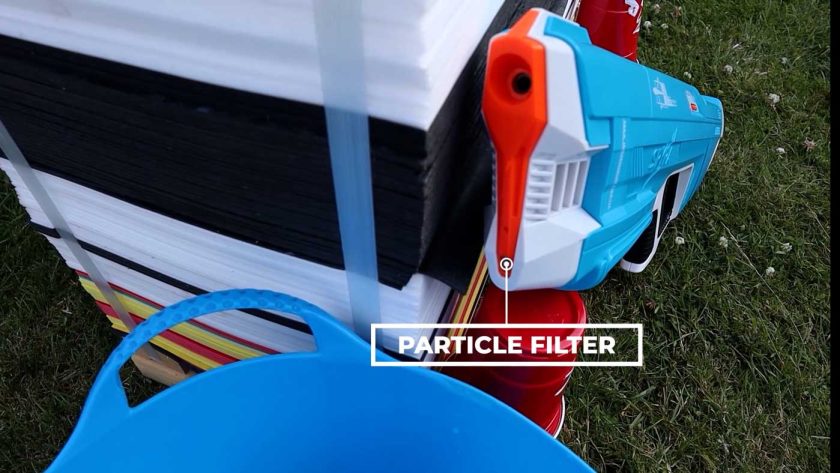 Spyra recommends reloading the water gun with clean tap water only. However, the SpyraThree is fitted with a particle filter to prevent leaves and small debris jamming the firing mechanism. Likewise, the German brand has done an incredible job of isolating the internal electronic components from water. The shell is still water permeable though, so it's not a good idea to fully submerge the blaster. The SpyraThree is remarkably resilient and it will still work fine after being submerged. However, this is unadvisable as it may reduce the lifespan of the device. In fact, there's even a line to mark the max submersion depth when refilling.
SpyraThree firing modes
The main difference between the SpyraThree and the SpyraTwo is that the new model has three different firing modes. To switch between them, simply slide the mode selector located on the left side of the blaster. The switch is easy to operate and has a satisfying click. Its position is more suited to right-handed users, but left-handed water warriors won't have a problem.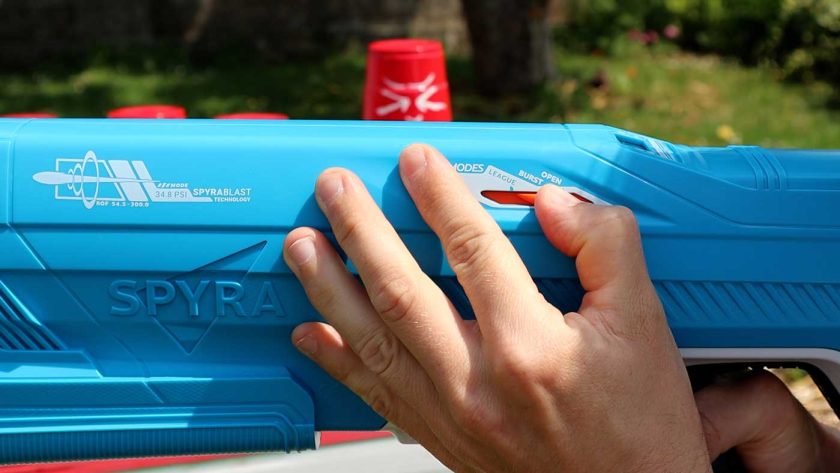 In 'league mode', the SpyraThree operates in the same way as the SpyraTwo. Pull the trigger once for a single shot with a limited firing rate; you can fire off three shots in quick succession before hitting the limiter. Each shot consumes about 5% or 37ml of the available water supply and has an effective range of 10.5m/35ft. You can also hold the trigger for a few seconds to charge a 'power shot'. This fires a larger slug of water at an effective range of 15m/50ft—putting the SpyraThree on par, in terms of range, with the infamously powerful Super Soaker CPS 2000 from the 90s.
The different aspects of 'league mode' have been developed—with strategy in mind—for official Spyra water battles. The idea is to develop 'soaker tag' as a summer alternative to other blaster sports. It's a lot less painful than paintball and you don't need to recover any foam darts.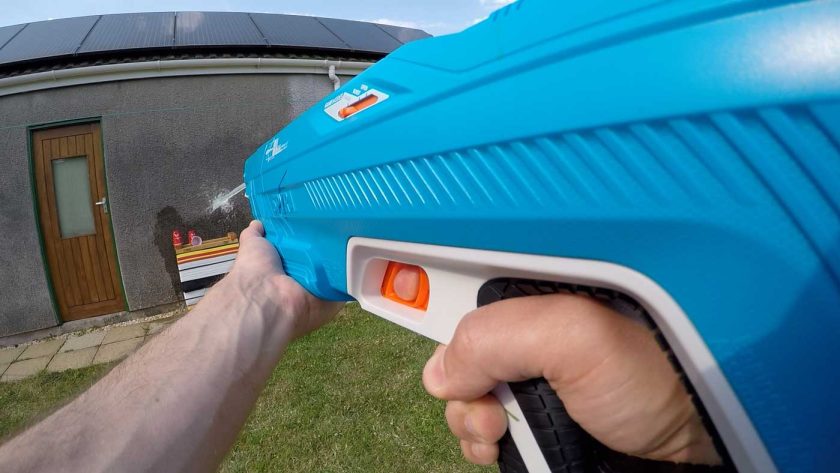 When you just want to have fun in your backyard though, 'league mode' can be too restrictive. Switch to 'open mode' for full freedom and fire off shots at a maximum rate of 300 blasts per minute—pretty much as fast as you can feather the trigger. Alternatively, you can hold down the trigger for full auto at a slightly reduced, but still respectable, rate.
Spyra states that a full tank of water will last 22 shots. However, in my testing, I found that a refill was usually required after just 21 shots. Still, that's an amble amount to soak your opponents with in one round. And, they will definitively feel the impact of each blast at close range, though it doesn't hurt at all.
All that aside, my favourite feature has to be 'burst mode'. There's just something about firing off three-round bursts that makes you smile—even if it is just at homemade cup targets with painted faces. The fact that the solenoid can keep up, without the power of each shot tailing off, is truly impressive—this water gun really is a serious bit of kit!
How accurate is the SpyraThree?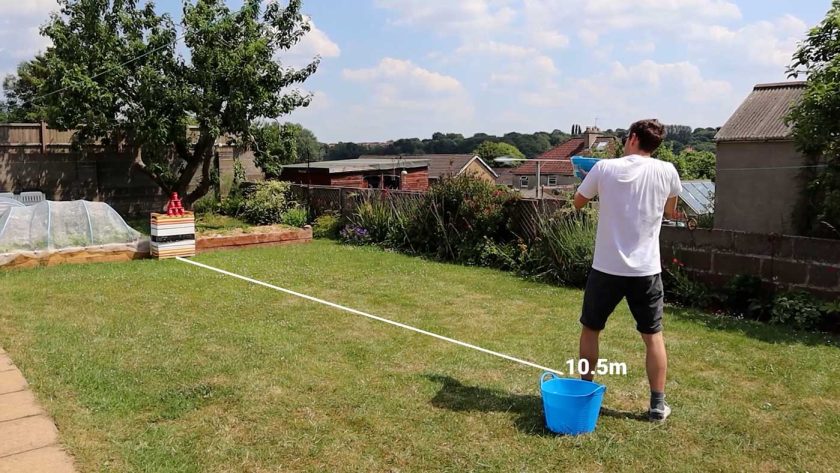 Regardless of the game mode, the SpyraThree is reliably accurate. Well paced single shots deliver payloads of water that remain tightly packed before they begin to arc and disperse at around 8m/26ft. In my testing, I found they packed enough punch to knock over cup targets at the quoted 10.5m/35ft mark and divert frisbees—or rather, what I like to call "backyard clay pigeons"—off course.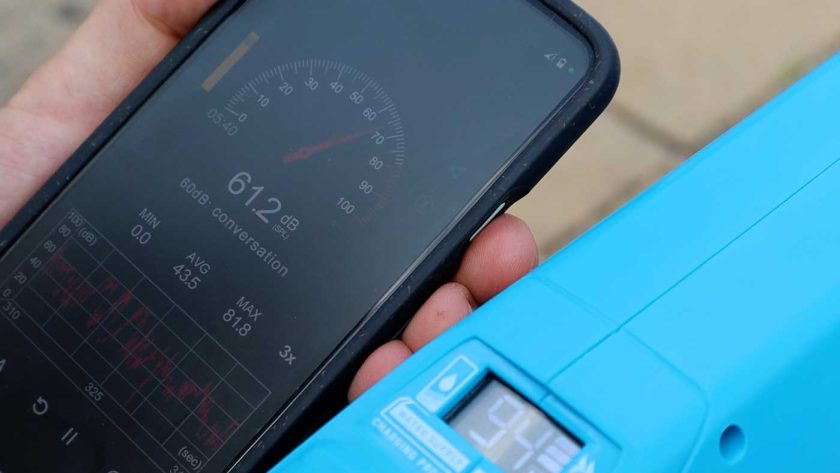 Each blast creates a noticeable kickback—especially power shots—and a suitably satisfying 'thunk' noise that just adds to the fun factor. At around 65dB, it's load enough to add gravitas, but quiet enough so as to not annoy your neighbours. The electric pump, however, is a bit noisier at around 75dB.
Aside from refilling the blaster, this is also used to empty the tank before storing the SpyraThree. After depleting your remaining shots, simply pull and hold the trigger to purge the chamber. You can do this twice within a two-minute period, at which point the SpyraThree should be ready to pack away. In some cases though, I found that there was still some water left in the tank. Thankfully, you can easily reset the blaster by holding the power button for six seconds and then repeat the process.
Final thoughts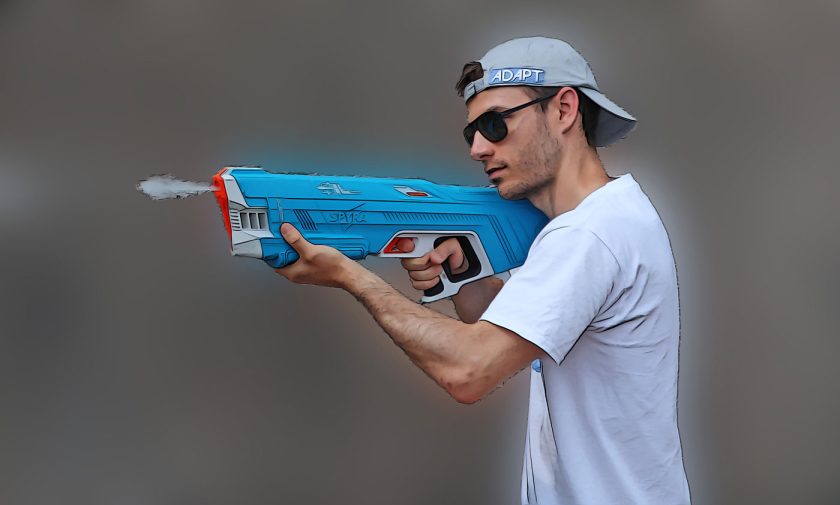 Since the heyday of the 90s, we haven't seen much advancement in water blaster tech. In fact, most off-the-shelf water guns seem less robust and weaker than the ones we played with back in the day. That's what makes Spyra and its self-proclaimed "adventure-ready water tech" so exciting. It feels like the start of a new era in water warfare. In fact, you can already find poorer-quality copies on the market.
But, it's not just about competitive play. The versatile modes of the SpyraThree make it great fun in your backyard. Whether you're battling your family and friends or simply knocking over a few targets, it's an absolute blast—literally!
Spending this much on a toy water gun may take some consideration. But, if you're fed up with cheaply made pump-action models that never live up to their claimed range, you won't be disappointed with the SpyraThree. This is a very powerful water gun that packs a punch. And it's really well made. So, as long as you look after it, the SpyraThree will be your water weapon of choice for many future soaker tag saturated summers.
SpyraThree electric water blaster
Verdict
With three firing modes and tactical display, the SpyraThree is the most advanced water blaster on the market. It's powerful too—firing slugs of water at nearly 35PSI—and built with dimensions to fit an adult frame. While the SpyraThree is significantly more expensive than most pump-action models, it's the best water gun for adults and 'big kids'.
Pros
Fires powerful 'bullets' of water (at 35PSI)
True 10.5m range (15m for 'power shots')
Auto refill and pressurise function
Tactical display
Built for an adult frame
Sizable 750ml water tank capacity
Cons
More expensive than pump-action water guns
Reset sometimes required to fully purge chamber