Bouldering and rock climbing in India is still in it's initial stages, but the sport is growing fast and Hampi is becoming known as a must-climb bouldering spot. As we approach Hampi's climbing season, which starts towards the end of October, boulderers seeking to travel to this spot will be on the look out for inspiration for their upcoming trip.
Before 'Bloc Features', a small adventure photography and film outfit, travelled to Hampi, they were surprised at how little high-quality footage there was of this stunning destination. They therefore set about making there own edit to plug this gap, that turned into the full 'Hampi Local' feature. Judging by early reviews and their first 20k views I think that they have been successful in this aim!
'Hampi Local' was filmed entirely by Lee James Thompson on a Canon 5d Mark ii. Lee is a professional photographer and climbing enthusiast, with a background in commercial photography. In 2014, he went freelance, and is now focusing on lifestyle and outdoor film and photography. Julia Clark is a midwife and climber, who discovered during the making of 'Hampi Local' that she really likes editing. This is now her official Bloc Features 'job'. We caught up with the pair and asked them for a few insights into the making of the film—see below: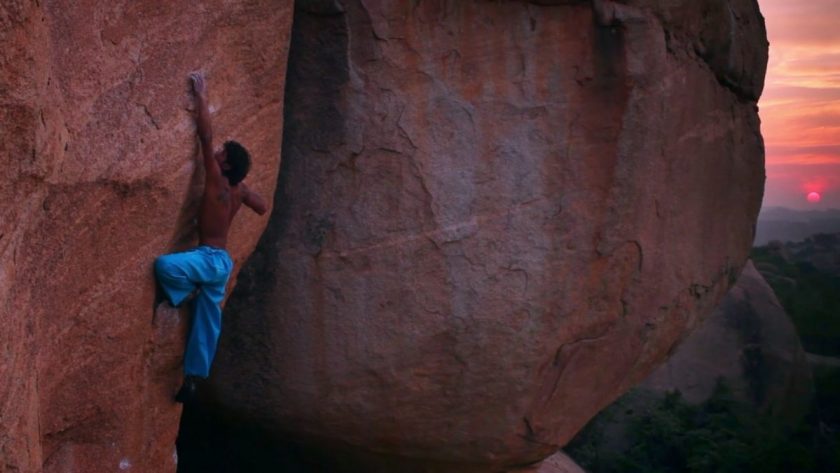 'Hampi Local', Bloc Features' first film, focuses on Vikas ('Jerry'), a local climber and co owner of Tom and Jerry's climbing shop (any climber who visits Hampi cannot help but become familiar with this name).
After meeting Jerry, we quickly realised our film was going to be about more than just bouldering. Yes, we wanted to showcase Jerry's talent, and reveal Hampi in all its dreamy glory. But, more than that, we wanted to show how, for travelling climbers, a little local knowledge can turn a good bouldering trip into one that you never forget. It is hard to pick out our favourite Hampi moments, as the trip was essentially one big highlight! The climate, the people, the ease of getting around, having so many rocks right on your doorstep, affordable, goodquality
living…it was a standout holiday from day one. But, without a doubt, it was the people (and in particular Jerry) who really made it.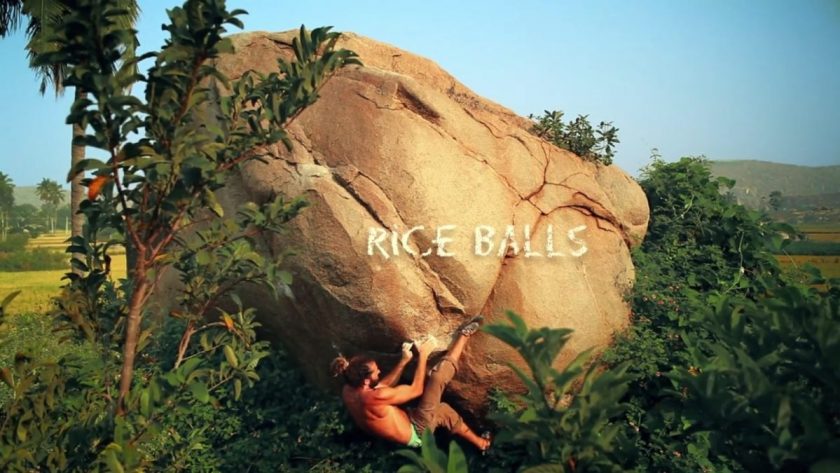 Despite growing up in one of the world's greatest bouldering fields, Jerry only 'found' climbing after meeting Hugo, a visiting Spanish climber, who has since made Hampi his home. They met on the ghats, Hugo waiting for one of Hampi's temperamental local 'ferries', Jerry peddling postcards, like so many local lads. A friendship was formed, with Hugo teaching Jerry a quick learner the basics of the sport.
Since his late teens, Jerry has worked with his friend and business partner 'Tom' to rent and sell climbing equipment and run climbing courses (the pair got their nicknames because of their tendency to scrap as kids). During Hampi's high season, Jerry squeezes in what climbing he can around bouldering lessons and running the shop. By arriving so early in the season, we managed to nab ourselves some quality Jerry time, which would have otherwise been hard to come by. By March, Hampi temperatures soar to 40 degrees celsius, and Jerry escapes to India's northern rock. This is his training regime, and it has got him from beginner to 8a in under 4 years.
Jerry assures us that climbing destinations, often unexplored, exist all over India. One of his goals is to develop these so that more locals have climbing opportunities. Bouldering as a sport is gaining momentum in India, with climbing gyms springing up in the major cities. But the
quality of these gyms is variable, and they are inevitably the preserve of India's wealthier classes. By developing new areas across the country, Jerry hopes to uncover a new generation of local climbers; if there are just a few takers in each location, he reasons, this could represent a significant shift in the face of India's climbing scene.
Jerry's dream is keep on climbing, to go to new places, and to climb with the locals there. For our next project, we hope to get Jerry over to the UK to climb on northern grit and, in doing so, turn his modest dream into a reality. This won't be before next year, and in between we will be working on several small projects in the UK—follow us on Twitter @blocfeatures to find out about upcoming projects.
Guest Post for ADAPT Network by Bloc Features