The best way to beat the heat and experience summer is in the ocean, a lake, or a river. Have fun testing your water skills by participating in a water sport. Whether it is the thrill of kitesurfing or taking in the breathtaking aquatic views when scuba diving, take your day at the beach to the next level by trying some of these adrenaline-filled and fun activities.
Top water sports to try
Jet skiing
Enjoy the wind in your hair and the sea spray on your face as you whip through the water on a jet ski. Jet skiing offers some surprising benefits, from improving your cardiovascular health and muscular endurance to stress relief. You need a license to drive a jet ski in most states, so make sure you check your local laws before hitting the water. A jet ski is a huge investment. While the fiberglass frame and hull are highly durable, the paint is still prone to scratches and the engine is susceptible to corrosion. You can protect your jet skis during transport to and from your favourite ski locations with high-quality jet ski covers, which prevent damage from dust, debris, and stones flicking up off the road as you drive. A semi-custom cover offers the best fit and protection, so find a vendor that offers a range of models, from Sea Doo covers to Yamaha covers, so that no matter which make and model you drive, you are always protected.
Kitesurfing
In regions that experience high off-shore winds over the summer, kiteboarding is an adrenaline rush you'll never forget. You harness the power of the wind using an oversize kite attached to a rig at your waist. The surfboard is strapped to your feet, and you use the handles on the kite to control the speed and direction you travel. There are numerous kitesurfing schools available that offer all the equipment you need to get started. They'll also teach you the proper techniques to control the kite on the land before you hit the water.
Scuba diving
Over 70% of the earth is covered in water, yet only 5% has been explored. Discover the magical underwater environment up close by trying scuba diving. Scuba divers use an oxygen tank and mask, allowing them to spend longer periods under the water, so they can swim with and observe a huge range of marine life, underwater structures, and historical wreckages. Though you aren't legally obligated to get a scuba diving license, for safety reasons, experts recommend specialist training to ensure you understand diving essentials like managing oxygen levels, tank pressure, and learning how to decompress before resurfacing.
Stand up paddleboarding (SUP)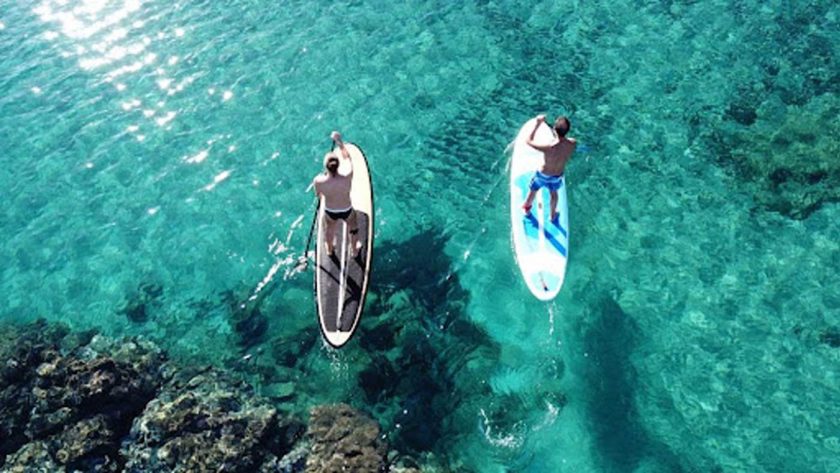 SUP has seen a huge surge in popularity in the last 10 years because of its accessibility. It is an incredible sport for all ages and fitness levels and a great way to get out on the water with the whole family. The longer, wider, and thicker SUP boards are more buoyant than standard surfboards, so they are easy for beginners to get the hang of. You can SUP in almost any location, from lakes and lagoons to rivers and bayous. Once you have your technique down, you can try SUP yoga, river runs, or even white water SUP.
Barefoot skiing
Barefoot skiing, aka barefooting, is an exciting sport for experienced waterskiers looking for a new challenge. It involves gliding across the water at high speed and has a high injury rate, so it is not for the faint-hearted. New barefoot skiers typically use a boat boom rather than the usual rope and handle setup when starting out. The boom is closer to the boat and more stable. Some skiers may also opt to wear shoe skis, which are small skis that are only 1-2" wider and longer than your feet. The upturned nose on the shoe skis provides additional lift, meaning the boat doesn't need to travel as fast as it would for conventional barefooting.
Cage diving
If you've ever wanted to get up close and personal with some of the denizens of the deep, cage diving is an unforgettable experience. Cage diving offers you a chance to observe and interact with the ocean's biggest predators in their natural habitat. The reinforced steel cage protects you against potentially aggressive behaviour while allowing you to get close. Depending on the depth of the cage, you may or may not need a scuba license. Check with the cage diving company about any qualifications you need and ensure they take a conservative approach to the sport and always have the sharks' welfare in mind.
Flyboarding
This relatively new water sport is a thrilling experience. A small board is attached to a high-powered propulsion system that uses the water pressure to shoot you into the air up to 80 feet. The system is typically connected via a hose to a watercraft, such as a jetski or speedboat, to power the flyboard motor. The sport requires exceptional coordination and core strength to maintain your balance in the air, but the board is made from buoyant materials, so you can float in the water if you need a rest.
Hydrofoiling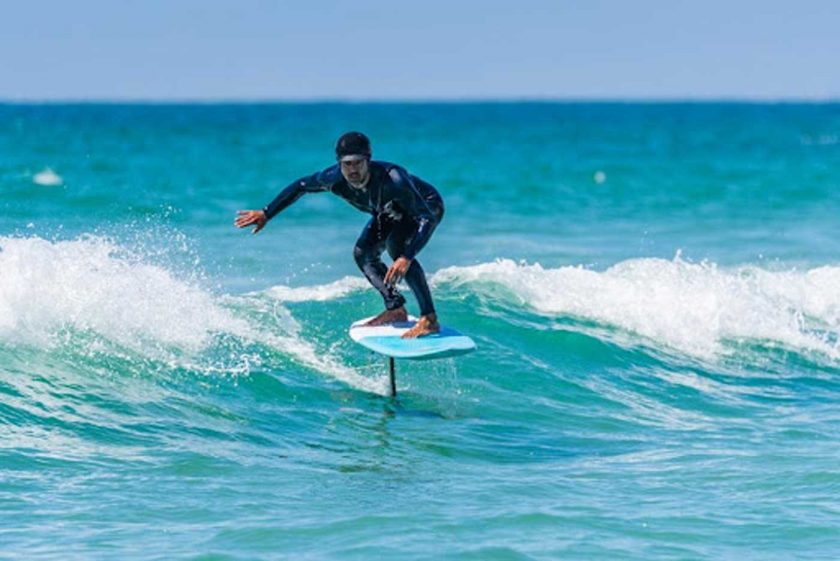 Surfing is a classic summer watersport, and there is nothing more exhilarating than riding the waves, except perhaps hydrofoiling. Hydrofoiling uses a slightly shorter surfboard with an exaggerated rear fin made from metal that lifts the board out of the water. The waves' kinetic energy propels the foil. This feature allows you to reach much higher speeds than conventional surfing, and the added height makes you feel like you're flying.
Canyoning
For the ultimate outdoor adventure, canyoning allows you to fully immerse yourself in nature and explore natural wonders that are millions of years old. The sport involves rappelling down sheer cliff faces, traversing narrow gorges, spelunking, and jumping over waterfalls. The sport allows you to see locations that are untouched and typically inaccessible. However, this sport is not for everyone. Those with claustrophobia or vertigo may find it challenging to navigate the narrow caves and gorges and high cliffs and waterfalls.
Soak up the sun and hit the water this summer
Cool off this summer with watersports and activities that will thrill you and let you discover the best of what Mother Nature has to offer. Whether you want the adrenaline rush of navigating the water at high speed or the Zen-like relaxation that only underwater exploration can provide, there is a water sport out there for you to try this summer.
Featured image: YanLev/Shutterstock