There are a lot of ways to accidentally ruin your day on the golf course. You could hit a few drives out of bounds, or a thunderstorm could move in as you make the turn. You could 3-putt for the fourth time and break your putter over your knee or you could stumble upon a hornets nest while searching for your ball. All of these are bad, but they aren't the worst way to ruin your round.
You never want to be the golfer in the parking lot pulling everything out of their bag because they can't find their car keys. Do you really want to call your spouse to come pick you up from the course? Even worse, you want a cold beverage on the back 9 and can't find your wallet. Which pocket did you put it in when you arrived this morning?
If only there was a way to ensure this never happens to you. Well, here's the good news: there is! With the right golf valuables pouch you'll always know where your phone, wallet, keys, and watch are. We're here to help you find the perfect pouch for your days out on the course.
What is a golf valuables pouch
To put it quite simply, a golf valuables pouch is a small bag/case that either attaches to or fits inside of your golf bag and will keep all of your valuables safe. What do you take to the golf course that you want to safely store and would be crushed if you lost? Phone, wallet, keys, sunglasses, watch, a little cash, or maybe all of the above. All of these items can be stored in your golf valuables pouch.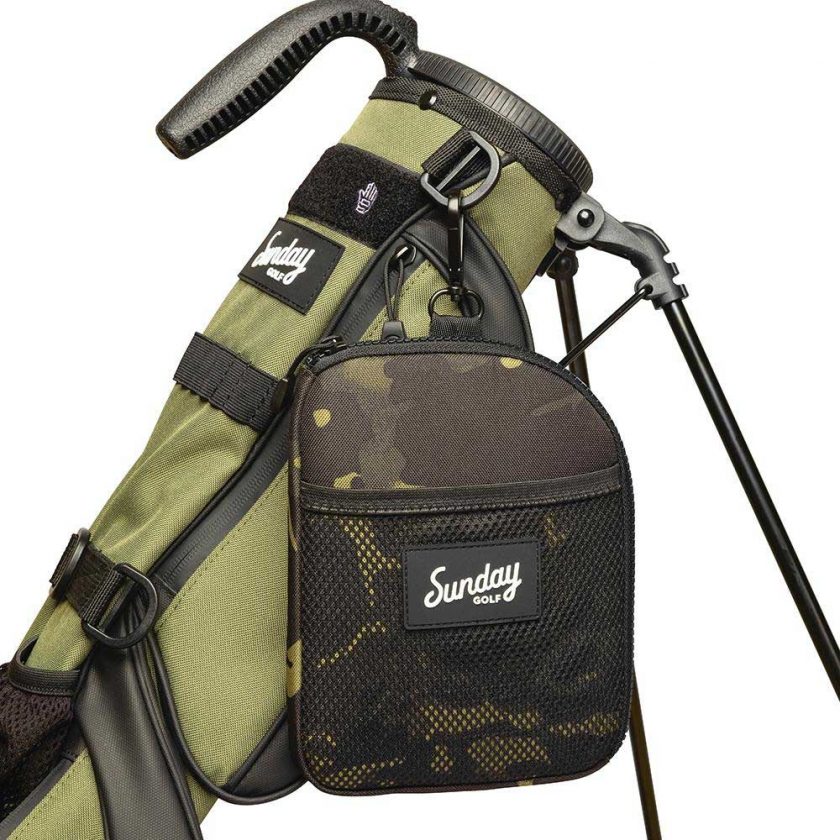 Why do you need a golf valuables pouch? When you arrive at the golf course for a weekend round, are you focused on your car keys or a new swing thought? Are you thinking about finding your wallet later or excited to catch up with your golfing buddies? Many golfers are excited to play and just throw their valuables anywhere in their bag, only to struggle to find them later.
A golf valuables pouch removes the guesswork or stress of trying to find your stuff. It provides you with a simple process you can follow each time you play golf. You arrive at the golf course, take your clubs out of the trunk, place your wallet, keys, phone, etc. in your golf valuables pouch, and head to the first tee. You never have to worry about searching for stuff again, because it'll always be in your golf valuables pouch.
How to choose the best golf valuables pouch
Just like most pieces of golf equipment, there are many different types of golf valuables pouches on the market. You need to make sure you buy one that works well for your golf bag and the types of valuables you typically have with you on the golf course. Here are key factors to consider before buying a golf valuables pouch.
Type of material
You can find golf valuables pouches made of leather, cloth, and nylon. We've seen many golfers even leverage the cloth bag that comes with their favourite bourbon. All of these can work, but keep one thing in mind. Moisture is almost always a factor on the golf course. Rather, due to a rain shower, morning dew, or humidity, it's important that your valuables stay dry.
With this in mind, we recommend you look for a golf valuables pouch that'll help you keep your prized possessions dry. Avoid cloth and leather.
Size
Size matters. You need enough room to store all of your valuables, but you don't want to add unnecessary weight to your bag. First, give some thought to what you typically bring to the golf course. Keys, wallet, phone, sunglasses, rangefinder, and jewellery. The amount of valuables you have will help you determine the correct size.
Before you buy a golf valuables pouch to hold all of the items give some thought to why you bring them to the course. Do you need them all during play? If not, simplify your round and go with a smaller pouch!
Shape/Design
We focused on two key components related to shape and design. Construction and attachment. Look for a golf valuables pouch made from high-quality materials and that is designed to last. Water resistant materials and zippers are a huge plus.
Next, how does the golf valuables pouch fit in your bag? Does it have to be put inside a pocket or does it come with an attachment? Easy access to your valuables is nice, so we prefer an attachment model when possible.
Price
Price is always important when shopping for golf equipment. The more you save on your golf valuables pouch, the more you can spend on green fees or that new putter! You'll find products that range from $10 to $100, but we don't think you need to break the bank to get a high-quality golf valuables pouch. Do your research and look for a nice combination of price and the features you need.
Overall quality
Don't get cheap on the quality of your golf valuables pouch. I mean, you are trusting it with some of the most important items in your life. Do you want to have to get the rice out because your phone got wet? It's important that you buy a product you can trust.
The best golf valuables pouch
We agree, there are a lot of things to consider before you purchase your golf valuables pouch. Unlike a new driver or putter, there's no way to try it out before you buy. With that in mind, we can help you make a great choice. If you're looking for a high quality product for a great price, we recommend the Dime Bag by Sunday Golf.
Dime Bag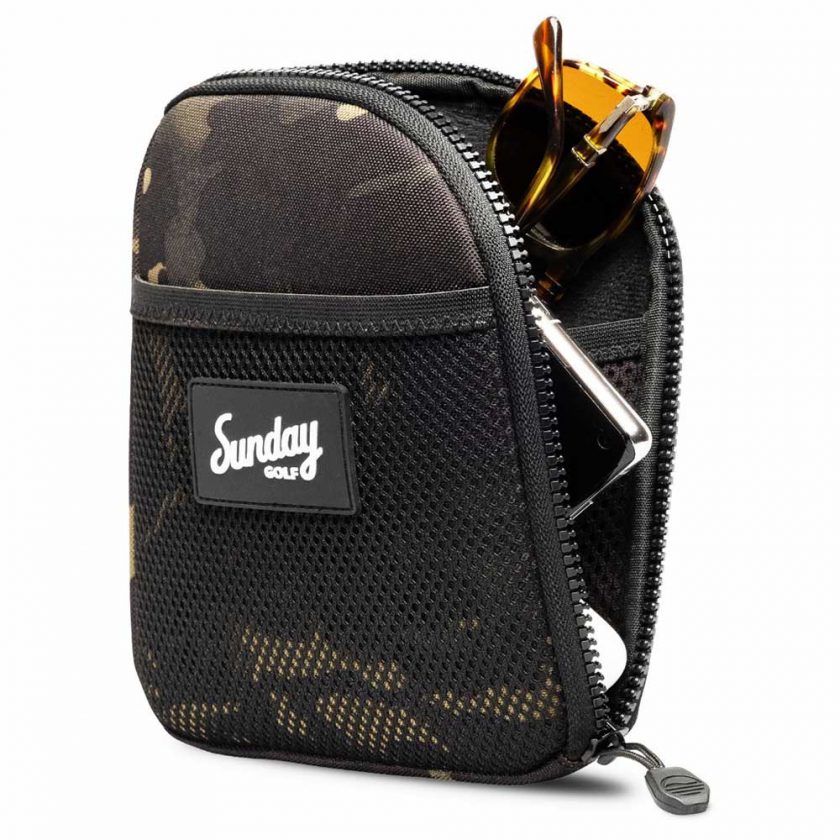 When we considered all factors, we settled on the Golf Valuables Pouch Dime Bag by Sunday Golf. This relatively new product checked all the boxes and is available for a reasonable price.
Main features
The Dime Bag is constructed with water resistant camouflage nylon and waterproof zippers. It's 6" by 8" in size and comes with a carabiner to attach to the outside of your favourite golf bag. It looks great and is highly functional. You can use it as a golf valuables pouch for your watch, phone, and keys, or to reduce clutter in your bag.
Why choose the dime bag
The Dime Bag is a simple, yet elegant solution to the problem of keeping your valuables safe while you attack the course. Reasonably priced at under $30, this is one golf purchase you'll never regret. Never frantically search for your car keys again—they'll always be safely zipped in your Dime Bag.
About the brand
Sunday Golf is best known for making some of the coolest golf bags on the market. More recently, they have expanded their brand to include golf towels, hats, and accessories. All of their products are made for the casual and stylish golfer that loves the game, but doesn't take it too seriously. If this sounds like you, check them out!
Keep your valuables safe
Use a golf valuables pouch to keep your prized possessions safe while you focus on rolling in birdie putts. Don't let a beautiful day on the course be ruined because your phone gets wet or you lose your car keys. You always want to know where your wallet is when the beverage cart stops for a visit.
Golf equipment can be pricey, but a golf valuables pouch is an inexpensive way to improve your experience at your local golf course. Good luck and play well!
Pin this post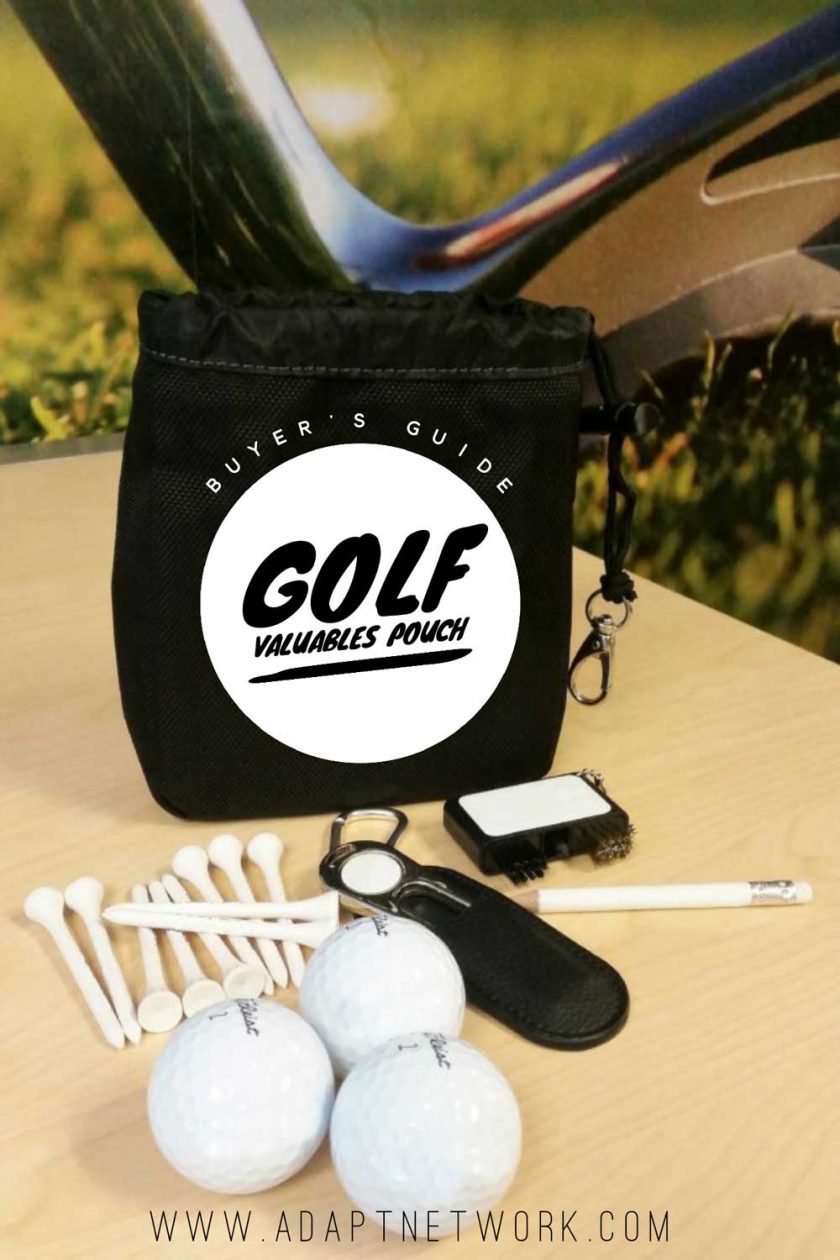 Article by Ransom Agui. Featured image: Lucas Santos/Unsplash