After over 13 hours on his Yamaha Jog scooter, Japanese rider Masaru Abe smashed the world record for a continuous wheelie at the Kawaguchi Auto Race facility in Saitama, Japan.
Abe never stopped once during the record-breaking attempt on 24 April, where he travelled a total of 500.5322km (310 miles). While he initially planned to reach 600km, he had to stop due to back ache. His own record still obliterated the former record of 331.0195km (205 miles) set by motorcycle trials rider Yasuyuki Kudo in 1991.
To put his record into perspective, the daredevil rider managed to wheelie for the same distance it takes to travel from London to Cologne or, from New York to Pittsburgh.
Although the track was oval-shaped, Abe maintained a speed of 40kph (25mph) throughout the race. Something which required incredible body balance, throttle work and concentration. Known to be especially windy, the course also proved to take its toll on the rider. Despite taking multiple rounds of painkillers, the positioning caused Abe an extreme backache. It was for this reason that Abe had to stop.
Abe explained:
That was the most pain I've ever felt. Both of my arms were numb from the pain and I had lost feeling in them. My vision was blurred… I was only partially conscious. I was completely dehydrated. I'd never experienced that before.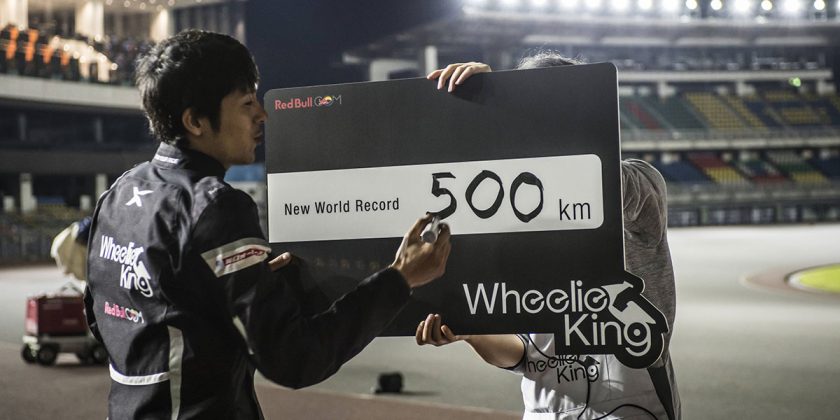 Speaking of his record breaking attempt, he added:
If I didn't go further than what I thought my own limit was, then someone else would. I thought if I was going to try and break the record, then I would have to post unattainable numbers that would leave people totally speechless.
After compleating a continuous wheelie for 13 hours straight, you've certainly left us totally speechless.
Featured image of Masaru Abe during the record attempt on 24 April 2017. Photo: Kunihisa Kobayashi/Red Bull Content Pool