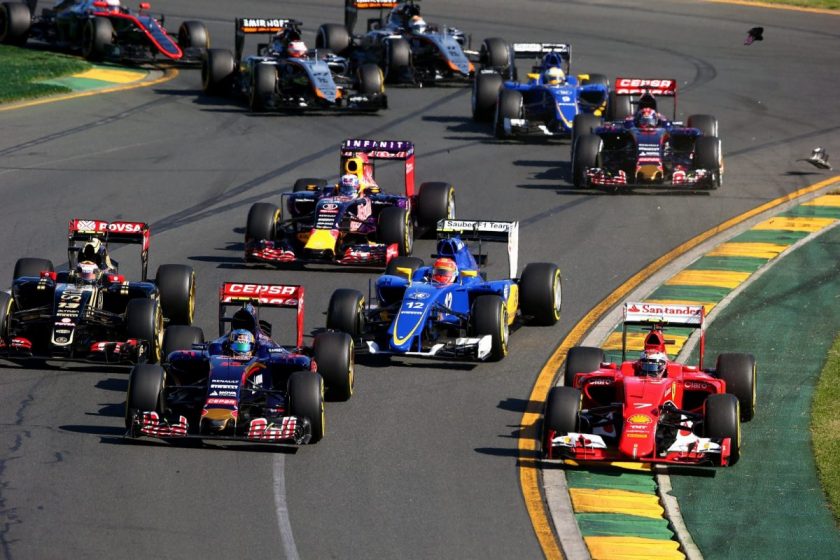 After Mercedes Formula 1 dominance throughout the 2014 season, 2015 provides a clean sheet for the chasing teams to catch up and stop each race being a Silver Arrow battle between Lewis Hamilton and Nico Rosberg.
The season also marks the return, hopefully permanently, of Japanese motorsports veteran Honda – as an engine manufacture in McLaren-Honda. Difficulties during testing and a testing crash for Alonso meant that expectations from the new outfit were pretty low. However, Button placed 11th in the end in front of a string of non-starters and casualties which was a great result for Honda Engine's first race.
Just 15 cars started the season-opening race, after both McLaren's Kevin Magnussen and Red Bull's Daniil Kvyat stopped on the way to the dummy grid with mechanical problems. The field was further depleted after just a few corners, when Ferrari's Kimi Raikkonen was clipped by Carlos Sainz Jr's Toro Rosso at Turn 1. That nudged the Ferrari into Felipe Nasr's Sauber, which then ricocheted into Pastor Maldonado, spinning the Lotus driver into the barriers and out of the race.
Apart from that, proceedings seemed to continue in the same fashion as last season, which has left Red Bull very unhappy and threatening to quite F1 all together. Red Bull had a difficult race, with Daniel Ricciardo placing 6th and Daniil Kvyat filling a non-starter spot.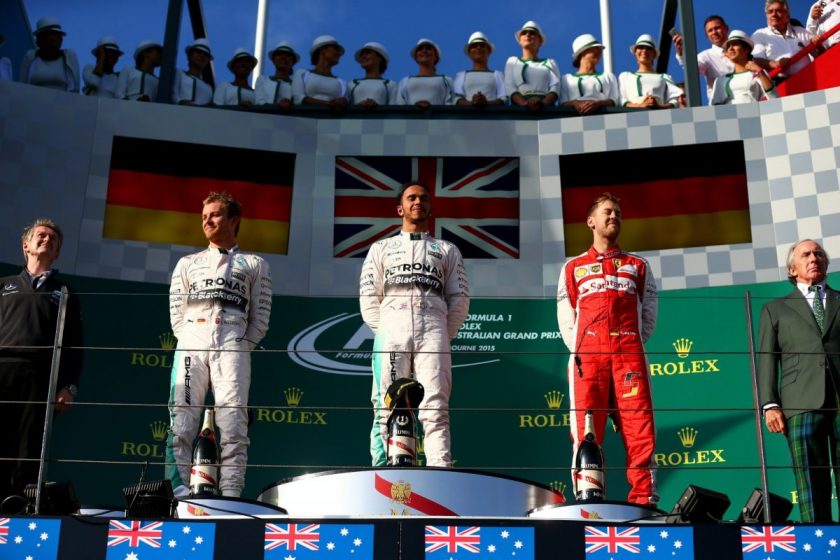 So, back to the race. Lewis Hamilton began the defence of his Formula 1 world championship with a commanding victory in the Australian Grand Prix, as Sebastian Vettel began his Ferrari career with a podium. Hamilton led away from pole in Melbourne and only momentarily lost the lead to Mercedes team-mate Nico Rosberg during the pitstop sequence before securing the 34th win of his career.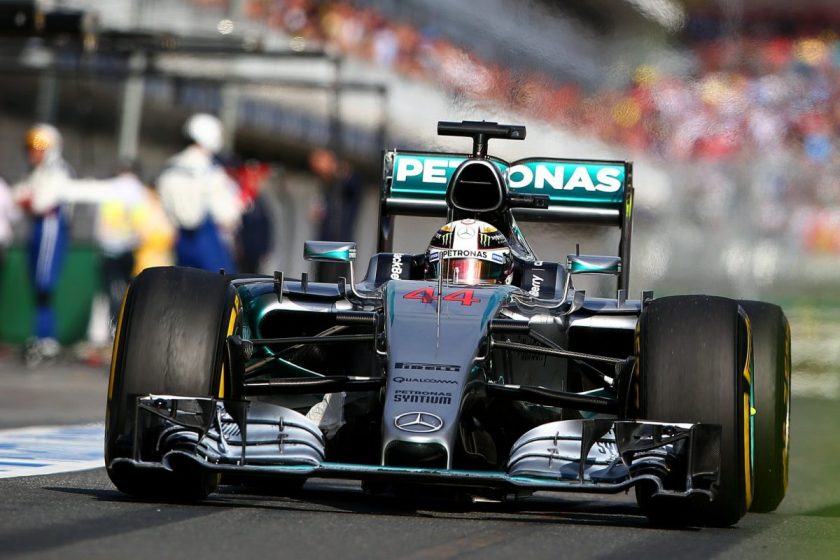 Rosberg crossed the line second, 1.3 seconds adrift, as Mercedes picked up where it left off last season with a dominant performance in which the team finished 33s clear of the field.
Vettel bided his time before jumping Williams's Felipe Massa at the mid-race pitstops by going longer to take third and confirm Ferrari's improved pace.
Valtteri Bottas had already been ruled out on medical grounds because of a back injury sustained in qualifying, while neither Manor ran all weekend as it continues its efforts to get back into F1.
After Pastor Maldonado was knocked out during a collision, the safety car was brought out and Lotus's misery was compounded after just one lap when Romain Grosjean pitted before being pushed back into the garage having had a power issue on the formation lap.
Rookie Felipe Nasr provided Sauber with a sensational end to what has been a difficult weekend, which saw the team involved in a legal battle with Giedo van der Garde, as he finished a brilliant fifth.
It was an impressive debut for the Brazilian, who was 12s clear of home favourite Daniel Ricciardo in the Red Bull.
Nasr's team-mate Marcus Ericsson, who started 16th, pulled off a late move on Sainz at Turn 13 to finish eighth for the Swiss team, which failed to score a single point last season.
Nico Hulkenberg scored points for a Force India team that managed just two-and-a-half days of pre-season testing because of delays with the production of the 2015 chassis as the German finished seventh.
Sainz crossed the line ninth to score points on his debut, having lost a lot of time with a slow pitstop, while Force India's Sergio Perez, who had a messy race, closed out the top 10.
The Mexican spun, dropping to the back of the field, and then found himself facing the wrong way when he clumsily hit McLaren's Jenson Button when attempting an opportunistic pass at Turn 3.
Button narrowly missed out on giving McLaren-Honda a remarkable points finish as he crossed the line 11th – and last. However, as mentioned above this was a great result and the first time the team had managed to complete a race distance with its new car, following a pre-season littered with problems.
Raikkonen looked on course to finish fourth, but at his second stop his Ferrari team failed to fit the left-rear tyre properly. The Finn rejoined, but pulled off the track a few corners later and retired with his engineer saying "sorry, Kimi" on team radio.
Toro Rosso's Max Verstappen, who became Formula 1's youngest driver by taking the start, retired when running ninth with smoke pluming from the rear of the car.
It will be interesting to see what materialises from the quitting threat of Red Bull, leading into the next race in Malaysian in two weeks time.
What are your thoughts on Formula One in 2015, leave a comment below.
RESULTS – 58 LAPS:
| Pos | Driver | Car | Gap |
| --- | --- | --- | --- |
| 1 | Lewis Hamilton | Mercedes | 1h31m54.067s |
| 2 | Nico Rosberg | Mercedes | 1.360s |
| 3 | Sebastian Vettel | Ferrari | 34.523s |
| 4 | Felipe Massa | Williams/Mercedes | 38.196s |
| 5 | Felipe Nasr | Sauber/Ferrari | 1m35.149s |
| 6 | Daniel Ricciardo | Red Bull/Renault | 1 Lap |
| 7 | Nico Hulkenberg | Force India/Mercedes | 1 Lap |
| 8 | Marcus Ericsson | Sauber/Ferrari | 1 Lap |
| 9 | Carlos Sainz | Toro Rosso/Renault | 1 Lap |
| 10 | Sergio Perez | Force India/Mercedes | 1 Lap |
| 11 | Jenson Button | McLaren/Honda | 2 Laps |
| – | Kimi Raikkonen | Ferrari | Wheel |
| – | Max Verstappen | Toro Rosso/Renault | Power Unit |
| – | Kevin Magnussen | McLaren/Honda | Not started |
| – | Valtteri Bottas | Williams/Mercedes | Withdrawn |
| – | Daniil Kvyat | Red Bull/Renault | Not started |
| – | Romain Grosjean | Lotus/Mercedes | Power Unit |
| – | Pastor Maldonado | Lotus/Mercedes | Collision |
| – | Will Stevens | Marussia/Ferrari | Withdrawn |
| – | Roberto Merhi | Marussia/Ferrari | Withdrawn |
DRIVERS' CHAMPIONSHIP:
| Pos | Driver | Points |
| --- | --- | --- |
| 1 | Lewis Hamilton | 25 |
| 2 | Nico Rosberg | 18 |
| 3 | Sebastian Vettel | 15 |
| 4 | Felipe Massa | 12 |
| 5 | Felipe Nasr | 10 |
| 6 | Daniel Ricciardo | 8 |
| 7 | Nico Hulkenberg | 6 |
| 8 | Marcus Ericsson | 4 |
| 9 | Carlos Sainz | 2 |
| 10 | Sergio Perez | 1 |
| 11 | Jenson Button | 0 |
CONSTRUCTORS' CHAMPIONSHIP:
| Pos | Constructor | Points |
| --- | --- | --- |
| 1 | Mercedes | 43 |
| 2 | Ferrari | 15 |
| 3 | Sauber/Ferrari | 14 |
| 4 | Williams/Mercedes | 12 |
| 5 | Red Bull/Renault | 8 |
| 6 | Force India/Mercedes | 7 |
| 7 | Toro Rosso/Renault | 2 |
| 8 | McLaren/Honda | 0 |
Via AUTOSPORT