On 26 February, Scuderia Toro Rosso unveiled its new STR12 car for the upcoming 2017 season.
Carlos Sainz will get a first proper spin today, 27 February, with Daniil Kvyat getting his opening taste of the STR12 on Tuesday.
STR12
The STR12 was built in the beautiful Faenza facility with extra emphasis on adapting to the new regulations brought in after last season.
Team Principal Franz Tost revealed:
For all Formula 1 fans, 2017 should be a year of excitement and uncertainty, as the sport's technical regulations have undergone one of the biggest changes we have seen in a couple of decades. In simple terms, the cars are wider, longer, lower, faster, noisier and use bigger tyres, promising more grip, higher cornering speeds and hopefully even closer racing.

Our chassis is mated to what is possibly the most competitive engine we have had so far in the hybrid era, as we return to Renault power. Finally, we really like the first major livery change of our twelve years and this new look is reflected in our pit garage, which has also been updated to make life easier while working around these much larger cars.

Photo: Getty Images/ Red Bull Content Pool
Technical Director James Key added:
With driver continuity and a power unit which made a major step forward last year and which should be developing strongly this year, it just leaves the chassis as an unknown quantity. We always set ourselves ambitious targets and this year, we are taking a more long-term view over the 20 races, with a long list of planned in-season developments. I suspect it will be a very busy year with plenty of performance still to be found.
The new regulations
2017's cars are set to look more "aggressive" thanks to regulations to make them wider, heavier and run on fatter tyres. Wings will also be wider, with the rear wing lower than is currently the case.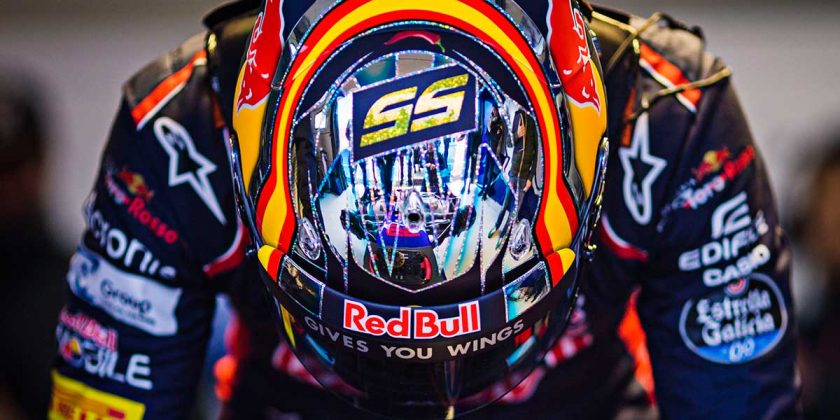 These changes are expected to make the cars over three seconds quicker. While most have embraced the new regulation changes, some drivers have expressed their concerns. Ahead of the first test session in Barcelona, Lewis Hamilton stated:
Feedback from the engineers is that overtaking will be worse. The dirty air is far more powerful and more turbulent than it has been in the past. We'll find out at the first test. I hope it's better but don't hold your breath.
The first day of pre-season action kicks off today, 27 January, with a day of testing at Barcelona's Catalunya F1 race circuit.
Featured image of Scuderia Toro Rosso's STR12. Photo: Guido De Bortoli/ Red Bull Content Pool