Kyle Fox's hopes of one day running a river in a giant pumpkin became a reality, earlier this year, when a friend and fellow member of the Utah Giant Pumpkin Growers (and Rowers) association cracked a potentially prize 1,200-pound pumpkin, thus rendering it ineligible for the club's official fall Weigh-Off. What they did with it though looks a lot more fun.
Kyle, a 35-year-old office furniture salesman from Pleasant Grove, Utah, describes the below video: "Not far outside of Moab Utah a few giant pumpkin growers take their addictive, obsession to a whole new level when they float a ginormous 1,200 lb pumpkin through class 3 white water rapids in the mighty Colorado River." Check it out.
After boring a cockpit hole in the bottom of the pumpkin, the team's first challenge was moving the massive squash, weighing in at over a half-ton, into the silty waters of the Colorado. Fox told Canoe&Kayak, "That was a battle. These pumpkins are pretty deep and you can only see a couple inches under the water, so it was scraping bottom, we were getting high-centered."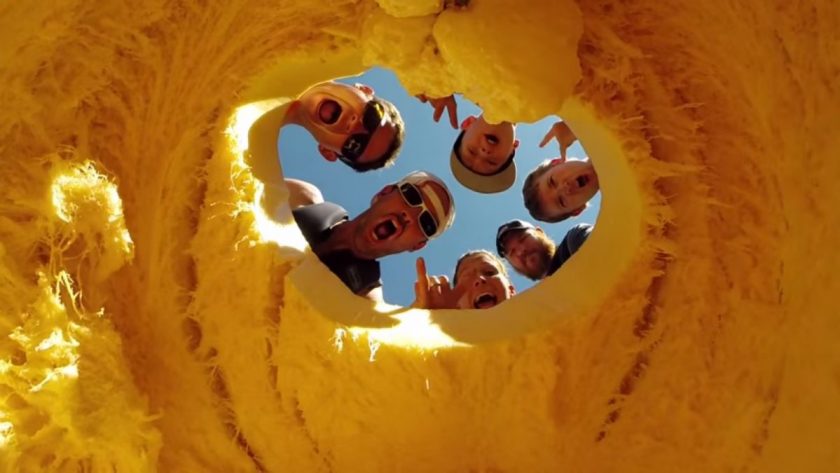 Kyle didn't have much river kayak experience prior to his pumpkin paddle excursion, luckily he took to the river like his pumpkin, which in turn was surprisingly stable as it floated lazily towards the rapids! "It's kinda like riding a bull," said Fox. The team did have to drain the waterlogged organic-kayak once though, before it's big rapid debut at White's Rapid. To be fair to the pumpkin, it looks like most of the water was taken in when switching paddlers though.
Unfortunately, the squash didn't handle the rapids quite as well as the sleepy river section upstream, and Fox had to abandon his water craft. "There goes my whole dream of riding a rapid, I get stuck on a rock, tried to dance, shake, spin, then had to hop off, or abandon it. The river dropped a foot or two and it started rocking, rolling, it filled up and with all that weight, all that pressure — I bailed."
The pumpkin's probably still there — "Once you put one in the river, you're not getting it back out."
Despite the risky rapid section, I'm glad to say that the dream is still alive: "I'm left with an empty feeling that I haven't achieved a rapid descent," Fox says. He now plans to rerun the Class III rapids in a giant pumpkin next spring, this time though with a safer approach. "More safety would be good, throwlines, friends with swiftwater training," Fox says. "You're talking about a 1,200-pound pumpkin, eight pounds per gallon of water, that things fills up and you put yourself between a rock and 2,000 pounds? Curtains."
Giant Pumpkin growing has a really competitive culture.
There's even a flat-water paddle race – that might be a good starting point, before taking on the rapids.