The 'Skate Church', is a historic church situated in the Spanish city of llanera that was transformed into a skate-park earlier this year by La Iglesia Skate. To make this skate playground even more unique, it's now undergone a second, more colourful transformation at the hands of street-artist Okuda San Miguel, in collaboration with Red Bull. Check out the gallery below:
Okuda filled the church with bright, isometric, paintings. Verkami describes some of his work: "His iconic artistic piece Kaos Star represents a colourful and isometric rose of the winds that tries to tell us that it does not matter where you are, or what you are doing, what matters are your own goals."
Well, that's one way to interpret it. One thing's for sure though—it looks super cool!
"I'm always trying to introduce myself in other fields," explains Okuda, "and feed from other different artists."
That's an incredible transformation (left: before – right: after).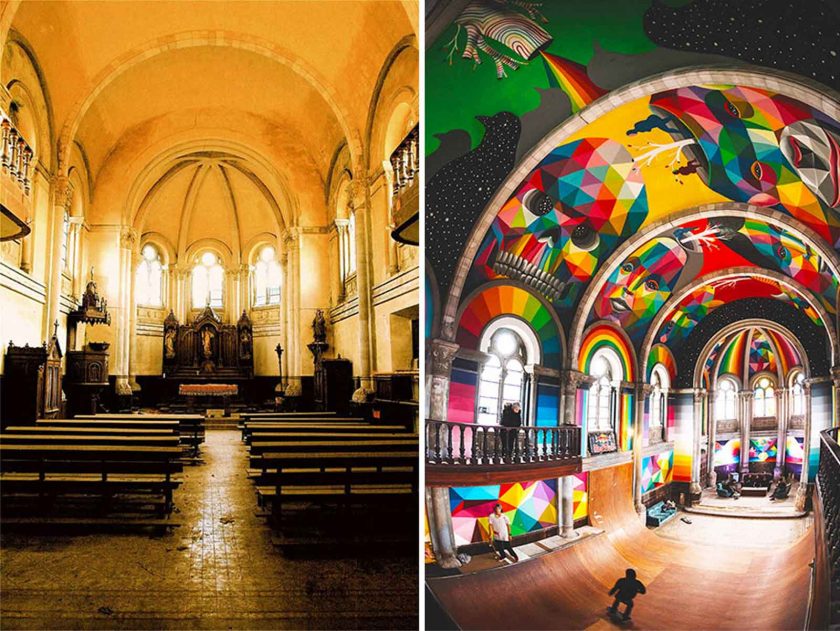 Photos: Luis Vidales/Red Bull Content Pool, okudart/Instagram, La Iglesia Skate/Facebook
Via: Red Bull, Verkami