When designed the new graphic for the Dervish Sama, the team at Loaded continued their exploration in colour theory and geometry. They looked deeper into Bauhaus principles to create this homage to the circle.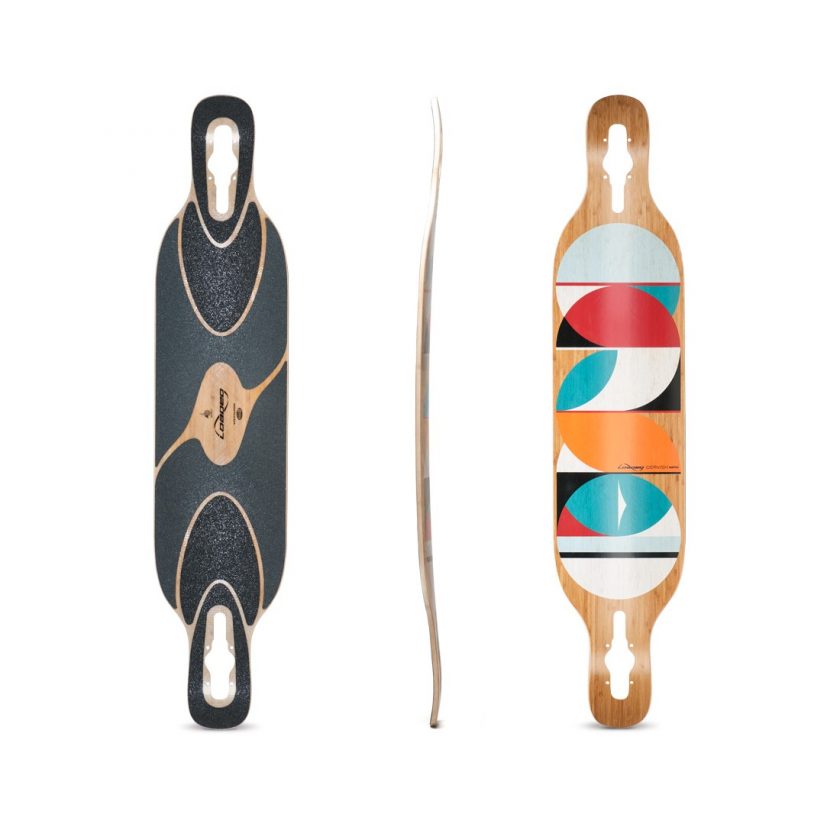 By exposing multiple forms over one another, they were able to exemplify the arcing and flowing movements possible on this carving board and honour the whirling and spiritual experience debuted by its namesake, the Dervish.
Loaded say "Lean this board against your Breuer chair or boardslide it into a custom work of art; either way, we think you will enjoy the new Dervish Sama."
In celebration of the graphical update to the Dervish Sama, the Loaded crew headed up the Californian coast from Santa Monica to Morro Bay to scout waves and take mellow turns on this classic board. "All too often we roll through life at high speed; sometimes it's important to slow it down and carve it up."
In 2007, the Dervish was Loaded Board's first venture into dropthrough construction and an opportunity to create a flexy, bamboo composite carver with the versatility to handle a variety of riding styles. Five years later, they've revisited this flagship board with new performance aspirations in mind.
With a slightly wider platform than its predecessor, the Dervish Sama balances comfort, edge control, and responsiveness. Combined with a more pronounced concave profile, the extra width enhances turn initiation and slide control.
Subtle nose and tail kicks were added to increase pop and lock your feet in for freestyle tricks. The neck and dropthrough cutout were also updated for increased durability under hard riding. A six-piece griptape pattern provides enhanced control at the kicks and facilitates comfortable footwork manoeuvres on the standing platform without interfering with the board's flex pattern.
All in all then, a sweet all-round board to add to your quiver or as the only board in your quiver.