Devon Howard is a throwback to when bigger boards, slicked back hair, and muscle cars were en vogue. A cool cat, his surfing is enjoying a surge in popularity these days, and rightfully so. His style is anything but performance driven; it's surfing in the purest form—simply being one with the wave.
Assorted Rides is a beautiful little edit by Floridian filmmaker Drew Miller. Comprised of a few sessions filmed across the pond, in California, Devon's effortless style is captured in this relaxing four minute chill-reel. So, grab your coffee, sit back and hit that play button.
Devon Howard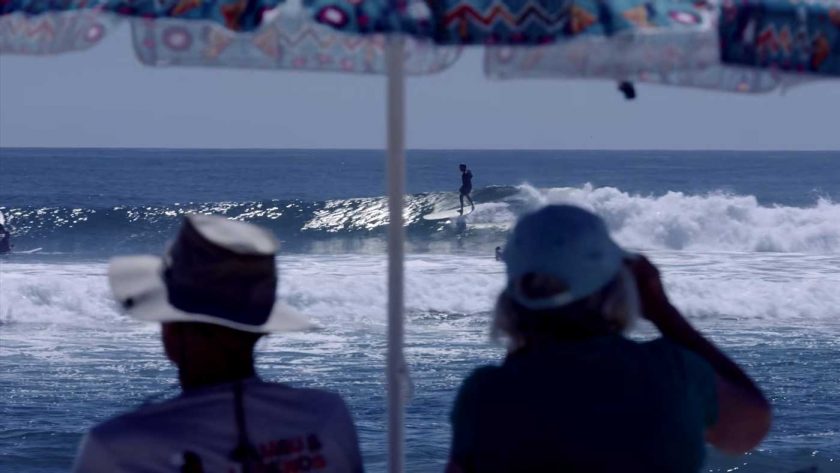 Out of the water, Devon is the man pulling all the levers as Tour Director of the WSL's World Longboard Tour, as well as running his own marketing agency. So, yeah, he's got a lot on his plate.
All the while, he's been driven by his passion for beautifully shaped surfboards and a clean, pure style in the water. And "after a few decades of goofing off in the surf," he's honed in on the craft that best suit his impeccable vision of what constitutes good surfing.
"I've whittled down what I ride most into two distinct camps-both of which are an obvious extension of the waves, culture and characters where I've lived all these years," says Devon.
"For the cruisey, under shoulder-high days, I find classic style single-fin longboards (9'9 to 10′) with a '66 Australian bent are hard to beat. When conditions finally push shoulder high on up to double overhead, my plan shapes dip down a few feet to a range of mostly egg-inspired outlines (6'10 – 7'2″), and the rails, bottom contours and fin set-ups take on a much more revved up form.
"I dig how these two design groupings allow an easy transition from one to the next (thank you low rocker and generous volume), but offer discernible shifts in speed, accessibility to different parts of the wave, and maximise the available space on the face."
In Assorted Rides you'll find Devon on a 6'10" and 7'0″ CI Mid by Channel Islands, a 9'10" and 10'0″ Keeper model by Thomas Surfboards, and a 9'10" Hi-Pro Log also by Thomas Surfboards.
"The stoke for staying on the surf prowl explains why the boards and the ride itself just keeps getting better," he says.
We couldn't agree more.