There's more to using a stand up paddle board (SUP) than what's in the name. Outdoor enthusiasts are using SUPs for everything from running whitewater to practicing yoga. These versatile boards are great fun no matter what body of water you place them on, from lakes to rivers and oceans. Best of all, SUPs are now more transportable than ever.
SUPs date back to Hawaii's earliest surfing days, when surf instructors used them to watch and teach students. Now a popular fitness craze and go-to beach resort activity, stand up paddle boarding is a great core workout for people of all fitness levels – young and old.
Getting Started
To the amateur eye, SUPs look like bulky, oversized surfboards. Once you're on one, you'll be glad for the wider base. SUPs are extremely easy to board and remain standing upon. However, they do vary by width and shape, depending on what they're intended for.
Keep in mind that when using a SUP outside a swimming, surfing, or bathing area, the United States Coast Guard requires that you wear an approved life jacket, as the paddle board is treated as a vessel. Even if you're starting out in the surf, it's always a good idea to don a life jacket or pfd.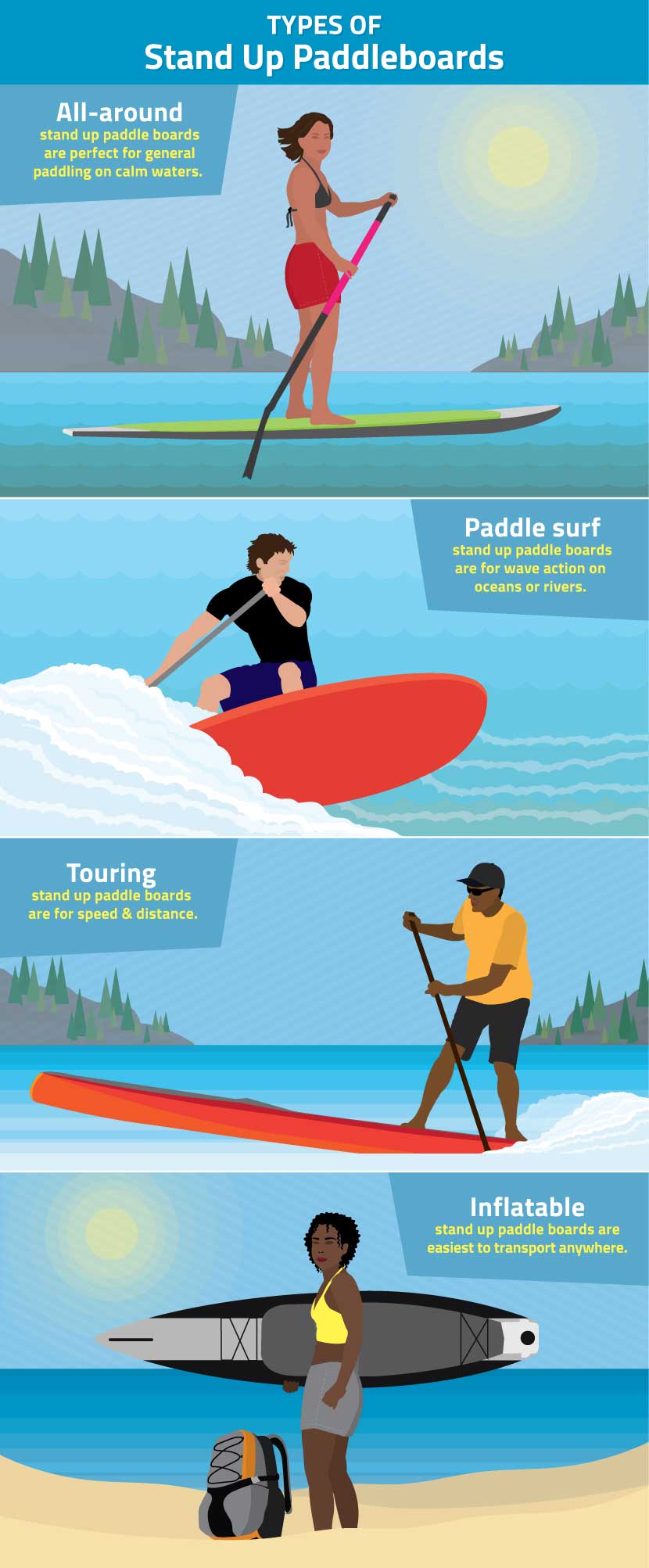 All-Around Paddle Boards: These boards are generally longer, wider, and thicker than other boards and offer the most stability. If you're just starting out or you're looking for a versatile board for general use, this is the board for you. Use this board on still bays and lakes.
Paddle Surfing Boards: These boards are shorter and include a rocker shape for better performance in waves and swells. Consider it a more "athletic" SUP, requiring more skill on your part to stay afloat. These are used on the ocean with waves or on rivers with whitewater.
Touring Paddle Boards: Touring boards are the absolute longest SUP. They often look like hard-shell kayaks, with a hull and tapered ends. They're designed for long-distance, fast paddling. Use this board on large lakes or bays where you're putting in miles.
Inflatable Paddle Boards: Available in most shapes (all-around being the most popular), inflatable boards are made of rubber instead of foam or plastic, and they fold down into large backpacks for easy transportation and storage. Once inflated waterside, these boards feel just as strong and sturdy as any other SUP – you won't feel as though you're on a flimsy raft.
SUP enthusiasts have two paddle choices: fixed shaft and adjustable shaft. Both are self-explanatory. Adjustable paddles can be adjusted to various heights and are best if more than one person may use the SUP. Fixed-shaft paddles are best for individuals who want a custom fit.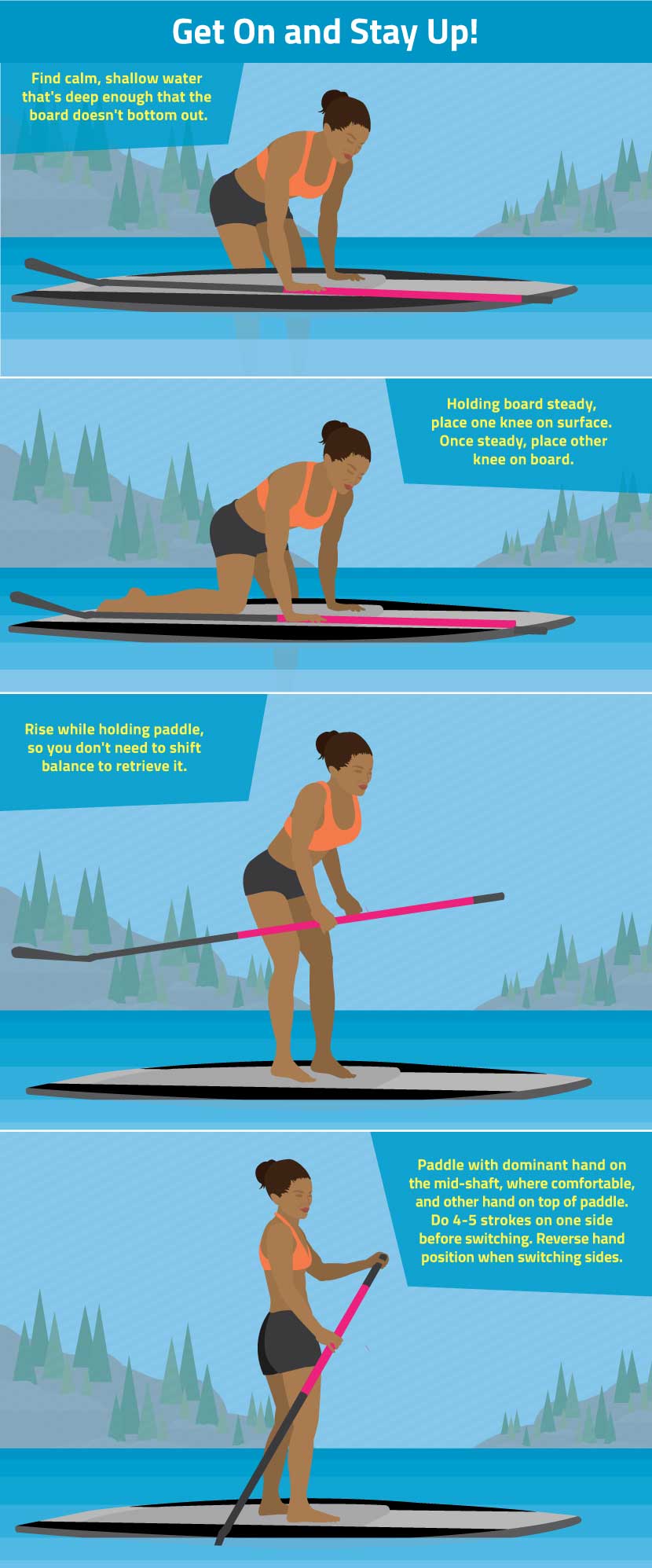 SUP for Adventure or Exercise
Most people SUP for the adventure of it, as a new way of exploring waterways, or as a means of getting outside on lakes or oceans. Paddling makes for a great morning routine to explore a nearby lake or bay. However, it's such a good workout, it's also become a favorite fitness method. Below are just a few active ways to use SUPs:
Surfing: Not for the beginner, but easier than traditional surfing, SUP surfing has several advantages. The rider is already in a standing position, thus eliminating the technical skill needed to rise on a board, and the rider has a paddle to help catch waves. Start on small waves and work your way up.
Whitewater: Like surfing, using an SUP on whitewater isn't for the beginner. Best on Class I and II "riffles" and still river water, stand up paddle boarding on rivers requires a helmet and will result in some spills. Enjoy on hot summer days on smaller, less-trafficked rivers.
Yoga: A great exercise method for beginners to try on an SUP, yoga combines the core benefits of stretching and balance with the need to balance on water. Depending on your yoga competence, you can try almost any yoga move on an SUP (on still water). Keep your palms flat on the board during poses, but don't feel bad if you occasionally need to grip the side.
Distance paddling: My favorite SUP exercise is to simply hop on and paddle. Plan to SUP for 30 minutes to start, gradually increasing your distance. Beginners can expect to feel sore in their core muscles and arms after the first few tries!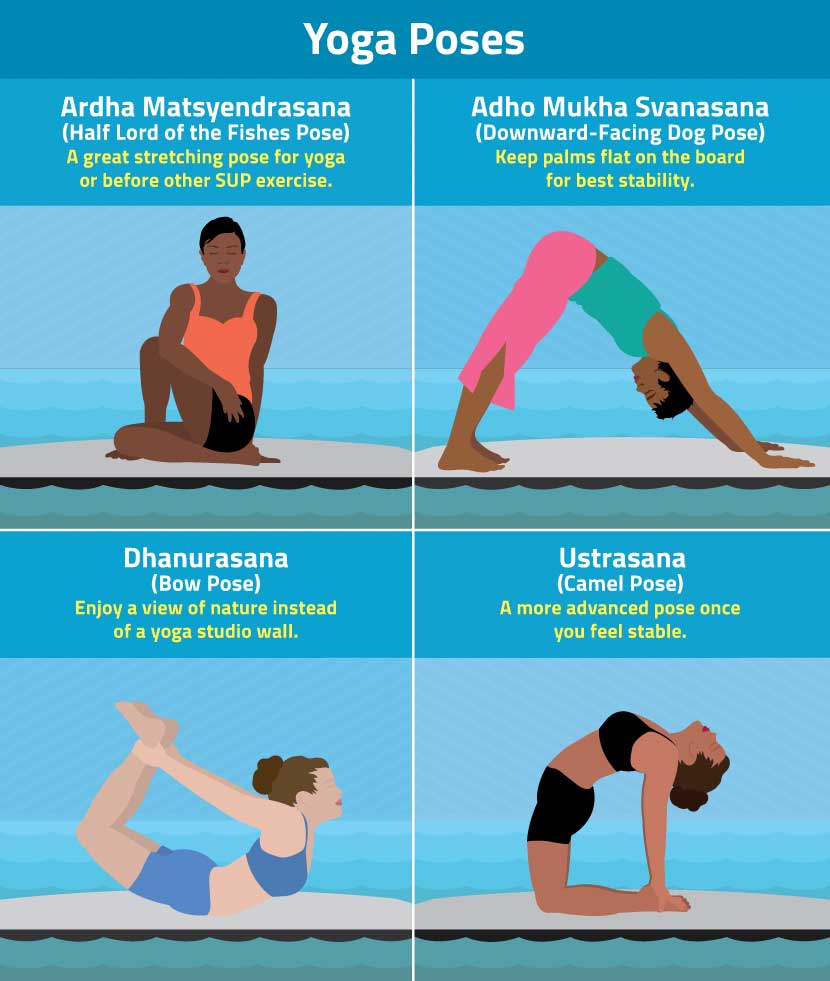 No matter what you use your SUP for, you'll enjoy being outside and on the water. And be advised: your friends will immediately want to borrow your board and paddle!
Article by Amy Whitley in association with Fix