The Quicksilver Pro France 2014 came alive yesterday morning (October 4th), in Hossegor France. John John Florence's inspired performance in Round 5, where he easily dispatched Mick Fanning, saw him score a perfect 10. The perfect score was rewarded for a smooth and stylish tube ride, which the judges were so impressed with, they over-looked John John's fall after his closing turn.
https://www.youtube.com/watch?t=4&v=Pp0muV2EiaE
It became clear after this round that Florence was on form and was probably heading to the Final. Saturday morning also saw Gabriel Medina bow out to Josh Kerr, which left an opportunity for Kelly Slater to close the gap and perhaps overtake his main rival in this years title race. Slater was unable to advanced past the Quarters either however, after the charging Jordy Smith took the last place in the Semifinals. This means that the gab between Kelly Slater and Gabriel Medina remains at a mere 6,500 points, going into to the Rip Curl Pro Portugal.
The Semifinals staged two dominant performances; Florence took out Australian, Josh Kerr with a 15.50 to a 8.60 and Brazilian, Jadson Andre claimed the remaining spot in the Final with a combined score of 16.67 against Jordy Smith's 8.84.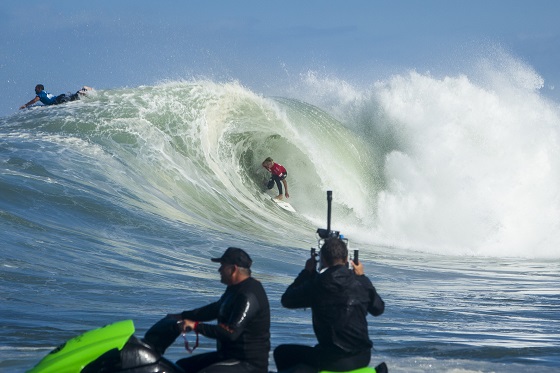 The final between John John and Jadson had a lethargic start, following on from the previous heats, with a few tiny numbers posted. Florence found his first huge, hollow barrel for a seven-pointer and a solid lead. While Jadson Andre had a total of just 4.57 by the midway point, Florence put a backup score of 5.00 with a quick cover-up and big, roundhouse turns.
Andre was taking drops, but also a lot of waves on the head and the jetskis put him back for more. As the final 10 minutes ticked down, Florence continued his tube workshop, finding another for an 8.00 and cementing his lead. Andre took one final, huge drop, but knew his run was over. While he didn't take the win, Andre will move up into rankings. For Florence, it was his first win this year.
"It's the best feeling in the world," he said.
Check out the Final day highlights below:
https://www.youtube.com/watch?v=G-G_arN6gnk
See you in Portugal.