Surfing technology is always evolving. Pro surfers, like Kelly Slater, continue to experiment with shapes and materials. However, some aspects of surfboard design and construction seem to be set in stone. Having a fixed rocker means a compromise between drive and performance—is this holding modern surfing back?
That's what Moda Surfboards founder, Brenton Woo, believes:
Moda makes user-friendly surfboards that actually shred, because of snowboard-quality flex.
We caught up with Brenton to find out about this revolutionary new surfboard tech:
1. Tell us about Moda Surfboards. What inspired you to start-up?
What compelled me to start Moda was realizing we have a technology that can make surfing more enjoyable for everyone. And that's really exciting to me because I think anything that makes surfing more enjoyable has a really good chance of improving surfing's popularity in society.
Surfing already has an impressive reach thanks to pop culture—think "The Beach Boys" and "Fast Times at Ridgemont High" among others. I'd bet that nearly every person on Earth has some sort of an idea of what surfing is. However, those ideas generally range from ambivalent at best to "Spicoli" (from "Fast Times at Ridgemont High") at worst. In other words, to most people, surfers or not, surfing may be cool but isn't particularly aspiring. As a result, lack of social affinity makes it extra difficult for anyone to get in a position to make a meaningful impact on surfing.
I believe that if we do things to make surfing easier and more enjoyable, that will help society appreciate how fun surfing is, and the approachability of surfing in society will improve. In turn, society will be more accommodating towards surfing and it will become easier for us to produce increasingly better surfboards and gear for better surf experiences.
2. What makes Moda's surfboards unique?
Moda surfboards feature variable rocker, which makes them super fun to surf and yet very user-friendly. Here's what I mean:
The biggest factor that makes a surfboard fun is how it surfs, and rigid fiberglass construction is the standard in performance. The problem with fiberglass surfboards is that they have fixed rocker shapes that compromise speed and maneuverability. Moda solves this with variable rocker, by making our surfboards flex with the magnitude, patterns, and snapback characteristics typically found in snowboards. We've tested many levels of flex, and it's specifically "snowboard-flex" that results in the perfect variable rocker. Variable rocker enables Moda surfboards to be flat for easy speed and rockered when you turn, without plowing. In other words, flex means the speed of a fish and the turning power of a shortboard, all in one board—and it's really fun.
As it turns out, variable rocker also makes Moda surfboards very user-friendly because the best way to make flex work properly is to use a soft construction.
Surfers looking for user-friendliness are moving increasingly to soft-top surfboards. The problem is, soft-tops aren't much fun because they don't surf well. They tend to flop, twist, and plow unpredictability and in ways that decrease surf performance.
Because Moda gives you the fun performance of variable rocker in a soft construction, what you get are user-friendly surfboards that are actually fun to surf. I don't know of any conventional surfboard construction that does this.
3. What are Moda surfboards made of and how do they improve the surfer's performance?
Moda technology uses two key components to make variable rocker work. The first is extruded polyethylene (PE) foam—typical of high-end bodyboards. PE is used for the bulk and exterior of our surfboards because, for our purposes, it's flex-neutral—meaning it doesn't affect the flex behavior of our second key component: our internal wood core.
Wood is a unique material that naturally has the flex, dampening, return, and feel people look for in many board sports. This is why the best skis and snowboards still use wood cores, and Moda uses wood cores to produce the flex for variable rocker.
PE construction is an important part of what makes Moda surfboards fun to surf. In addition to enabling flex, PE is so much easier on your body than rigid fiberglass surfboards. I don't get pressure spots on my chest from paddling, standing on PE is way easier on my knees and ankles, and while getting hit by a soft board doesn't feel good, it probably won't send me or someone else to the hospital.
This safety factor means I sometimes find myself going for late drops or questionable closeouts. Some of these waves ended up being great rides that I normally would've skipped had I been on a fiberglass surfboard.
In a practical sense, PE construction makes Moda surfboards easier to live with. Fiberglass surfboards need to be babied since day to day bumps can easily damage the glass layer, quickly leading to catastrophic failure. PE isn't indestructible, but unlike fiberglass, it doesn't ding. When exposed, PE doesn't take on water. And while repairing fiberglass boards requires messing with polyester or epoxy resin, PE can be thermally bonded with a heat gun.
Lastly, PE construction is significantly more environmentally responsible than conventional fiberglass. PE is easier to recycle than polyurethane or polystyrene foam, and it doesn't require fiberglass.
In short, PE is what makes Moda surfboards user-friendly (safer), more durable, and more environmentally responsible than conventional surfboards.
Variable rocker is the other part of what makes Moda surfboards fun as well. Since the surfboard is constantly flexing to the wave, you don't have to pump (much) or work the board for speed. This means you have a lot more time and attention to focus on your positioning, setting up your turns, and actually surfing the wave. It's kind of like riding a longboard that turns like a shortboard.
4. Who's your target audience and how are you planning to reach out to them?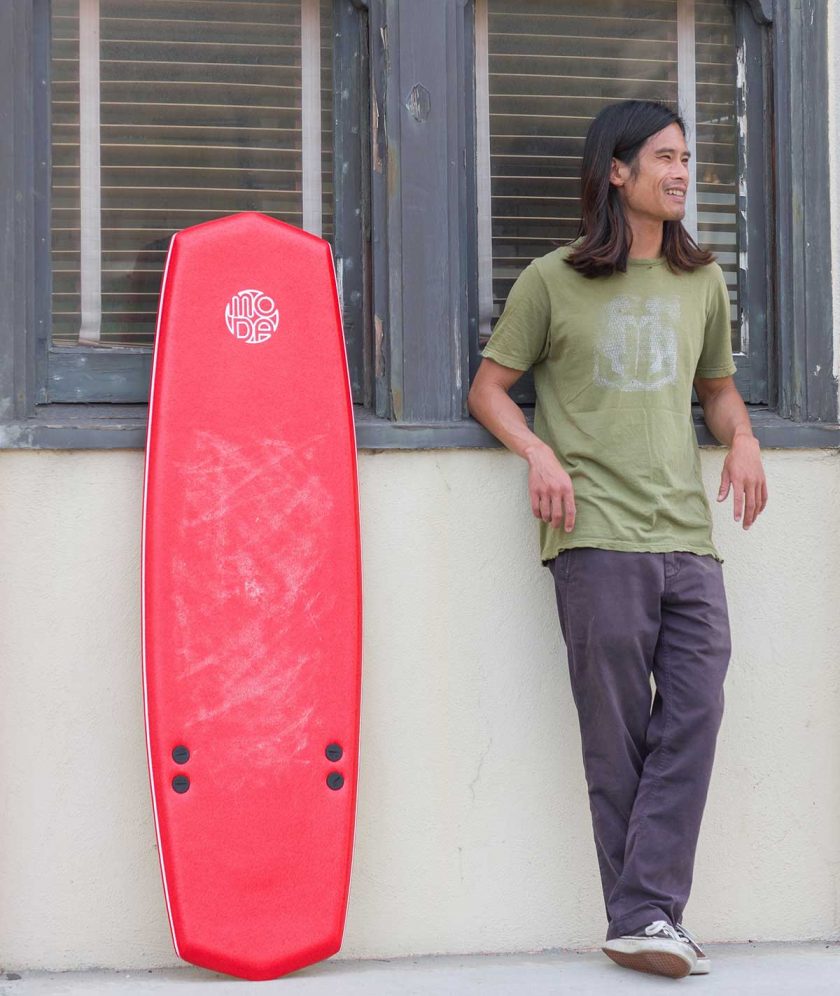 We think people who are focused on surfing for fun rather than contest-level performance will find Moda surfboards compelling. Since Moda is very much a technology (as opposed to a brand) start up, our marketing largely relies on word of mouth since user experience is what drives design.
While ski and snowboard flex is well-known, flex for variable surfboard rocker is a nascent technology, and we're learning more day by day. But there may be some opportunities to really push variable rocker forward in a big way. For example, since the Olympic Games have so much influence within sports, the upcoming 2020 Tokyo Olympics, which will feature competitive surfing, could be a strong driver of surfboard innovation. If Moda technology can help win golds, I'd love the chance to make that happen.
5. Can you tailor make the boards to suit different sizes?
Yes, and that's our top priority right now because the most frequent request we get is for Moda surfboards that fit heavier weight ranges. With conventional surfboards, bigger surfers tend to need bigger boards. It's not like that with Moda because flex needs to be designed around the surfer. Their stance width, weight, and how they want to surf all factor into the core's flex pattern and stiffness.
Scaling flex for heavier surfers isn't as easy as it sounds, and we're going through plenty of trial and error in search for a formula that'll help us scale flex faster. We're working hard at this, and I'm definitely looking forward to getting a wider range of Moda surfboards out to people as soon as I can!
6. Where are you currently selling the boards?
Online at modasurfboards.com, though our shipping is limited to continental USA at the moment.