Videos of Japan's seemingly endless amounts of fresh powder have spread across every skiing and snowboarding social media channel over the last couple of years.
Now the trending ski destination has hit the headlines again. Apparently, it isn't just confined to the winter sports world.
On Monday, Red Bull released a three-minute edit of pro windsurfer Levi Siver becoming the first person to ever windsurf a board with a fin down a powdery peak in the snowy prefecture of Hokkaido (see the video above).
This isn't the first time that water and snow sports have crossed paths—see Wave Skiing and Fish out of Water. But this time, action sports magazines and media seem to be paying a lot more attention.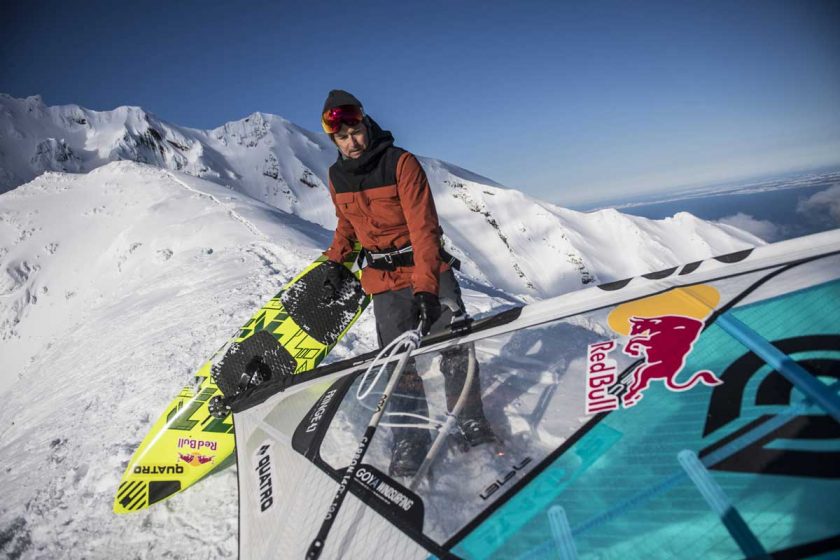 Siver has built up an impressive reputation as a freestyle windsurfer around the world and has featured in a some of the sport's most iconic films.
As is always the case, when watching these amazing action sports edits from the comfort of a chair, it's easy to think that the project went smoothly. However, according to an interview with Red Bull, it was anything but a walk in the park.
The 36-year-old, from Idaho, had the idea to try alpine windsurfing five years ago. His dream became reality after he undertook 20 days of intense filming in the snowy mountains Rishiri Island off the shore of the northern tip of Japan. Average shooting days of seven hours started with a two-hour hike up a mountain at -13 degrees, then there were waits of up to three hours for the perfect winds.
According to the interview, Siver had never experienced anything quite like what he faced in Hokkaido. The distinctive terrain, where you can look down on the ocean while riding down the mountain, was perfect for this project. He explained:
What mountains and the ocean have in common is their unpredictability. The scenery is truly beautiful, but also extremely dangerous and the conditions change everyday.

Everyday is a brand new adventure. But on the other hand, since each ride is a new challenge, there is this added challenge of conquering your own fear, which really helps you grow as a person.

The idea for this project stemmed from the vision that we could transfer the elements of windsurfing onto a mountain and create the same exhilarating experience the surfer gets on the water.

I'm always trying to find ways to challenge myself, but this project really sparked my curiosity. What would happen if I were to combine snowboarding and windsurfing? After all, I have enjoyed both of these sports for a really long time.

I wanted to be the first person to try alpine windsurfing on a finned board. Using a snowboard would actually be optimum for performance, but I really wanted to recreate that unique sensation of windsurfing and to do that I need to make a board somewhere in between a snowboard and windsurfing board.

The board has the rail and fin you need for surfing and there are no bindings. It has straps and its ridden with surf boots so on the drop in you get the same feeling as when you're windsurfing. But you're looking down on a mountain, not the ocean.

I got this exhilarating feeling that I can't even really describe. The strongest wind I caught was about 15km per hour (9.3m).
To get a better idea of the lengths that the crew had to go to, in order to complete the project, Red Bull has also released a behind-the-scenes video: