Back in 2012, Signal Snowboards uploaded one of their most out-of-the-box videos to date, making a board that can shred barrels and powder – the Surf Snowboard. For that project they enlisted the help of Jeff "Doc" Lausch, the head shaper at Surf Prescriptions. For one of their more recent projects, Signal reached out to Doc again.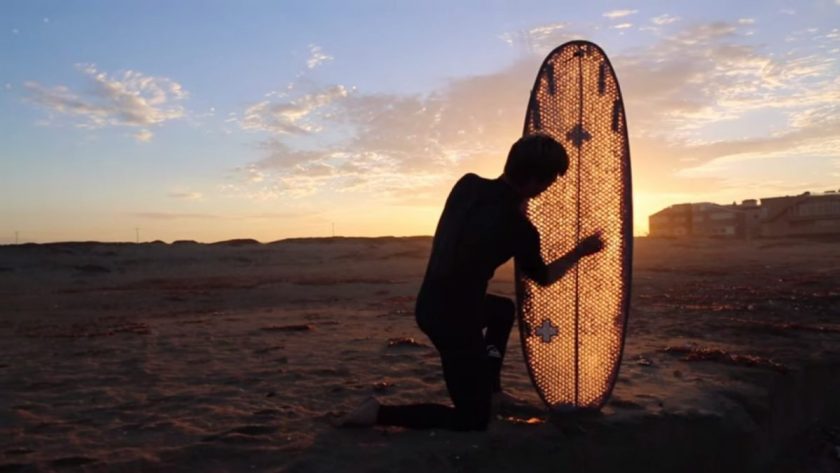 As Jeff writes on his The Inertia post, "I got a call from my good buds Davee Lee and Marc Wierenga at Signal Snowboards a few months ago — they said we have a project that would be right up my alley. It was something about a packaging company that want a cardboard core surfboard. It sounded interesting."
Signal Snowboards also brought Mike Martinez from Ernest Packaging into the team, in order to provide expert knowledge and equipment to deal with cardboard as a building material. With some input on what core would work best in the shaping bay from Jeff, Mike set about building the cardboard blank.
After some trial and error the final blank consisted of a honeycomb 'hexacomb' cardboard base, with three cardboard stringers, one in the center and two offset for rigidity. Mike had built a cardboard cradle in the shape of the rocker that needed to be achieved, so that as the pre-shaped stingers were slotted into place, the board would also adopt the rocker needed for a surfboard.
"I had sent Mike a computer file of the rocker I needed in the core and the stiffness that would be required to actually shape the cardboard," wrote Doc. "The first cores had the rocker but were way to floppy to shape. It was full on alligator wrestling, flopping around on the rack, refusing to hold still — a real nightmare. I got Mike to add three cardboard stringers: one down the center and two offset. This worked much better."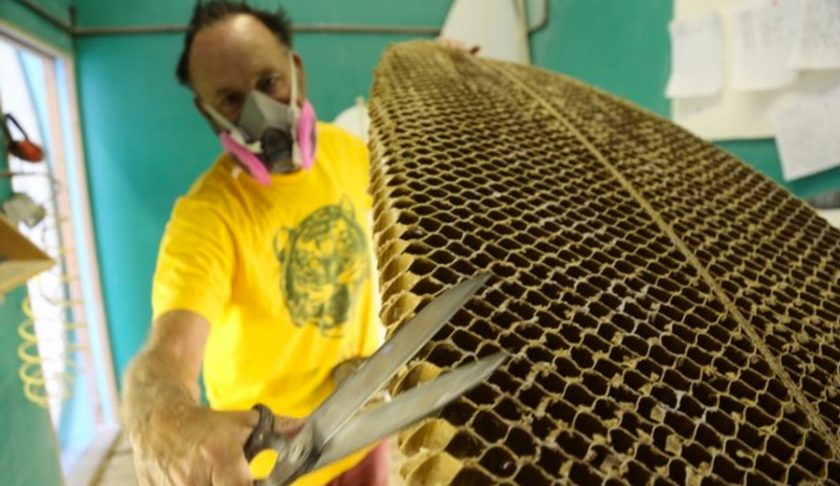 Mike then added several coats of poly to waterproof each cell, but more importantly to stiffen the entire cardboard black. Jeff could then take the core through the DSD cutting machine to pre-shape into Surf Prescriptions Deadly Flying Turtle model.. He felt this shape "would be a good, easy-to-ride shape that would work for a large variety of surfers".
"Cutting it wasn't easy. While it was pretty stiff vertically it was still too loose side to side. During cutting I had to physically hold it straight as the cutting tool went back and forth — more alligator wrestling."
It took four or five cuts before the core looked like the Deadly Flying Turtle model and it was ready to be finished by hand. To do so Jeff had to empty every tool in his shaping bay, even using a pair of scissors to tidy off the edges. One of the biggest challenges during shaping was crafting the rails. "I wasn't happy with the rails because there just wasn't enough firm material to get a decent rail shape," wrote Jeff. In the end the team glued strips of cardboard vertically on the rails, which apparently worked well.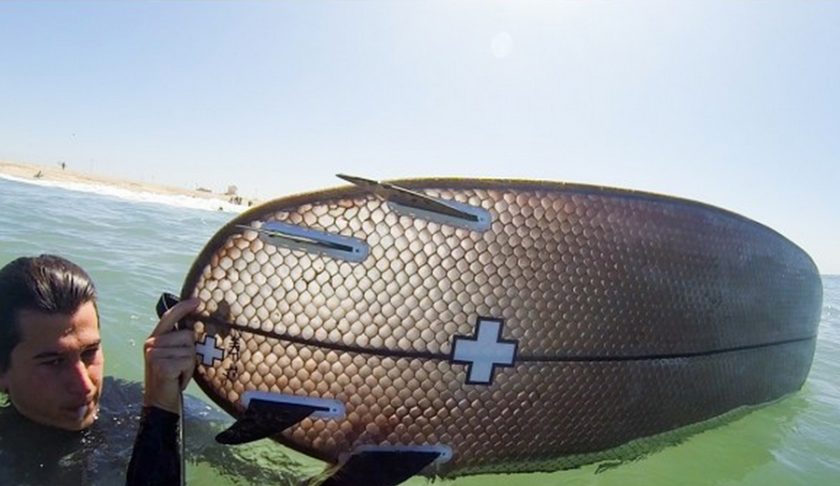 After glassing, the board was complete and in my opinion all of the trial and error was completely worth it. Holding the board up to the light, sets it on fire (not literally) with a golden glow. The board would look awesome on a wall and the fact that it's fun to ride is a cool bonus.
For more Every Third Thursday, visit SignalSnowboards.com, and check out what all Doc is up to at SurfPrescriptions.com.