The 2014 Roxy Pro France concluded in exciting fashion today in 4-to-6-foot faces at Hossegor.
Tyler Wright (AUS) took the title after progressing through her Semifinal match-up against French local Johanne Defay. Wright threw a ton of spray to open the Semifinal heat with the day's first nine-point ride. Johanne Defay, on a roll, was competing in her second consecutive Semifinal and answered with a midrange score but the Australian's backup score had her hunting a near-perfect ride going into the backend of the heat.
Wright pumped through her third wave for another high score to add to her account, adding further pressure to Defay, now in a combo situation. Defay fought back and replaced her bottom scores with midrange rides, slicing up the glassy faces with multiple carves and tail-breakaway turns. However, she was still hunting a high nine with little time remaining and in the end Wright took the spot in the final. A third place finish at her home event is an excellent result to add to Defay's rookie season.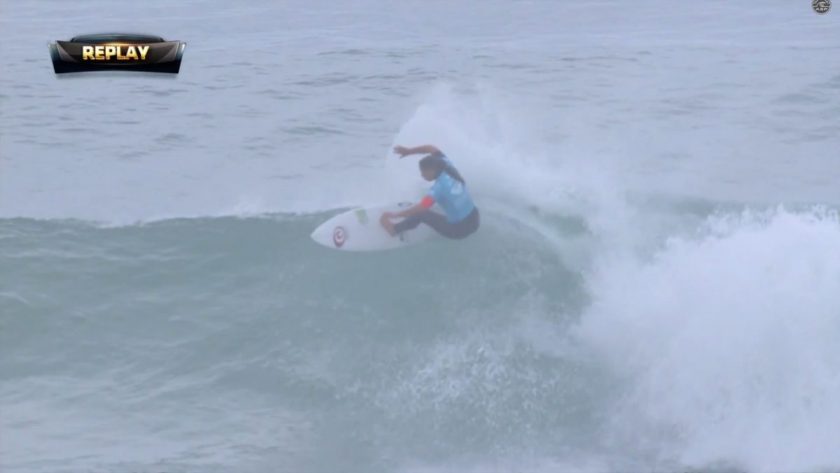 "I have a really good board for these conditions and I'm pretty happy with how I'm surfing," said Wright, who was riding a 5'8.5″ Lost Surfboards Sub Diver. "When we're in the Final I'm just going to do what I do and surf the way I wanna surf."
Check out the heat below:
https://www.youtube.com/watch?t=18&v=3SAuO8R3lq8
The second Semi took place between Courtney Conlogue (USA) and Hawaiian Carissa Moore. Both surfers came in with something to prove; Moore was competing in her first event of the season without the championship lead (and of-course yellow rash vest) while Conlogue was on her way to the best result of her comeback effort. Carissa scored a seven for a single maneuver ride featuring an acute layback to take the early lead with a midrange backup. Conlogue however, forced her way to the top by attacking the lip with three big hacks on back-to-back rights and held on to claim the second spot in the Final.
"I'm feeling good to be in the Final but I definitely would like to win it," Conlogue said. "It's been a roller coaster this year. I've had a lot of things happen I haven't had happen to me before. It's been a lot of work but it's paying off."
https://www.youtube.com/watch?v=fgSXQVqw4j0
Moving on to the Roxy Pro France Final – winning the event would result in big gains in the championship table for both surfers. Tyler Wright's campaign for a World Title would accelerate considerably, whilst Courtney Conlogue is the only surfer in the Top 17 to have missed events, and valuable points, this season. Conlogue is also on the bubble for requalification, sitting in 12th on the rankings. A 10,000-point win would put her above the cutoff for 2015.
Wright used her radical maneuvers on the lip to notch two nine-point rides on back-to-back waves. Conlogue, looking for her first event win for the 2014 season, had to take big risks to try to overtake a near-perfect two-wave total. With a comfortable lead, Wright went for a big frontside air and rode out cleanly for another nine. She continued her tear with a 9.70, which would factor into her heat total. The Australian finished the Final with four nine-point rides.
"That was one of the best Finals I've ever been in wave-wise," Wright said after her second event win of 2014. "It wasn't a wave-catching contest, it was a wave-riding contest and that's the way I love to surf."
Even though Courtney couldn't quite compete with Tyler today, her second place finish is impressive and along with the much needed points, her confidence should grow as a result – 'nice one Courtney!'
The surfing has been awesome in France so far. I'm frothing to see what's going to happen in the Men's Quicksilver Pro.
Via ASP