If you haven't looked inside your computer case for a while, it's probably full of dust.
Even if you keep your computer off of the floor, well away from carpets and floor-bound fluff, you'll likely find that the computer fans are caked in dust. This reduces the ability of the fans to keep your computer cool and manage the temperature of the components. So, to maintain a healthy system, it's a good idea to give it a dusting every three to six months.
To clean computer fans, components and hard to reach places, many people use compressed air cans. These produce a high-pressure stream of air to dislodge dust without causing static charge buildup that can damage computer components (that's why you should never clean your computer with a vacuum cleaner).
Despite the name, however, compressed air cans don't actually contain air, since metal spray cans cannot take the extreme pressure required to store true liquid air. Instead, they contain a mixture of fluorocarbons that can be stored as a liquid at lower pressure.
Besides the environmental impact of fluorocarbons, compressed air cans have a number of other drawbacks. If you hold the trigger down for too long or aim the outlet at an angle, for example, then some of the compressed gases can be emitted as a liquid. That's not ideal when you're dealing with sensitive computer components.
CompuCleaner: An alternative to compressed air cans
The CompuCleaner Original 2 electric air duster is an alternative to compressed air cans for cleaning computers.
It has a mains-powered 500W electric motor, which takes in air from a well-filtered intake at the bottom and outputs it as a high-pressure stream. The blast of air produced is surprisingly powerful and certainly comparable to that from a compressed air can—at 0.03m3/s (70CFM).
The main advantage of the CompuCleaner is that it only blows air. This means that you can hold it at any angle and be sure that no moisture or deposits will get on your computer components. I found that this was especially useful when cleaning the PSU fan on my computer since I couldn't take the PSU apart without voiding the warranty.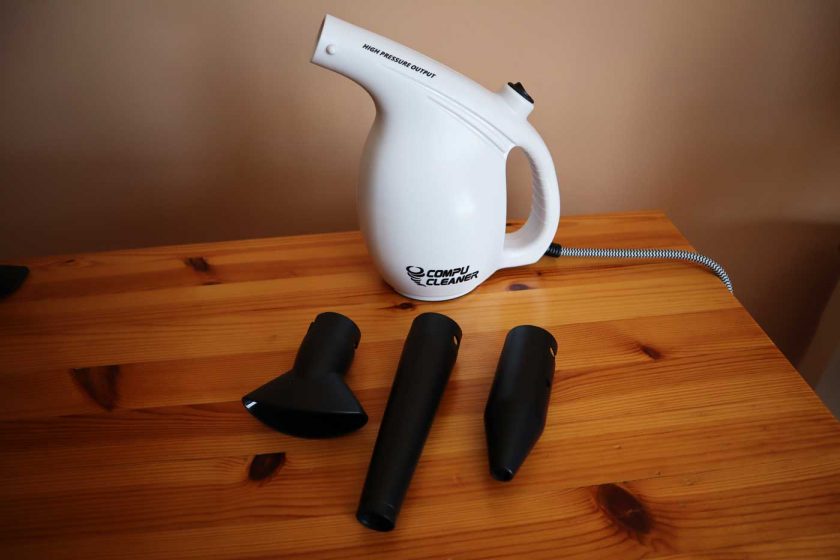 The device comes with three different outlet attachments (a high-pressure nozzle, a longer nozzle and a wide nozzle) and, with one attached, it looks a bit like an oil can with a braided cable. Swapping attachments is easy and only requires a small twist to secure. Operating the CompuCleaner is also straightforward; you simply point the nozzle and hold down the power button at the top of the handle.
The CompuCleaner Original 2 only has one speed setting. There is a more expensive 'Xpert' model available, which has two speed settings as well as a 550W motor and a few extra attachments. But, I found that the base model had more than enough power and I ended up only using one outlet attachment to clean my computer. Also, if you need to regulate the force of air that you apply, you can simply move the device closer or further away.
When you initially press down the power button to turn on the
CompuCleaner, there is a slight kickback as the motor starts. It's, therefore, best to turn on the air duster before moving the nozzle into a confined space so that you don't accidentally knock fragile computer components. Alternatively, you could stabilise the device with your other hand. Aside from the initial small kickback, the device is easy to handle with one hand.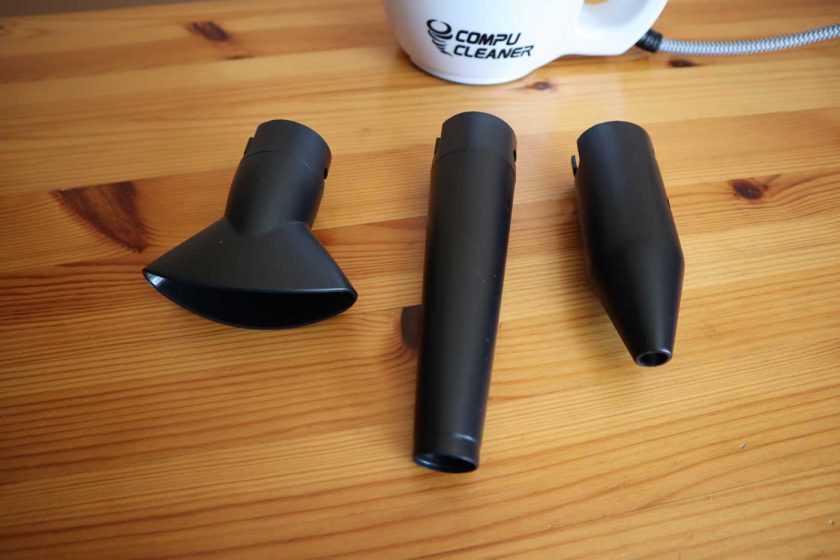 The CompuCleaner delivers consistent high pressure for as long as you hold down the power button. However, the motor will heat up if you run the air duster continuously for too long, so it's best to operate the device in short bursts (in the same way that you would a compressed air can). That being said, I used the CompuCleaner to clean my computer over the course of 30 minutes and held down the power button for up to 10 seconds at a time; I found that the air remained relatively cool and the motor continued to deliver instant high-pressure blasts.
Currently, you can pick up the CompuCleaner Original 2 for £49.99 (UK) / $48.99 (US). Obviously, that's more than the cost of a compressed air can, but when you consider the fact that this electric air duster never runs out, alongside its other benefits, it's a no-brainer.
Verdict
The CompuCleaner is an electric eco-friendly alternative to compressed air cans for cleaning computers. The 500W motor provides a continuous stream of high-pressure air and you don't need to worry about getting moisture or deposits on sensitive computer components—it's a no-brainer.
Pros
Eco-friendly
Continuous stream of high-pressure air
No moisture or deposits
Mains-powered 500W electric motor
Three outlet attachments
Easy to handle
Doesn't need to be replaced
Cons
Small kickback on startup (but I'm being picky)
5
Much better than compressed air cans